New York – Austin Peay State University (APSU) head coach Carrie Daniels was one of 35 coaches invited to attend the second session of the The Center for Coaching Excellence, last week, on the campus of Columbia University.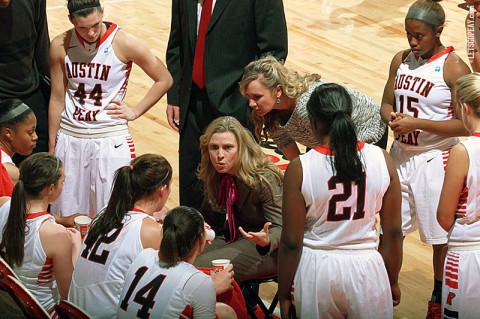 Capitalizing on the resources of Columbia University and the Women's Basketball Coaches Association (WBCA), The Center for Coaching Excellence provides an unparalleled, exclusive learning experience. Utilizing collaborative and interactive learning sessions along with lectures and panel discussions featuring experts in college athletics.
The Center for Coaching Excellence gives college women's basketball coaches valuable networking opportunities with their peers and top industry leaders.
"I feel very fortunate to have been able to attend The Center for Coaching Excellence," said Daniels. "In my 17 years of coaching this has to be the most inspiring and eye-opening experience I've encountered.  Dr. M. Dianne Murphy and Dr. Cathie Siders do an unbelievable job of giving coaches the necessary tools, resources, and advice to be successful and I have gained a whole new insight on myself.  I came away from it with a newfound passion that will help in my professional development and I look forward to sharing  this valuable information with my staff."
"With the completion of the sixth session of The Center for Coaching Excellence, another year of this remarkable program is in the books," said WBCA CEO Beth Bass. "More than 170 coaches of women's basketball have had the opportunity to grow professionally because of their attendance and participation in this 2½-day workshop. There is nothing like it for the coaches in any other sport. The WBCA is proud to partner with Columbia University in offering this unique experience to our membership."
Dr. Cathie T. Siders, a clinical psychologist, organizational consultant and executive coach, facilitated group-learning sessions. Other sessions featured panel discussions from a wide variety of leaders from both the college athletics industry and other sectors of industry.
"Over the past three years, I have been so fortunate to work with nearly 200 of our nation's college women's basketball head coaches," said Siders. "They are truly such wonderful leaders, teachers and mentors. Providing them with the tools they need to be successful is such a rewarding experience for me – and everyone associated with The Center for Coaching Excellence."
Faculty for the June 10th-12th session included Anucha Browne, vice president of women's basketball championships, NCAA; Val Ackerman, strategic consultant, NCAA and faculty, Columbia University School of Continuing Education; Bernadette McGlade, commissioner, Atlantic 10 Conference; John Steinbrecher, commissioner, Mid-American Conference; Marsha Sharp, head women's basketball coach emerita and associate athletics director, Texas Tech University; Stephanie Glance, head women's basketball coach, Columbia University; Muffet McGraw, head women's basketball coach, University of Notre Dame; Matthew Mitchell, head women's basketball coach, University of Kentucky; Bob Bowlsby, commissioner, Big 12 Conference; Rebecca Halstead, brigadier general, U.S. Army (Ret.).
Written by Cody Bush
APSU Sports Information