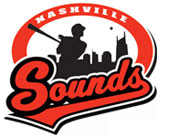 Nashville, TN – The Nashville Sounds scored an unearned run in the bottom of the ninth inning to claim a 3-2 victory over the Round Rock Express in the opener of a three-game series on Monday evening at Greer Stadium.
In the Nashville ninth, Khris Davis legged out a one-out infield single against Nate Robertson (2-4) and later stole second with two outs to place himself in scoring position for Caleb Gindl, who hit a grounder to second base that was booted by Yangervis Solarte to allow Davis to race home with the game-winning run.
The win was just the second walkoff victory of the year for Nashville (30-55). In the contest, three Sounds pitchers held Round Rock to two hits.
Second baseman Scooter Gennett, who has been swinging a hot stick since rejoining the Sounds last week, gave Nashville a 1-0 lead in the bottom of the fourth inning with a leadoff homer to right. The blast off Express starter Ryan Feierabend was the infielder's second roundtripper of the season.
Gennett went 2-for-3 on the night and has hit safely in all six games at a .381 clip (8-for-21) since being optioned from Milwaukee.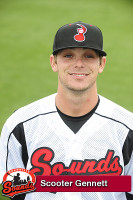 Sounds starter R.J. Seidel worked hitless baseball through his first 4 2/3 frames. After walking his first batter faced, the right-hander retired the next 14 Round Rock hitters in a row to tie the longest such stretch by a Nashville hurler this season (Michael Olmsted).
After issuing a two-out walk to Jim Adduci, Seidel gave up the first and only hit of his five-inning stint — a two-out, two-run homer to left off the bat of Express designated hitter Mike Bianucci, which propelled the visitors to a 2-1 lead.
Seidel took a no-decision after allowing two runs on the one hit while walking a pair of batters and striking out six in his five-inning, 75-pitch effort.
First baseman Hunter Morris knotted the score at 2-2 in the seventh with a two-out solo homer to right off Feierabend, the slugger's team-leading 15th big fly of the year.
Nashville had opportunities to reclaim the lead in both the seventh and eighth innings but failed to capitalize. Khris Davis followed Morris' homer with a triple but was stranded on third as Josh Prince flew out to end the frame.
In the eighth, Nashville loaded the bases with one out against Feierabend before Round Rock reliever Cory Burns took over and got Hainley Statia to ground into a fielder's choice that forced a runner at the plate before Robinzon Diaz hit a soft liner to end the frame.
The Sounds' bullpen was outstanding behind Seidel. Jesus Sanchez worked three hitless frames, fanning four, before Kyle Heckathorn (5-2) allowed one hit in his lone frame of work to pick up the win.
The teams play the middle game of the three-game set at 7:05pm on Tuesday. Right-hander Hiram Burgos (1-2, 1.99) will make the start for the Sounds and face Round Rock right-hander Josh Lindblom (7-0, 1.99).
Box Score
Nashville Sounds (30-55) 3, Round Rock Express (48-37) 2
July 1st, 2013
1
2
3
4
5
6
7
8
9
R
H
E
Round Rock Express
0
0
0
0
2
0
0
0
0
2
2
2
Nashville Sounds
0
0
0
1
0
0
1
0
1
3
8
0


Two out when winning run scored.
BATTING
HR: Bianucci (4, 5th inning off Seidel, 1 on, 2 out).
TB: Bianucci 4; Butler, Jy.
RBI: Bianucci 2 (17).
2-out RBI: Bianucci 2.
Runners left in scoring position, 2 out: Solarte; Hoying.
Team RISP: 0-for-2.
Team LOB: 3.BASERUNNING
SB: Garcia, L (4, 2nd base off Seidel/De La Rosa, A).FIELDING
E: Solarte (7, fielding).
DP: 2 (Olt-Solarte-Adduci 2).
Pickoffs: Feierabend (Diaz, R at 1st base).
BATTING
2B: Gindl (16, Feierabend).
3B: Davis, Kh (1, Feierabend).
HR: Gennett (2, 4th inning off Feierabend, 0 on, 0 out), Morris, H (15, 7th inning off Feierabend, 0 on, 2 out).
TB: De La Rosa, A; Diaz, R; Gennett 5; Davis, Kh 4; Gindl 3; Morris, H 4.
RBI: Gennett (14), Morris, H (38).
2-out RBI: Morris, H.
Runners left in scoring position, 2 out: Prince; Diaz, R 2.
GIDP: Diaz, R, De La Rosa, A.
Team RISP: 1-for-6.
Team LOB: 5.BASERUNNING
SB: Davis, Kh (6, 2nd base off Robertson, N/Whiteside).
CS: Diaz, R (1, 2nd base by Feierabend/Whiteside).
PO: Diaz, R (1st base by Feierabend).
WP: Feierabend.
IBB: Gennett (by Feierabend).
Pitches-strikes: Feierabend 100-67, Burns 10-6, Robertson, N 20-14, Seidel 75-47, Sanchez, Je 39-28, Heckathorn 10-7.
Groundouts-flyouts: Feierabend 8-6, Burns 1-0, Robertson, N 1-0, Seidel 3-3, Sanchez, Je 2-2, Heckathorn 2-0.
Batters faced: Feierabend 28, Burns 2, Robertson, N 4, Seidel 18, Sanchez, Je 10, Heckathorn 4.
Inherited runners-scored: Burns 3-0.
Umpires: HP: D.J. Reyburn. 1B: Shaun Lampe. 2B: Stu Scheurwater. 3B: Kellen Levy.
Weather: 78 degrees, overcast.
Wind: 2 mph, R to L.
T: 2:37.
Att: 2,993.
Venue: Herschel Greer Stadium.
July 1, 2013