Chattanooga, TN – A slow start and a lightning delay couldn't keep Austin Peay State University's high-octane offense down in Friday night's season opener against Chattanooga.
Behind two Tatiana Ariza goals, the Lady Govs downed the Mocs 4-0 to get the young season started on the right foot.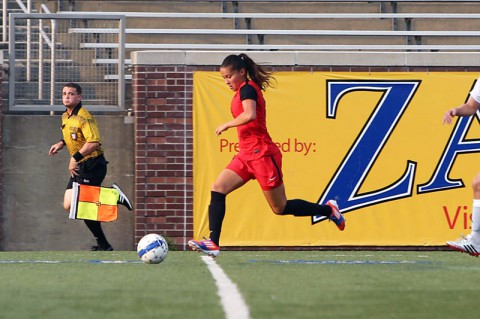 Austin Peay (1-0-0) won its fourth straight against the Mocs (0-1-0). The Lady Govs have scored four goals in each of the last three meetings between the in-state rivals.
Austin Peay wasted no time netting its first 2013 goal, netting its first less than seven minutes into the campaign.
Freshman Mary Ruth Locastro found senior Tatiana Ariza's feet, and the Colombian striker slid a shot into the low right corner for her 40th career Austin Peay goal. She reached a hallowed Ohio Valley Conference mark as well, becoming just the fourth player in OVC history to record 100 career points.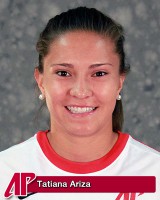 A lightning delay broke up play in the first half, sending both teams into the bowels of Finley Stadium more than 90 minutes. Both sides were rusty upon returning to play, with neither able to mount much of an offensive challenge over the first half's final third.
"I think the delay affected us a little bit," said head coach Kelley Guth. "I didn't think we were that sharp for the last 13 minutes or so of that half. We went from controlling tempo to coming back out and being on our heels a little bit."
Freshman Gina Fabbro would find the net for the first time in the regular season in the 55th minute. Senior Emily Kink lobbed a long pass that Fabbro was able to run under.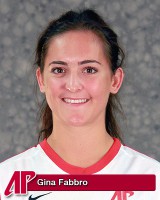 With Chattanooga keeper Lauren Thomas out of position, Fabbro tapped it in for her first regular-season goal as a Lady Gov – she was credited with two goals during exhibition play, scoring one against Alabama and the other against Freed Hardeman.
Austin Peay's final two goals came in rapid succession after Guth moved Shelby Olszewski up to an attacking position. Olszewski assisted on Ariza's second goal of the evening, quick-kicking a free kick that caught the Chattanooga defense napping, before scoring an unassisted tally after beating her man to a free ball heading toward the Mocs net.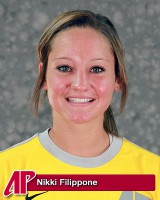 Sophomore Nikki Filippone and freshman Katie Emig teamed up for the shutout, with Filippone recording two saves in 70 minutes and Emig making an athletic stop to preserve the shutout in her 20 minutes of work. Lauren Thomas (six saves) and Taylor Mangrum (two saves) split time in net for Chattanooga.
"We got everybody in and got some player's some minutes," Guth said. "Roo (Mary Ruth Locastro) has really come into her own in the midfield. Katie Emig came in late and did a great job in net."
The Lady Govs continue on to North Carolina for the next game of their season-opening road trip when they take on Appalachian State, 1:00pm, Sunday, in Boone, N.C.