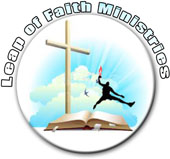 Clarksville, TN – Do you believe God made you the way you are for a reason? And put you where you are because He wants you to be there? Stop and think about it. If you are like me and everybody else I know, you are surrounded by many kinds of circumstances and you are reacting to them.
As children of God we can have authority over our circumstances. Think of yourself standing in the surf with the water up to your armpits and here comes a big wave. If you don't know much about waves you may try to run from it, but it will suck you back and throw you down with a thundering force. Helplessly you tumble around, gasping, and fighting for breath until you emerge in shallow water, bruised and dropping like a drowning kitten.
Experienced swimmers know a better way. Calmly they face the threatening wave and dive under it. Seconds later they emerge on the surface, turn and float easily on the wave all the way back to shore.
For a swimmer to be lifted on top of a wave is to dive under it. For a Christian, the way to be lifted on top of a problem is to submit to it. Most of us only know what it means to go down under problems. We've been tossed around, bruised, and hurt by circumstances all our lives. But that isn't submission. It is the exact opposite and the correct word for it is to succumb, which means to sink down, or be overcome by.
Submission on the other hand is the voluntary act of the child of God who knows that His Father is in charge, and who trusts himself in his Father's hands. Submission releases God's authority to overcome the situation. When we succumb our eyes are on the problem and our minds are full of complaints.
When we submit, our eyes are on Christ and our minds are full of praise. As time goes on, our succumbing draws us farther and farther down into misery and grief. In contrast, submission will in time lift us into joy and gladness in Christ even if the problem remains.
Several nations have developed a poisonous gas for use in warfare. It is completely invisible and odorless and victims breathe it without knowing it is there. Satan has a deadly "gas" that can flow into our hearts and minds while we don't even know what is happening. It is the attitude of complaining.
Some of us are so used to complaining and murmuring that caused the Israelites to die in the wilderness. Paul warned early Christians, "And don't grumble as some of them did, for that is why God sent his angel of death to destroy them." (I Corinthians 10:10 Living)
Complaining is a deadly sin because it is an expression of disbelief and distrust. Moses warned Israel that God's curse would come upon them. "Because you didn't serve the Lord your God with joy and gladness of heart…" (Deuteronomy 28:47 NKJV) Gladness is a sign of submission. When we submit to the point of saying "I am really glad", our praise becomes pure and wholehearted.
There is only one area where God tells us never to submit and always to use our authority and that is over our sin. Every trial and pain we face is in some way connected with our old sinful nature. Not even in this battle, submission comes before authority. "Submit yourselves therefore to God. Resist the devil, and he will flee from you." (James 4:7 KJV) Step one is always submission that releases our authority to resist evil. Our authority rests solely on God's power.
David knew what it was to submit and repent. He wrote, "Hear, O Lord, and have mercy upon me; Lord, be thou my helper. Thou hast turned for me my mourning into dancing; thou hast put off my sackcloth and girded me with gladness." (Psalm 30:10-11 KJV) When we submit to God's will and resist evil, He pours gladness over us. "Thou hast loved righteousness and hated iniquity; therefore God, even thy God, hath anointed thee with the oil of gladness…' (Hebrews 1:9 KJV)
The sign of whole hearted submission is gladness. That is why David wrote, "Serve the Lord with gladness, come before His presence with singing." (Psalm 100:2 KJV) We can't serve God unless we are submitted to His will and if we aren't glad then we aren't submitted. God wants us to serve Him. He has a wonderful plan for you and for me. "He leads the humble in what is right, teaching them His way." (Psalm 25:9 Living) The humble are those who have learned to submit with gladness to His will.
The same hold true for every other kind of trial with which you may be faced. God means it for good, but the good can't happen until you submit. When you say, "Thank you, Lord, for the thing that hurts. I'm glad it hurts" then it may go away. But your gladness has taken the sting from pain and you'll stay glad even if it doesn't go away. The good has been accomplished. Your submission gave you authority over that trial, and God lifted you up above it where you can ride on it safely to wherever God has planned.
Are you worried about anything? Do you stay awake at night fearing a bad phone call? Or are you afraid you'll lose your job or come down with cancer? We only fear what we haven't submitted to God. "Praise the Lord! Happy are those who fear the Lord. Yes, happy are those who delight in the doings what He commands. Such people will not be overcome by evil circumstances… They don't fear bad news; they confidently trust the Lord to care for them." (Psalm 112:1,6,7 Living)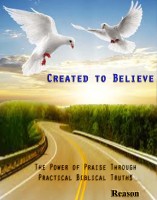 Fear pumps adrenalin into the body and gets us moving. It gives us unusual strength to do things we can't normally do. Think of the effect faith could have on our body if we allowed it to take instant control over us the way we have let fear do in the past. Faith that causes us to submit to God without a moment's hesitation.
Think of the tremendous power of God released through our submission! God just wants us to submit to His will. He knows what will happen in our lives when we stop complaining and learn to say, "Lord, I'm really glad.'
Excerpt from Created To Believe: The Power of Praise Through Practical Biblical Truths written by Richard "Reason" Garrett
Copyright © 2011 Liberated Publishing Inc