Montgomery County, TN – The latest business to complete requirements for Clarksville-Montgomery County Green Certification and host a Green Ribbon Cutting is Fort Campbell Federal Credit Union.
Montgomery County Mayor Carolyn Bowers, City of Clarksville Mayor Kim McMillan, and Chamber of Commerce Executive Director Melinda Shepard were there to congratulate the Credit Union employees for their certification.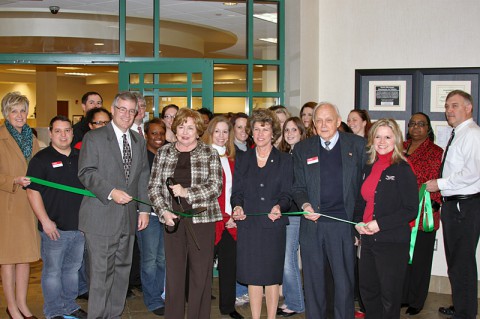 Fort Campbell Federal Credit Union Chairman of the Board, Tom Denney, was also on site to greet the mayors and thank the employees for their "green" efforts.
Bowers asked them to share what they had done to become CMC Green Certified.
Director of Mortgage Lending, Kim Clarkson, who led the certification effort, shared, "We recycle everything possible at our main location and have plans in place to expand recycling beyond paper in our other locations. To reduce energy, we've installed occupancy sensors in a few branches, adjust thermostat settings, set computers and printers to sleep mode when not in use, ask employees to turn out unnecessary lights and use the stairs rather than the elevators. We host two free shred days per year for our customers to keep their information secure and the paper out of the landfill."
"Technology has played a major role in reducing the amount of paper we use. We successfully transitioned the majority of our customers to online banking statements in 2013. Last month we added mobile banking which allows customers to bank anywhere in the world with us. It has reduced paper and the need for members to drive to a branch location when they want to bank by phone or computer," added Clarkson.
McMillan expressed her gratitude for their work, asked if employees were practicing recycling and energy conservation in their homes, and encouraged them to do so if they were not already.
"Fort Campbell Federal Credit Union has deep roots here in Montgomery County so we're especially motivated when it comes to preserving the area's resources. Our team has worked hard on this initiative and we're proud to be the county's first Green Certified credit union. We look forward to introducing even more recycling and energy conservation measures in the coming months," said Tom Kane, CEO of Fort Campbell Federal Credit Union.
Bowers wrapped up by saying, "Each of us plays a role. Sometimes people think, I'm not paying the bill so why worry but we have an individual responsibility to do our best at work and at home. It takes effort from all of us working together to make a difference."
Fort Campbell Federal Credit Union is celebrating its 60th year serving the Clarksville, Fort Campbell, Oak Grove and Hopkinsville area as a full service financial institution open to all residents of Montgomery County and surrounding areas. For more information about the Credit Union, visit www.fortcampbellfederal.org .
For details on how your business can participate in the Green Certification Program, contact Michelle Newell at .