Austin Peay Sports Information

Columbus, OH – In its final meet before next weekend's Ohio Valley Conference Indoor Championships, Austin Peay State University track and field team earned a runner-up team finish at the Ohio State Tune-Up, Friday.
The Lady Govs placed second with 122 points, behind the host Buckeyes with 242.66 points. Ohio (84 points), Wright State (33.33) and Marshall (28) rounded out the top five.
"Just another very solid meet," said head coach Doug Molnar. "Ohio State is a good team with a lot of numbers, which is really tough to overcome. But we had a lot of top-threes out there today, which is encouraging heading into next week."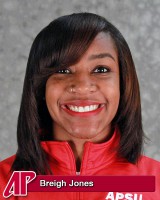 The Lady Govs took two of the top three spots in the 4x400m relay, with the team of sophomores Breigh Jones and Kymmalett Ross and juniors Maikea Davis and Jessica Gray won the event with a 3:48.88 mark. Close behind in third place was Austin Peay's second squad of freshmen Molly Jordan, Terri Morris and Tamira Wilson and sophomore Antonia Stevenson with a 4:01.88 run.
Davis (57.67 seconds), Morris (57.94) and Stevenson (59.04) finished third, fourth and fifth in the 400m dash, with Davis and Stevenson scoring personal-bests for their Austin Peay careers.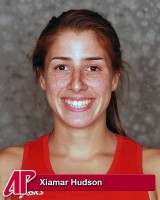 Ross was one of five Lady Govs to earn points in the 200m dash, leading the Austin Peay contingent with a third-place, 25.45 mark. Sophomore Lamontra Robinson (fifth, 25.87), Wilson (sixth, 26.03), Stevenson (seventh, 26.20) and freshman Chancis Jones (eighth, personal-best 26.57) also scored for Austin Peay.
In her first attempt at the 3000m run during the 2014 indoor season, senior Xiamar Hudson placed fifth with a 10:16.21 mark, which places her seventh in the OVC entering next weekend after being converted to a 10:10.98 mark due to track size.
Freshman hurdlers Amia Butler (8.81) and Myiah Johnson (8.84) were third and fourth in the 60m hurdles; Johnson's 8.75 qualifying mark was her personal best. Butler also took fifth in the long jump with a 5.49m leap.
Austin Peay freshmen took the jumps by storm at French Field House. In addition to Butler's top-five, freshman Kaylnn Pitts won the triple jump with a personal-best 12.26m leap that moved her to second in the OVC. Freshman Ashleigh Woods (11.27m) was third in the event.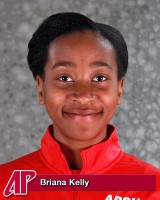 Freshman Brianna Kelly earned runner-up marks in the high jump, equaling her career-best with a 1.68m mark.
"Every jump was solid," Molnar said. "Up and down the line, we had a very good day. The girls and the staff did a wonderful job, now we just have to take it into next week."
In non-NCAA sanctioned action, Jordan won the 1000m run with a 3:04.72 run, while Jones (1:36.83) and Gray (1:37.94) finished third and fourth in the 600m event.
The OVC Indoor Championships, a two-day event beginning Friday, February 28th, will be hosted by Tennessee State in Nashville, TN at the Gentry Center.