APSU Sports Information

Clarksville, TN – A little more than a year ago, Kirby Cannon was named Austin Peay State University's head coach. Tuesday (1:30pm) will see Cannon and staff open their second spring practice.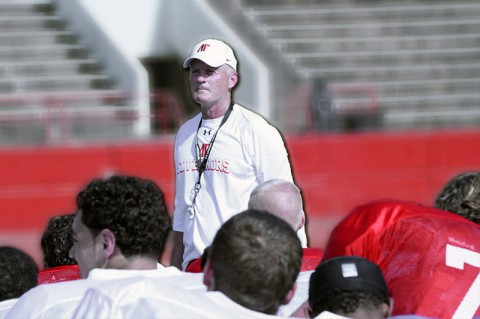 Lots of changes have occurred since Cannon assumed the program's reins. The obvious one is this spring the Govs will be practicing while the new Governors Stadium goes up in front of their eyes.
In addition, the Governors have undergone some coaching changes, resulting in Cannon also taking over defensive coordinator duties.
It also has have seen roster changes. In addition to seniors moving on others elected to leave the program. APSU's challenging offseason strength and conditioning program whittled away those not committed to the Governors program.
And those that stayed are in the best conditions of their respective football lives. So the later spring practice started, caused by stadium construction, gave the coaching staff even more opportunity to work on the Govs conditioning.
"The timing of spring practice always is one of those dilemmas you have," Cannon said. "If you start earlier, it gives you chance to get out and recruit in the spring evaluation period and then in theory get back into the weight room (before finals) along with concentrating on classes.
"Most years we will start before this but with stadium construction and the timing of that, we are starting April 1st. It allowed us go through 14 winter conditioning sessions—that is a lot. We also got to see where they are from a weight training standpoint. We have been hard at it since the got back to school (from Christmas break)—four days a week."
The Govs had less than a half dozen football players able to squat 500 or more pounds in January when the team reported back to school. They now have more than 30—still not a great number in today's football world but marked improvement for the Governors.
"Our conditioning levels are much better than they were a year ago," Cannon said. "The credit for that goes to the kids and their consistent effort. There is no magic plan to make you stronger and in better shape. You just have to do the work."
The Governors literally will undergo a remake on offense and defense. Cannon has taken over the defense while Josh Richards has assumed the role as offensive coordinator, changing places with Marcus Gildersleeve, who returns to position coaching.
"The system itself is the same," Cannon said. "We will line up in the 4-2-5 on defense but our terminology will be different and the areas of emphasis are different. I think the kids are ready for that.
"Coach Richards has assumed the offensive coordinator position and we have had some challenges in terminology. The focus and plan to move forward in our passing game is still there. We want to be simple and effective in our run game. We also want to see if we can take steps forward in our ability to throw the ball more but also more down the field. "
APSU's passing game should benefit from the presence of freshman receivers Wesley Thomas and Jermer Braswell, who enrolled in school in January.  Braswell's father, Jeff, once played for Cannon when the Govs coach was an assistant at Iowa State. The duo will augment a returnee group headed by sophomore Rashaan Coleman (30 catches, 214 yards) and senior Darryl Clack (28, 398 yards, 2 TDs).
In addition returning quarterbacks Andrew Spivey (76 of 147, 674 yards) and Timarious Mitchell (37 of 98, 310 yards) will be challenged by southpaw Trey Taylor, who sat out last season after transferring from Central Arkansas, and freshman Mickey Macius, who also enrolled in January.  Jacob Sexton, who threw 42 passes a year ago, has been shifted to H-back.
The running back will be paced by sophomore Omar Williams (636 yards), the Govs leading rusher a year ago, and sophomore Julian Franklin (116 yards).
The offensive line has centers Isaiah Tuiasosopo and Travis Williams returning along with guards Nathan Sanders and Tyler Miles. But APSU must find two new tackles with the graduations of Gavin Willisson and Ben Stansfield.
Defensively, the Govs line also will have some new faces, especially at end.  In the middle, Malcolm Goines, Gino Roberson, DeAndre Carroll and John Houston Jr. provide depth. At end, the Govs will look at returnees Corey Teague, Nii Lartey, Trey Salisbury and Damien Clark.
Last season, injuries forced the Govs to move Montrieze Lillard and Adam Noble from linebacker to end. Both have returned to their more natural position while sophomore Antonio Turner, who was the team's second-leading tackler (67 stops) after moving into the starting lineup less than halfway through the season, has gained much bulk to his wiry frame. Another sophomore A.J. Gray, who was sixth on the team in tackles (54) also returns.
The secondary could be a strength source. Senior safety Johnathan Shuler led the team in tackles (76) a year ago while rising sophomores Jalen Miller (39 tackles) and Damien Whitfield (14 tackles) also are back. Cornerbacks Buddy Mitchell (10 tackles), Rod Owens (49 tackles) and Montez Carlton (48 tackles)  return after being regulars a year ago.
The kicking game again will be trusted to the legs of rising senior Ben Campbell and sophomore Chase Dunlap.
APSU will practice for much of the month, with the spring game slated for 3:30pm, Saturday, April 26th, at Fort Campbell.