Four Special Forces Service Members Among Those Remembered for Memorial Day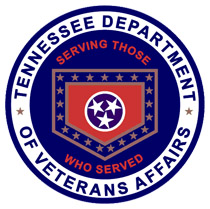 Nashville, TN – Tennessee Governor Bill Haslam joined Tennessee Department of Veterans Affairs Commissioner Many-Bears Grinder and Major General Terry "Max" Haston of the Tennessee Military Department to pay tribute to six Tennesseans who gave the ultimate sacrifice, including a service members previously missing in action for several decades. Haslam presented surviving family members with the Honor and Remember Flag and an Iris which is the official state flower.
Staff Sergeant Lawrence Woods of Clarksville was among eight service members killed in a plane crash on October 24th, 1964 and was the first Tennessean to be declared missing in action (MIA) leading up to the Vietnam War.  Woods was serving with the 5th Special Forces Group based out of Fort Campbell.  The United States Army Staff Sergeant was aboard a C-123 Provider aircraft that crashed when it was struck by enemy fire while resupplying the U.S. Special Forces camp at Bu Prang, Vietnam.  Lisa Szymanski, Steven Woods and Deborah Secriskey received the presentation on behalf of their father.
Warrant Officer One Sean W. Mullen of Adams was killed on June 2nd, 2013 by an improvised explosive device (IED) while conducting combat operations in the Nimroz Province of Afghanistan in support of Operation Enduring Freedom.  The 39-year old soldier was serving with Company Bravo, 2nd Battalion, 5th Special Forces Group (Airborne) in Fort Campbell.  Chief Warrant Officer-2 Anthony Deluzio served with Mullen and received the presentation on behalf of the Mullen family.
Staff Sergeant Stephen M. New of Bartlett was fatally shot during an attack on his unit in Kabul Province, Afghanistan on July 28th, 2013 in support of Operation Enduring Freedom.  The 29-year old Memphis native was assigned to 2nd Battalion, 20th Special Forces Group (Airborne) out of Jackson Mississippi but deployed with 3rd Special Forces Group (Airborne) out of Fort Bragg, North Carolina.  William New received the presentation on behalf of his son.
Major Howard Andre, Jr. of Memphis was a member of a two man flight crew on a night armed reconnaissance mission when their A-26A Invader aircraft crashed in Xiangkhoang Province, Laos during the Vietnam War on July 8th, 1969.  Andre's remains were unaccounted for until April 2013.  The United States Air Force pilot was buried at Arlington National Cemetery on September 23rd, 2013.  He was 34-years old when his plane crashed.
Staff Sergeant Daniel Lee of Crossville was fatally shot while on patrol on January 15th, 2014 in the vicinity of Wazghar Parwan Province, Afghanistan in support of Operation Enduring Freedom.  The 28-year old soldier was serving with Charlie Company, 2nd Battalion, 3rd Special Forces Group out of Fort Bragg, North Carolina.  Robert and Donna Lee received the presentation on behalf of their nephew.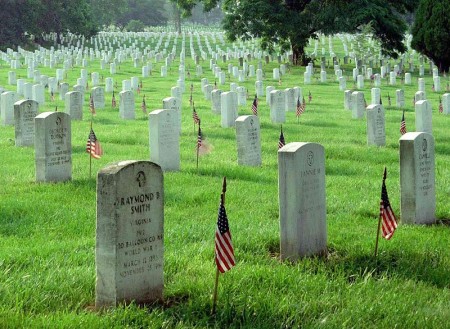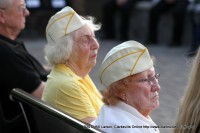 Governor Haslam declared May 23rd, 2014 as Gold Star Family Day and formally presented the proclamation to Gold Star Mom Joyce Mount of Franklin, Tennessee.  Warrant Officer One Judson Mount was seriously injured on November 8th, 2008 when his convoy vehicle was struck by an improvised explosive device (IED) while traveling near Baghdad, Iraq.  Mount was serving with Bravo Company, 64th Support Battalion, 3rd Brigade Combat Team, 4th Infantry Division in the United States Army.  The 37-year old Memphis native endured 13 surgeries, but died on April 7th, 2009, five months after the attack in Iraq.
"As we pause to remember these six brave fathers, brothers, sons and husbands, I would ask that we also remember the families they left behind," Haslam said.  "Although we can never repay their ultimate sacrifice for our freedom, we can honor their memories by never taking it for granted."
"Memorial Day is not just another holiday, but instead an opportunity to reflect on the lives lost and the freedom preserved by the sacrifices of brave Americans such as the men we memorialize today," Grinder said.  "We owe it to their families to never forget our fallen heroes and to offer our remembrance, respect and support to comfort those struggling with the tragic loss of their loved ones."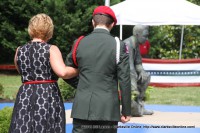 "Memorial Day is not only a time to honor and remember those brave Tennesseans who gave the last full measure in the defense of our state and nation, but also to celebrate their lives and the sacrifice they made to ensure the freedoms we all enjoy," Haston said. "Words cannot repay the debt we owe these individuals, but we must, by our actions, keep faith with them and the belief that led them to that final sacrifice."
The "Honor and Remember Flag" is presented to surviving family members during the Governor's Memorial Day Event.  The flag is a combination of memorial symbolism to include a large red section which represents blood spilled by service members in America's military throughout history.  The blue star represents active service in military conflicts from the American Revolution to present day.  The white border around the gold star recognizes the purity of sacrifice.  The gold star reflects the value of life that was given.  The folded flag signifies the final tribute to an individual life that a family sacrificed and gave to the nation.  The flame is an eternal reminder of the spirit that has departed this life yet burns on in the memory of all who knew and loved the fallen hero.