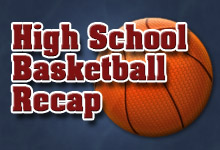 Clarksville, TN – After a brief break for some Turkey, the girls went back to the court to begin district competition last week.
Last season's district champs made a strong start to repeat this season with several teams hot on their heels.
The competition is tough so far with only a few teams struggling to find wins.
Hot List
The 2013-14 District 10-AAA regular season and tournament champions, Rossview Lady Hawks, opened up district play with two wins last week. After dominating the Northwest Lady Vikings Tuesday, December 2nd, 50-19, they barely escaped the Clarksville High Lady Wildcats Friday, 39-37. Like last season, the Lady Hawks are relying on tough defense and a deep post game to get wins. The formula is still working, because the Lady Hawks have only lost one game so far (5-1).
Charging along side the Lady Hawks are the Henry County Lady Patriots. They also earned two district wins last week, taking down the Kenwood Lady Knights Tuesday, 45-39, and the West Creek Lady Coyotes Friday, 39-35. The win versus the Lady Coyotes put the Lady Patriots on a four game win streak.
Week 4 Recap
While the Lady Hawks and the Lady Patriots made a clean sweep last week, four District 10-AAA teams split games and two went winless.
Clarksville High junior Ta'Tayanna Outlaw and senior Haley Bearden are leading the charge for the Lady Wildcats. The two combined for 26 of the 61 points in a win over the Northeast Lady Eagles Tuesday. The Lady Wildcats (3-8) came up just short against the Lady Hawks Friday, 37-39.
After losing to the Lady Wildcats on Tuesday, the Lady Eagles bounced back with a 44-38 win over rivals the Northwest Lady Vikings. The Lady Eagles (2-5) lack size but make up the difference with experience with four seniors on the squad including starters Nataszja Freeman and Michelle Donner.
Both the Kenwood Lady Knights ( 3-4) and the West Creek Lady Coyotes (2-7) also went 1-1 in district play last week. After losing to a hot Lady Patriots team, the Knights smote the Springfield Lady Yellow Jackets Friday, 36- 30. The Lady Coyotes did the same thing in reverse, first taking down the Lady Yellow Jackets 49-44, then getting skinned by the Lady Patriots on Friday, 35-39.
The Lady Knights and the Lady Coyotes kept the Lady Yellow Jackets winless in the district. However, the Lady Yellow Jackets (1-5) earned their first win of the season Saturday, December 6 against White House, 49-48.
The Northwest Lady Vikings (1-10) extended their losing streak to five games after losing to both the Lady Hawks and the Lady Eagles. The Montgomery Central Lady Indians lost three games last week and remain winless at 0-5.
After losing two games, the Clarksville Academy Lady Cougars finished the week with a 38-30 win over Jo Byrns Friday.
Top Scorers:
Springfield's Imani Collier, 24 against White House Saturday, December 6th
Clarksville Academy's Bailey Foote, 20 against Davidson Academy Thursday, December 4th
Clarksville High's Ta'Tayana Outlaw, 19 against Northeast Tuesday, December 2nd
Clarksville High's Haley Bearden, 17 against Northeast Tuesday, December 2nd
West Creek's Ariana Prather, 13 against Cheatham County Central Thursday, December 4th
District 10-AAA Standings:
Rossview    2-0
Henry Co.   2-0
Clarksville  1-1
Kenwood    1-1
Northeast   1-1
West Creek 1-1
Northwest  0-2
Springfield 0-2