Austin Peay Sports Information

Clarksville, TN – Turnovers, in particular second-half giveaways, proved costly for Austin Peay State University women's basketball team as it dropped an 81-78 overtime decision to Tennessee State, Saturday, in Ohio Valley Conference action at the Dunn Center.
Austin Peay (6-12, 3-2 OVC) held a 14-point lead at halftime despite committing 11 turnovers.
However, the Lady Govs committed 20 turnovers in the second half and overtime.
Tennessee State finished the game scoring 31 points off APSU's 31 giveaways, 18 of those points coming in the second half and overtime.
Tennessee State (7-9, 4-1 OVC) made its charge after APSU center Tearra Banks hit a layup for an 8-point, 45-37, advantage with 12:52 left.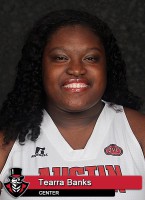 The Lady Govs would score just three points on their next 15 possessions, committing eight turnovers and making just 1-of-8 field goals. Tennessee State scored 16 points, on 8-of-15 shooting, in the same span. The resulting 16-2 run giving the Lady Tigers their largest lead, a five-point, 53-48 advantage with 6:02 left.
Banks would change the game's momentum with a conventional three-point play that seemed to wake the Lady Govs. Austin Peay would follow that play with a 6-0 run and led by two points with 3:26 left.
The Lady Govs were able to extend the lead to three points after a pair of Tiasha Gray free-throws with 41 seconds left.
However, Austin Peay lost track of Tennessee State's Jemilah Leonard on the ensuing possession and she made it pay off, hitting a game-tying three-pointer with 34 seconds left to force overtime.
It was a wild extra period for both teams as they combined for 33 points. Tennessee State converted on each of its first four periods and led by three points, 71-68, with 2:57 left. It would set the tone for overtime where the Lady Tigers scored on 10 of their 11 possessions.
Austin Peay could only convert on 7 of its 11 possessions, including a pair of turnovers. The Lady Govs did have a chance to tie the game, but Gray's three-pointer hit the front of the rim and was rebounded by Tennessee State to end the game.
Austin Peay controlled the first half thanks to a 46.7 percent (14-of-30) shooting performance. Tennessee State's offense struggled in the opening frame, making just 19.5 percent (8-of-41) of its shots, including just 33 percent (5-of-16) of its layups.
Gray scored the half's final five points to give APSU its largest lead, 36-22, heading into the halftime break.
Banks scored a career-high 25 points and grabbed 10 rebounds for her season's second double-double. Gray finished with 19 points – giving her 1,000 career points – and 10 rebounds for her season's fifth double-double.
Jennifer Nwokocha added a 7-point, 10-rebound performance as Austin Peay won the rebounding battle by a 57-45 margin.
Chelsea Hudson led Tennessee State with a 23-point, 12-rebound outing that helped her also reach the 1,000-point plateau for her career. Her three-pointer with 54 seconds left in overtime gave Tennessee State the lead for good. Jemilah Leonard (13 points), Jayda Johnson (12) and Imani Davis (11) also reached double-digit scoring territory.
Austin Peay closes its three-game, five-day homestand when it hosts Morehead State in a 6:00pm, Monday contest at the Dunn Center.
Video – Coach Carrie Daniels
Box Score
Austin Peay 78 (6-12 3-2 OVC) vs Tennessee State 81 (7-9 4-1 OVC)
| | 1 | 2 | OT | Total | Records |
| --- | --- | --- | --- | --- | --- |
| Tennessee State | 22 | 41 | 18 | 81 | 7-9 (4-1 OVC) |
| Austin Peay | 36 | 27 | 15 | 78 | 6-12 (3-2 OVC) |
Tennessee State 81
##
Player
FGM-FGA
3FGM-3FGA
FTM-FTA
OFF-DEF
TOT
PF
TP
A
TO
BLK
STL
MIN
30
Hudson, Chelsea
9-19
1-2
4-8
4-8
12
3
23
3
2
0
4
39
3
Davis,Imani
5-14
0-5
1-4
1-6
7
2
11
3
1
0
3
35
5
Morrow, Briana
4-6
0-0
0-0
3-1
4
5
8
0
2
1
0
18
12
Allen, Rachel
2-6
1-3
0-0
0-1
1
0
5
6
1
0
1
38
20
Lawrence, Brianna
1-8
0-4
2-2
0-4
4
1
4
1
0
3
2
31
4
Leonard, Jemilah
5-10
1-3
2-2
1-1
2
1
13
0
1
0
4
22
25
Johnson, Jayda
5-12
0-2
2-4
4-1
5
1
12
1
2
0
2
17
42
Hill, LaTeasha
1-6
0-0
0-2
3-5
8
2
2
0
2
0
0
16
2
Beatty, Diamond
1-4
0-1
0-0
0-0
0
0
2
0
0
0
1
5
23
Palma, Samantha
0-0
0-0
1-2
0-0
0
0
1
0
0
0
0
1
11
Wooten, Tia
0-2
0-0
0-0
0-1
1
1
0
0
0
0
0
3
0
TEAM
0-0
0-0
0-0
0-1
1
0
0
0
1
0
0
0
Totals
33-87
3-20
12-24
16-29
45
16
81
14
12
4
17
225
Percentages
37.9%
15.0%
50.0%
Austin Peay 78
##
Player
FGM-FGA
FGM3-FGA3
FTM-FTA
OFF-DEF
TOT
PF
TP
A
TO
BLK
STL
MIN
1
Gray, Tiasha
5-14
3-4
6-6
0-12
12
2
19
4
5
0
2
45
4
Stainback, Kristen
3-10
1-3
0-0
0-2
2
2
7
4
6
1
1
33
21
Nwokocha, Jennifer
3-6
0-0
1-2
1-9
10
4
7
1
4
0
0
21
24
Rates, Beth
1-4
0-0
3-4
0-3
3
1
5
1
5
0
1
17
11
Alexander, Brianne
0-0
0-0
0-0
0-0
0
4
0
0
1
0
0
11
25
Banks, Tearra
11-14
0-0
3-3
4-6
10
3
25
0
3
0
0
29
44
Scott, Jacey
2-5
1-4
1-2
0-9
9
1
6
4
2
0
0
29
23
Gooch, Sydney
3-7
0-0
0-1
1-3
4
3
6
0
2
0
0
21
12
Rich, Madison
0-1
0-1
3-4
1-1
2
0
3
0
1
0
0
7
3
Rivers, April
0-1
0-1
0-0
0-0
0
2
0
1
1
0
0
12
TM
TEAM
0-0
0-0
0-0
2-3
5
0
0
0
1
0
0
0
Totals
28-62
5-13
17-22
9-48
57
22
78
15
31
1
4
225
Percentages
45.2%
38.5%
77.3%