Clarksville, TN – The past two seasons Austin Peay State University's softball team went into the final weekend of the regular season with a chance to make the Ohio Valley Conference post-season tournament – only to come up short.
But as they open their 2015 regular season this weekend at the Mississippi State Bulldog Kickoff Classic, the Lady Govs hope to clear that final hurdle and make a return to the postseason.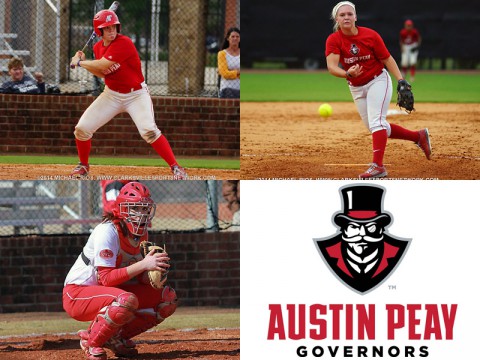 This is the third season under current head coach Stephanie Paris, who has 12 letter winners returning from the 2014 squad that finished with a 20-32 overall record and 8-18 in OVC play.
Leading the group of returners is junior catcher Mel Pavel, who batted .268 last year, which included seven doubles and a home run. She also drove in 21 runs as scored 12 times.
Senior second baseman Laurel Burroughs is the most tenured Lady Govs, with 130 games under her belt, and is coming off a 2014 season where she hit .248 – with five doubles, two triples and three home runs. She added 26 runs scored and drove in 17.
Three other starters return for Austin Peay, juniors Marissa Lake (outfield) and Niya Sparks (third base).
Lake missed the first 23 games of the 2014 season, but batted .255 over the final 29 games – which also included a pair of doubles, while scoring 20 runs.
Sparks batted .111 with a double and a home run, while driving in three and scoring six times.
The final returning starter is sophomore outfielder Rikki Arkansas, who had a solid freshman campaign with a .241 batting average, with one double and a team-best three triples.
Other returning letter winners are: juniors Courtney Brower (outfield /.179 BA, 1 3B, 8 R), Vincheniza DiBenedetto (third base/.132 BA, 2 2B, 7 RBI), sophomores Chandler Groves (utility/.176 BA, 1 HR, 6 RBI), Sidney Hooper (pitcher/4-6 W-L, 1 Save, 28 k's, 5.91 ERA), Allie Blackwood (pitcher/0-1 W-L, 1 Save, 4 k's, 9.13 ERA), Christiana Gable (pitcher-first base/.174 BA, 1 HR) and senior Ashley Eisenbraun.
Joining the returners will be seven newcomers, two junior college transfers and five freshmen.
Juniors Natalie Ayala (pitcher/Long Beach CC) and Morgan Hoeg (infielder/Iowa Western CC) enter 2015 with two years experience under their belts, while Erica Inagaki (shortstop/second baseman, Kaneohe, HI), Heather Norris (pitcher, Clarksville, TN), Savanna Oliver (outfield, Mt. Juliet, TN), Kacy Acree (outfield, Riverside, CA), Alexis Hill (catcher, Clarksville, TN) will be seeing their first collegiate action this season.
Along with the season-opening Mississippi State Tournament, the Lady Govs will participate in three other in-season tournaments — Adidas Winthrop University Classic, Indiana University Classic and their own Austin Peay Governors Classic.
The Lady Govs will also have home games versus Miami (OH), Drake, Cleveland State, Southern Illinois, Eastern Illinois, Middle Tennessee, Samford, Eastern Kentucky, Morehead State, Evansville, SIU Edwardsville and Southeast Missouri.
On the road, Austin Peay will play at Tennessee State, Belmont, Tennessee Martin, Northern Kentucky, Tennessee Tech, Jacksonville State, and Murray State.
So that is the field of opponents that coach Paris and her 19 Lady Govs will have to face in 2015 in what will hopefully be a return to post-season action.