Biggest-ever National Wear Red Day features buildings, people, places going red for women's heart health; many local activities coming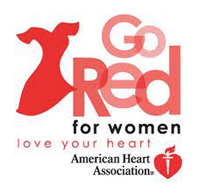 Nashville, TN – The Middle Tennessee skyline will take on a special heartwarming red glow next Friday.
Twenty-two local buildings will be lighting up red as part of the 12th annual National Wear Red Day on Friday, February 6th, as part of the biggest Go Red celebration ever in Middle Tennessee. This icon day of the American Heart Association's Go Red For Women movement is the day when everyone Goes Red across the nation to support women's fight against heart disease, their No. 1 killer.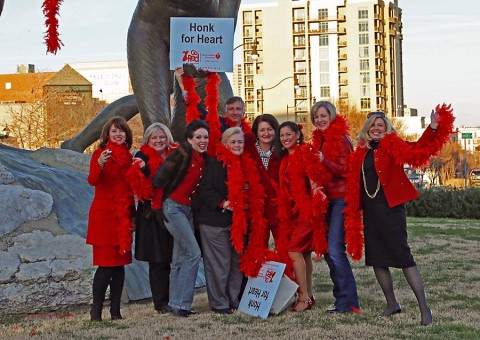 More women die of heart disease than all forms of cancer combined. One in three American women die of heart disease and stroke, and in Tennessee, 9000 women lose their lives each year.
Yet up to 80% of cardiac events are preventable through education and lifestyle choices we make every day.
On Friday, February 6th, to show support for women's hearts, everyone is asked to wear Red and share Red on social media with the local hashtag #NashGoRed.
How is Middle Tennessee "going red"? Highlights include:
Babies Go Red – Friday, February 6th
On Friday the 6th, newborns in Saint Thomas Midtown Hospital and Saint Thomas Rutherford Hospital will wear custom-made red knit caps in honor of National Wear Red Day to show support for their moms' heart health. Their moms will receive infant CPR kits and gift bags.
Buildings Go Red – Friday, February 6th
Twenty-two buildings in Middle Tennessee will light up in red in the evening to mark National Wear Red Day. All buildings will be red on Feb. 6; buildings with extended dates are noted. The confirmed list to date includes:
Adventure Science Center, 800 Fort Negley Blvd., Nashville
AT&T building ("Batman building"), 333 Commerce St., Nashville, Feb. 5-6
DoubleTree by Hilton, 1850 Old Fort Pkwy., Murfreesboro
BOHAN Advertising, 124 12th Ave S., Nashville, Feb. 5-6
The Bridge Building, 2 Victory Ave., Nashville
Frist Center for the Visual Arts, 919 Broadway, Nashville
Hard Rock Café, 100 Broadway, Nashville
Healthways, Inc., 701 Cool Springs Blvd., Franklin
LP Field, 1 Titans Way, Nashville
Murfreesboro City Hall, 111 West Vine St., Murfreesboro
Nashville Electric Service, 1214 Church St., Nashville
The Parthenon, 2500 West End Ave., Nashville
Rutherford County Courthouse, 20 N. Public Square, Murfreesboro
Saint Thomas Midtown Hospital, 2000 Church St., Nashville, Feb. 4-8
Saint Thomas West Hospital, 4220 Harding Rd., Nashville, Feb. 4-8
Saint Thomas Rutherford Hospital, 1700 Medical Ctr. Pkwy., Murfreesboro, Feb. 4-8
Studio Gaven Hair Colour, 100 International Dr., Franklin
The Studio at Studio Gaven, 103 International Dr., Franklin
Tennessee Performing Arts Center (TPAC), 505 Deaderick St., Nashville, Feb. 3-8
Tennessee State Capitol (cupola), 600 Charlotte Ave., Nashville, Feb. 6-8
The Tennessean, 1100  Broadway, Nashville
TriStar StoneCrest Medical Center, 200 StoneCrest Blvd. #155, Smyrna, Feb. 7-17
Cities and Counties Go Red
Cities proclaiming National Wear Red Day: Brentwood, Clarksville, Franklin.
Counties proclaiming National Wear Red Day: Cumberland, Davidson, Dickson, Humphreys, Robertson and Williamson.
Macy's Goes Red – local store activity, Wear Red Sale and Red Pin Sale – Feb. 4th-16th
Starting February 4th, watch for special Go Red touches and Go Red/Macy's/Saint Thomas signs in the Cool Springs, Green Hills and Rivergate stores.
On National Wear Red Day, February 6th, fun surprise activities will be happening in the the morning at the Cool Springs and Green Hills stores.
From February 4th-9th, customers who wear red or purchase a Red Dress pin for $2.00 at Macy's will receive Wear Red Sale savings throughout the store. From February 10th-16th, customers who purchase a Red Dress pin will receive all-day savings. Macy's will donate 100% of the proceeds from pin sales to Go Red For Women.
Tennessee General Assembly Goes Red – Thursday, Feb. 5th
Rep. Brenda Gilmore will introduce a resolution to proclaim National Wear Red Day during the session that day. Legislators will wear an element of red.
Nashville Symphony Goes Red – Feb. 6th-8th
The Nashville Symphony will support Go Red For Women during three performances on the weekend of February 6th. Symphony members will wear the Red Dress pin, and guests will receive Go Red information in their programs.
TPAC Goes Red – Feb. 6th-8th
TPAC, in addition to lighting their building from February 3rd-8th, will distribute Go Red information to theatergoers.
Churches Go Red
Churches holding Go Red Sunday services: Mt. Zion, 2 services each at Antioch and Old Hickory locations on 2/15; First Baptist; Olive Branch Missionary Baptist (held on January 25th).
Metro Council Goes Red – Tuesday, Feb. 17th
Council Lady Erica Gilmore will introduce a resolution to proclaim National Wear Red Day in Nashville/Davidson County at the Council meeting that day.
Businesses Go Red
Many local businesses are supporting the American Heart Association during American Heart Month, February, by asking employees to wear red, decorating in red, sharing heart health information, donating free services or hosting fundraisers or public events.
4th Leaf Design Studio
Activa 1240
Agero
Alpha Kappa Alpha Sorority, Inc.
Alpha Phi Sorority
Amerigroup
Bedford County Health Dept.
Belk Department Stores
Bell Construction
Brentwood Fire Dept.
Bridgestone Americas, Inc.
Campbell's
Caterpiller Financial
City of Brentwood
Cracker Barrel
Crossings Shopping Center, Spring Hill
Delta Sigma Theta Sorority, Inc.
Dempsey Vantrease & Follis PLLC
Dickson Chapter of AAPC Medical Coding Organization
Direct General
Downtown Clarksville Association
Earl Swensson Assocs.
Fifth Third Bank
First National Bank of McMinnville
Foxfuel Creative
Franklin Fire Dept.
Gaylord Opryland Resort and Attractions
GFWC Spring Hill Women's Club
Healthways
Hickman County Health Dept.
iHeart Radio, Nashville
International Pageants Group
Jarrard Phillips Cate & Hancock
Johnson Johnson Crabtree Architects PC
JTV

Kelly Services at Nissan HQ
La Ranchera 880
Lawrence County Health Dept.
Life Care Centers
Lifepoint
Lincoln County Health Dept.
Macy's Cool Springs
Macy's Green Hills
Macy's Rivergate
Mazda
Marshall County Health Dept.
Maury County Health Dept.
Maury Regional Medical Center
Metropolitan Nashville Public Schools
Merry Maids
Nashville Business Journal
Nashville Electric Service
National Association of Professional Women
Nissan
Outfront Media
Regus
Saint Thomas Health
ServPro Benefits
Sinclair Broadcasting
Spinning Nation
Sumner Regional Medical Center
Tennessee Department of Children's Services
Tennessee Performing Arts Center
Tennessee Titans
TN Dept. of Corrections
Travelers
TriStar Health
UPS
Vanderbilt Heart
Williamson County administrative offices
Williamson County Parks & Recreation
Williamson County Public Library
Williamson County Schools
Willis
Wirtgen
About Go Red For Women®
Go Red For Women® is part of the American Heart Association's solution to help save women's lives. With one out of three women still dying from cardiovascular disease, the association is committed to fighting this No. 1 killer.
GoRedForWomen.org connects millions of women of all ages and gives them resources to turn personal choices into lifesaving actions. Go Red For Women is nationally sponsored by Macy's and locally sponsored by Saint Thomas Heart.
Follow us on Facebook at www.facebook.com/AHAGreaterNashville
Follow us on Twitter at @HeartNashville.
Follow us on Instagram at @aha_greaternashville.