Clarksville, TN – Spring sports for Austin Peay always have to deal with the possibility of bad weather, but so far this spring the weather had more than proven to be the Governors main opponent over the first month of play.
Baseball, softball, tennis, golf and track and field have all felt the grip of the late winter weather forcing game time changes, postponements, cancellations and even venue changes just to try to get their respective seasons in.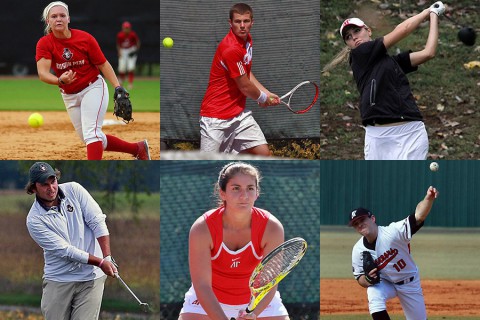 The softball program may be the biggest victims of the weather so far, having a home tournament and 10 of its first 23 games cancelled because of the elements, or poor field conditions due to the weather.
The 10 cancelled softball games are the most in a season since 1997, and there's still nine weeks left in the Lady Govs schedule.
Coach Stephanie Paris and her staff have picked up a couple of games to cut into the total of lost contests, having its March 9th single home game versus Southern Illinois changes to an April 16th doubleheader and a March 18th single game at Cheryl Holt Field versus Middle Tennessee also becoming a doubleheader.
Paris will also look to try to pick up some other games if possible, but at this point of the season and schedule it will be difficult to do so.
Baseball has been a little bit luckier this spring, having once lost one game so far from its schedule – its' February 15th game versus Niagara, to wrap-up the Governors Challenge — but coach Gary McClure and his staff have also had to postpone three games, one twice, with all three being rescheduled.
The February 18th home game versus Southern Illinois had been rescheduled twice, its' February 25th game versus Indiana State is now on tap for a March 10 contest and its road game versus Western Kentucky that was to be played on March 4th is now rescheduled for April 28th.
The rescheduling is the good part, but it will back-load the Governors schedule and could put a strain on its pitching staff with so many games later in the season and fewer days in between games.
The poor weather hasn't cost the men's and women's golf teams any events, or individual rounds, but it has limited their course practice time and forced both to call on former Govs coach Kirk Kayden to help set up extra course time in the Macon, GA, area before their season opening tournaments.
For the track and field team, they may not have started their outdoor schedule yet, but the end of their indoor schedule – as well as its continuing to get ready for the outdoor season – has been hampered with the snow and ice and being able to get out on the track and Governors Stadium for practice.
Hopefully the weather will break before their first outdoor meet at the Georgia Invitational on March 21st.
Finally, tennis has been the least effected having an indoor facility to play and practice in, but with limited courts at the facility — compared to the outdoor courts — any home match will take more time to complete than it would compared to being played on the more numerous outdoor courts.
So with the Govs and Lady Govs moving into their second month of play, and the beginning of Ohio Valley Conference play beginning, the hope for all spring sports teams is this last blast of winter weather is the final they will have to deal with.