Austin Peay Sports Information

Clarksville, TN – Austin Peay State University football opens its third spring practice under head coach Kirby Cannon, 3:30pm, Tuesday, at Governors Stadium eager to get back on the field as it begins preparations for the 2015 campaign.
Getting a full spring under their belts at Governors Stadium should help the Governors after last season's camp was altered by new stadium construction.
But with the construction silenced and a full field available, the Govs look to get in some valuable work in the run up to the April 11th Spring Game.
Austin Peay will count on some talented playmakers to make strides at the skill positions this spring, but questions remain at quarterback.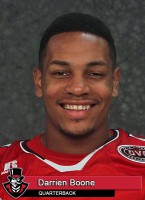 Freshmen Darrien Boone and Mickey Macius along with junior Trey Taylor saw significant snaps a year ago, but none of the three were able to cement their hold on the position.
"I don't think anybody has that position locked up yet," Cannon said. "All those guys have played in games and have a chance to give us an indication if they're ready to play by their spring performance. The competition is there and whoever proves that they can go out and lead and perform will be the guy going into fall camp."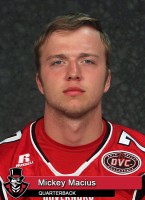 Whichever quarterback emerges will have weapons at his disposal, particularly in the backfield. Freshman Otis Gerron returns after leading the Govs in rushing (112 carries, 596 yards) a year ago. He'll split some snaps with Justin Roberson, who rushed for 484 yards of his own and gives the Govs a shifty complement to the bruising style displayed by Gerron. Sophomore Julian Franklin provided depth a year ago, and all three will have to battle Kendall Morris, who redshirted last season but drew raves from the coaching staff during fall camp.
Talented youngsters return in the receiving corps for the Govs. Sophomore Rashaan Coleman again led the Govs in receptions with 26 in 2014, while freshmen Malik Boynton (25 catches, 208 yards), Wesley Thomas (24-314) and Jared Beard (18-175) return to give Austin Peay's quarterbacks targets across the field.
Tight end has been a position in flux at times during Cannon's tenure, but perhaps have begun to see some solidification. Trey Salisbury, Devon Jones and James Coleman – three players who have seen time at different positions during their APSU careers – moved to tight end during the 2014 campaign and will battle for time at that spot during the spring, along with Sam Cooper.
The offensive line will be a point of concern during the spring. Although guard Tyler Miles returns to anchor the line tackle alongside Bernard Gauldin, long-time stalwarts such as Nathan Sanders, Isaiah Tuiasosopo and Julian Virgo have departed.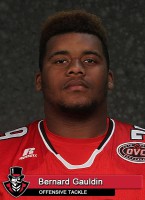 Franklin Green and Patrick Dalton saw limited action a year ago along the offensive front, and Darryl Johnson has moved to the offensive line as well. The Govs did add 11 offensive linemen during the signing period – with Ethan Self and Ryan Sinkler enrolled early and scheduled to play significant roles during the spring.
"I'm hoping in Miles and Gauldin we have a couple of givens (as starters) that will allow us to concentrate on other guys," Cannon said. "It was our goal to bring in two starters at mid-year and I think we were able to do that in Sinkler and Self.
On the other side of the line, Austin Peay returns Gino Roberson to anchor the middle of the 4-2-5 as defensive tackle. A pair of freshmen – Jule Pace and Tyler Schneider – forced their way into the starting lineup early and shored up both defensive end spots a year ago, with Schneider starting all 12 games and Pace starting 10. Replacing Malcolm Goines in the middle will be a tall order, with junior John Houston Jr. and freshman Nicholis Matiere-Bey getting early looks during the spring.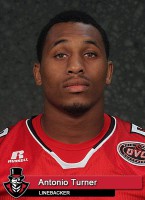 Linebacker is a spot where the Govs have plenty of depth heading into the spring. Starters Adam Noble (74 tackles) and Antonio Turner (81) return, with freshmen Benedict Louis and Zach Stuart back after posting solid showings in reserve roles as freshmen.
"Our defense is a side of the ball that lost a lot of effective seniors (from a year ago)," Cannon said. "We remain in our 4-2-5 scheme, but will continue to run a lot of 30-series schemes to create some pressure on the quarterback."
The secondary brings back only sophomores Roderick Owens and Damien Whitfield from a year ago, but both were integral parts of the defense – Owens led the defense with three interceptions, while Whitfield's 72 tackles led the secondary. But losing three starters doesn't leave the cupboard bare for Austin Peay – Kyran Moore, Dekeivis Perry, Dee Allen and David Wall all saw action in the secondary as freshmen in 2014.
The Govs have a lot of holes on special teams, with the graduation of
Ben Campbell
and
Michael Dunphy
and departure of
Dakota Vincil
.
Evan Toby
, who handled kickoff duties a year ago, is the lone returnee on special teams.
The Govs aim not only to improve on the physical side but the mental as well during their spring work.
"Effort and the ability to give great effort is no accident," Cannon said. "We want to make sure we're working as hard as possible during our time on that field. We also want to use this time to be a smarter football team, improve our knowledge of the game and make better decisions at critical times. That's been a goal of ours all offseason and will continue into the spring."
Scheduled APSU Football Spring Practice Dates
March 17th
March 19th-21st
March 24th
March 26th-28th
March 31st
April 7th
April 9th-11th – Spring Game April 11th at Governors Stadium