Austin Peay Sports Information

Clarksville, TN – For the first time since 2009, Austin Peay State University women's track and field will have three representatives at the NCAA East Preliminary Round, held May 28th-30th in Jacksonville, FL, at North Florida's Hodges Stadium.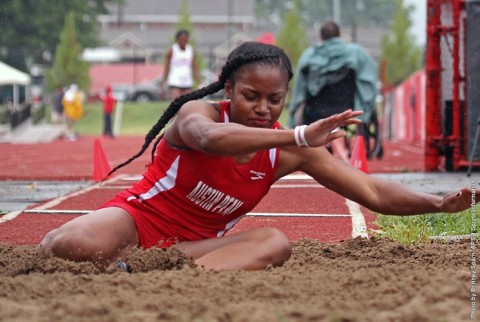 Junior
Breigh Jones
will make her third appearance in as many years at the preliminary stage, seeking a return to the NCAA Championships.
She'll be joined by sophomore Kaylnn Pitts, making her second trip to the Preliminary, and Pitts' classmate and jumps partner Chancis Jones, in her first appearance.
Austin Peay has now sent at least one athlete to each East Preliminary since 2011.
This will be the third time a trio of Lady Govs have advanced to preliminary competition; in 2009, pole vaulters Molly Bartkiewicz and Carrie Burggraf were joined by sprinter Chiamaka Obi at the Mideast Regional in Louisville, while Burggraf, Keyvia Davis and Leann White qualified for the 2008 event at Arkansas, with White unable to compete due to injury.
Last season, Jones became the first Lady Gov since Sheena Gooding in 2001 to advance to the NCAA Outdoor Championships after finishing seventh overall in Jacksonville thanks to her school-record 52.65 run in the 400m dash.
After finishing 20th in the nation a year ago, Jones hopes this weekend is the springboard to her first All-American honor; since 2011, the US Track and Field and Cross Country Coaches Association has recognized the top eight finishers in each event at the NCAA Outdoor Championships as First-Team All-American; finishers 9-16 are awarded Second-Team honors.
This season, she's qualified 40th among competitors thanks to her gold medal-earning 53.70 mark two weeks ago at the OVC Outdoor Championships. Last season, she was the 42nd of 48 qualifiers before finishing seventh overall in Jacksonville, while the year before she was 47th.
However, in each of her first two campaigns, Jones has saved her best for the Preliminary Round, posting her season's top two marks in the first round and quarterfinals in 2013 and 2014.
Jones' counterparts in Friday's 5:00pm (CT) first round include some familiar faces. VCU's Kiara Porter and Tennessee's Felecia Majors were both NCAA qualifiers last season. Florida State's Kala Funderburk is the Heat 4 leader coming into the meet with a 51.72 mark.
Pitts will become the first Austin Peay athlete to pull double-duty in a Preliminary appearance, qualifying in both the triple jump (16th, 12.92m) and the long jump (38th, 6.10m). The Woonsocket, RI native enjoyed an exemplary second season in Clarksville, earning OVC Female Co-Field Athlete of the Year honors (Jones took home the track award).
Among athletes sophomore or younger in the NCAA East field, Pitts ranks 10th entering the weekend in the triple jump.
Pitts competed against Northwestern State's Porsha Thomas and Clemson's Anasterasia Terrell in last season's triple jump preliminary. Those are the top two qualifiers in Saturday's third flight, scheduled for a 3:00pm (CT) start, Pitts' selected spot for this season's opening round.
Last season, Pitts got the opportunity to compete in Jacksonville in the triple jump, finishing 32nd to move up 13 spots after qualifying 45th for the event. This will be her first endeavor at the long jump on a national or regional scale, where she will compete in Friday's first flight.
Joining Pitts in the long jump will be sophomore Chancis Jones, making her first attempt in preliminary competition. A Chattanooga native, Jones' OVC Championship-record 6.29m leap that earned her gold two weeks ago also solidified her spot in the NCAA field, ranking her 14th in the event heading into the weekend, fifth among sophomores.
After a solid freshman campaign, Jones blossomed as a sophomore, earning a pair of bronze medals in the long and triple jump at the OVC Indoor Championships before picking up her first gold in the long jump during the outdoor games. Her leap at the OVC Outdoor Championships obliterated Sherlonda Johnson's 2005 mark.
Jones will be in the third flight in the long jump, scheduled to begin 6:00pm (CT), Friday. She is the top qualifier for her flight, which also will pit her against OVC foe Clairwin Dameus of Tennessee State.
The top-12 in each event in the both the East and West Preliminaries will advance to the 2015 NCAA Outdoor Track and Field Championships at Eugene, Oregon, June 10th-13th.