Austin Peay (0-0) vs. Mercer (0-0)
September, 5th, 2015 | 4:00pm CDT
Clarksville, TN | Governors Stadium

Clarksville, TN – It's finally here.
Austin Peay State University football team begins its 2015 regular season campaign 4:00pm, Saturday, when the Govs host Mercer at Governors Stadium—the first time Austin Peay has opened the regular season at home since 2010.
Entering head coach Kirby Cannon's third season, a still-youthful Austin Peay squad looks to pull the Governors out of a tailspin that's seen them in the Ohio Valley Conference cellar for the better part of the decade.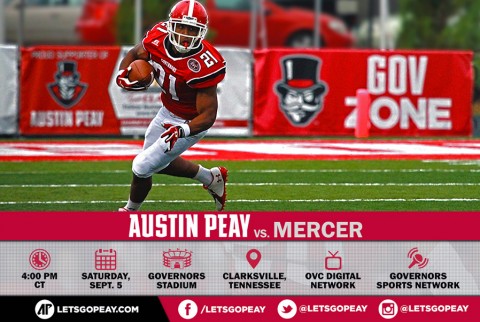 A whopping 33 freshmen and sophomores can be found on the opening-week Austin Peay two-deep and the Govs feature just eight total seniors on the roster.
The front six of Austin Peay's 4-2-5 defense owns much of the Governors upper-class strength, boasting linemen Gino Roberson, John Houston Jr. and Corey Teague and linebackers Antonio Turner and Adam Noble, with a trio of pass-rushing sophomores (Taylor Parris, Tyler Schneider and Jule Pace) set to come off the edges to wreak havoc in opposing backfields.
Seeking to become the first Gov to record 100-plus tackles in a single season since Daniel Becker in 2008, Turner was rated the 52nd-best returning FCS linebacker by Phil Steele Online during the offseason.
Returning 24 starters from last season, Mercer was tabbed to finish sixth in both the Southern Conference's coaches and media polls. Running back Alex Lakes served as Mercer's lone preseason all-conference pick; he carried the ball 200 times for 1,107 yards and 17 touchdowns in 2014.
The Captains Are Here
Noble, senior quarterback Trey Taylor and junior offensive lineman Tyler Miles were named captains for the 2015 season. It will be Noble's second season of captaincy, and the first for Miles and Taylor.
"Those guys were elected off their performance as leaders," Cannon said. "We don't vote on captains in the spring or early in the summer, we let some of that leadership come to the surface. Those three are consistent as people and in their practice habits. Football players love to be led by example and will listen to guys who lead by example."
Taylor won the starting quarterback nod with an exemplary fall camp, while Noble has been a longtime stalwart at linebacker. As one of two starters along the offensive line with Division I offensive line experience, Miles will be leaned on heavily to protect Taylor and open running lanes for Otis Gerron, Kendall Morris and the rest of the Govs backfield.
Last Time Out Against the Bears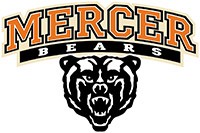 Austin Peay and Mercer met for the first time in 2014, with the Governors coming out on the wrong side of a 49-21 decision that saw the Bears race out to a 28-0 first-quarter lead, thanks to two John Russ touchdown passes and a Chandler Curtis 61-yard punt return for touchdown.
The final score overshadowed a breakout performance by Gerron. The Dickson native needed just 15 carries to post 196 yards, picking up 89 yards and a touchdown on one fourth-quarter rush attempt. Defensively, Turner's eight tackles (1.5 TFL) paced the Govs.
Keep An Eye On
Third-down woes: Just twice since 2001 has Austin Peay converted better than 40 percent on third down, bottoming out at 25 percent in 2014. A settled quarterback situation could alleviate some of those problems—since 2008, Austin Peay has seen at least three quarterbacks make starts in each season except 2011, Jake Ryan's senior season, in which he started every game.

Noble and Turner are both closing in on 150 career tackles. Turner needs just two stops to reach that milestone, while Noble is six tackles away from 150.
Juniors Roderick Owens (96 tackles) and Damien Whitfield (86) are both closing in on 100 career tackles.
Statistically, the Govs return better than 100 percent of their ground-game production from a year ago. With only Javier Booker (negative-15 yards rushing in 2014) and Ben Campbell (negative-five) lost from last season's team, the returning Govs accounted for 101.3 percent (1,543 yards) of Austin Peay's final 2014 rushing total.
Noble, Schneider and Whitfield are the only returners on either side of the ball to start all 12 contests a year ago.
New homes: Darryl Johnson (defensive line to offensive line) and Malik Boynton (wide receiver to defensive back) will be making their first starts at new positions. Trey Salisbury will be in the starting lineup at tight end after his first full camp at the position; he moved across the line from defensive end midway through the 2014 season.
Junior Rashaan Coleman needs 65 yards receiving for 500 in his career.
APSU Govs Online
Check back at www.LetsGoPeay.com and on Austin Peay's Official Athletics Facebook page often for up-to-date news about all Governor athletics, as well as the Governors football Twitter page (@AustinPeayFB).
Live stats will be available during the game at www.LetsGoPeay.com, and all home games and Ohio Valley Conference games can be viewed on www.ovcdigitalnetwork.com. Postgame video interviews and other videos from around APSU Athletics can be found on our YouTube page (www.youtube.com/CultureofExcellence).
Video
Head coach Kirby Cannon and play-by-play man Van Stokes preview the Govs 2015 opener against Mercer.