Tennessee State Representative Curtis Johnson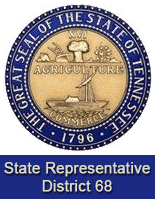 Nashville, TN – The Audi A-7 visited the state capitol and gave rides to State lawmakers. The A-7 is totally hands free driving. It completed a test drive of more than 550 freeway miles from Silicon Valley to Las Vegas with 90 percent of those miles hands free.
Mr. Brad Stertz, Director of Audi's Government Affairs spoke of his company's efforts to put automated cars on the road. As the technology for autonomous vehicles continues to develop, states have found it may be necessary for state and municipal governments to address the potential impacts of these vehicles on the road. Three bills have been filed on the subject in the Tennessee General Assembly this year.
Audi also offered automated rides to legislators, allowing them to experience this new technology in a freeway setting. Tennessee State Representative Curtis Johnson spent over 30 minutes in the Audi A-7 riding on the interstate while the car totally drove itself.
"It was an amazing experience," Representative Johnson said. It is important Audi work with the state legislatures across the country to develop a consistent regulatory framework for automated vehicles.
The definition of automated vehicles is when vehicles have at least some aspects of a safety-critical control function (e.g., steering, throttle, or braking) occur without direct driver input. Complete automation, where one can drive from his or her home to the office while reading a book in the backseat is about 20 years away. Right now the Audi Q7 has semi-autonomous driving. This is where one can take his or her hands off the wheel for a few seconds at a time. In a few years, they will come out with a system that will allow driving hands-free up to 35 miles per hour in highway traffic jam conditions.
The car has 24 sensors connected to a central computer which uses redundant systems for increased safety. The main element of automated driving is safety. Ninety to 93 percent of accidents according to the federal government have some element of human error. Turning the automated feature off is not that much more difficult than turning off today's cruise control.
Recent and continuing advances in automotive technology and current research on and testing of exciting vehicle innovations have created completely new possibilities for improving highway safety, increasing environmental benefits, expanding mobility, and creating new economic opportunities for jobs and investment. It is important that we work across governmental lines and with automated vehicle industry as we consider the impact these cars will have on our roads."
According to the National Conference of State Legislatures, sixteen states introduced legislation related to autonomous vehicles in 2015, up from 12 states in 2014, nine states and D.C. in 2013, and six states in 2012.
Veterans Day at the Capitol — February 17th, 2016
Congratulations to Bill Summers, Vivian Fivecoat, and Sherry Pickering in organizing the First Veterans Day on the Hill for this coming Wednesday, February 17th. The Montgomery County Legislative Delegation is supplying transportation from Clarksville to the state capitol for local veterans wanting to participate in this event.
Veterans will be able to sit in on Committee and Subcommittee meetings, both House and Senate, and listen to bills being debated. Also, there will be opportunities to visit with legislators in their offices.
Legislation is introduced every session that affects active duty servicemen and servicewoman, veterans, and their families. It is important that these people have their voices heard. A "Day on the Hill" will bring emphasis on the needs of these citizens as well as other issues that are important to them as a group.
I look forward to visiting with veterans that may visit that day. I hope this will become a yearly event that grows in participation.
Early Voting Underway
Early voting runs Mondays through Saturdays and ends Tuesday, February 23rd. Some counties will be closed on Monday, February 15th for Presidents Day. Election Day is Tuesday, March 1st.
Tennesseans voting early or on Election Day should remember to bring valid photo identification. A driver's license or photo ID issued by the Tennessee Department of Safety and Homeland Security as well as photo IDs issued by Tennessee state government or the federal government are acceptable even if they are expired. College student IDs are not acceptable.
For more information contact the Montgomery County Election Commission: