APSU Sports Information

Clarksville, TN – Austin Peay State University football team will bookend its 2016 schedule with a pair of FBS opponents, including an SEC foe for the third time in four seasons, as part of its 11-game schedule released by head coach Will Healy.
"It's a very difficult schedule where we'll be tested each and every week," Healy said. "There are no cupcakes on this schedule. It will be good for us."
In its first season under Healy's tutelage, Austin Peay will make it seven straight years with multiple FBS opponents on the schedule. The Govs will open the regular season September 3rd at Troy (4-8 in 2015, 8-7-1 all-time against APSU), the sixth time during that span in which Austin Peay will open its season against an FBS team.
The Governors open the home slate and the Ohio Valley Conference schedule September 10th against Tennessee Tech (4-7), the earliest meeting between the two teams in known history back through 1963 and the first time the Govs have opened conference play in Week 2 or earlier since 1981. In the 2015 finale against the Golden Eagles, Jared Beard had his first career 100-yard receiving day, catching six passes for 110 yards and two scores.
"We're looking forward to that first game because we'll be tested right out of the gate with Troy," Healy said. "Our first home game and conference game against Tennessee Tech will be a great matchup, they're doing some great things over there."
The home opener also will serve as AP Family Day, which invites the families of all current freshmen and sophomores to campus to take in a game and visit the APSU community.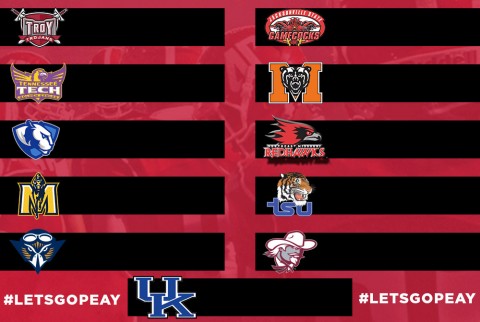 The Govs will have the bye week during Week 3—the second time in three seasons the Govs will have a bye within the season's first three weeks—then end September with a trip to Eastern Illinois (7-5), the OVC runner-up in 2015. 2015 OVC All-Newcomer performer Kendall Morris had his season's best outing against the Panthers, posting a career-high 141 yards on the ground.
October begins with a visit from Murray State (3-8), October 1st, before the Govs embark on a two-game road trip to UT Martin (7-4), October 8th and 2015 OVC Champion and National FCS Runner-Up Jacksonville State (13-2), October 15th. Austin Peay has not won in Martin since 1994 and have not emerged victorious from Jacksonville since 1979.
When APSU returns to the friendly confines of Governors Stadium for a rematch against Mercer (5-6; 2-0 all-time against the Govs), it will be for Homecoming 2016—the first time Austin Peay will host a non-conference opponent for Homecoming since returning to the OVC in 2007.
The Govs wrap up OVC road play at Southeast Missouri (4-7), October 29th, before returning home to face Tennessee State (4-6), November 5th, and Eastern Kentucky (6-5), November 12th. The November 12th contest will serve both as Senior Day and Band Day for the Governors Own Marching Band, an event that has brought in hundreds of area high school band students since its inception in 2012.
The regular season ends for Austin Peay at Kentucky (5-7), November 19th, the first meeting between the two squads and the first time in modern history the Govs will end the regular season against an FBS opponent.
The opening round of the 2016 FCS play-offs is scheduled to begin November 26th.
"We've got Troy, Mercer and Kentucky out of conference, and then one of the best conference schedules in FCS football, including the national runner-up," Healy said. "Our work's cut out for us, but it's a great test for where we are and where we want to be as a football program. We'll see how much better we get each week because we're going to be tested every week."
Game times for these contests will be released on www.LetsGoPeay.com at a later date. Spring practice for the Govs is scheduled to begin March 15th. For season tickets (renewals begin March 15th, and new purchases begin May 1st) or luxury suite accommodations for next fall, contact Ticketing Manager Janet Wilson at 931.221.7329.