Austin Peay (9-19/7-8 OVC) vs. Southeast Missouri (15-13/8-7 OVC)
Saturday, February 27th, 2016 | 4:00pm CT
Clarksville, TN | Dunn Center

Clarksville, TN – Austin Peay State University women's basketball team seeks to end the conference schedule with a .500 or better record for the first time since the 2010-11 season when it hosts Southeast Missouri in the 2016 regular season finale, Saturday, at the Dunn Center.
Although Austin Peay is in the OVC Tournament, the Governors could be seeded anywhere from fifth to eighth depending on both their own and other outcomes on Saturday.
The Governors, Murray State and Tennessee State are each tied at 7-8 entering the season's final day, a game behind the Redhawks and a game ahead of Tennessee Tech.
Tiasha Gray poured in 30 points and added six assists the last time out, leading the Govs to an 81-72 win over Murray State and avenging an earlier road loss to the Racers, Saturday.
Gray was one of four Govs–Sydney Gooch (career-high 17 points), Brianne Alexander (12) and Tearra Banks (10)–in double figures against the Racers. Gray passed Jeanne Hinchee for second all-time in assists (508) against the Racers and needs just six points on Saturday to pass Gerlonda Hardin (2000-04) for second in Austin Peay history in scoring.
Banks has been a force of late, hitting 62.2 percent (28-of-45) from the floor and averaging 12.4 points in 13.8 minutes in her last five contests. The junior is averaging an incredible 32.2 points per 40 minutes this season–better even than Gray, the team's leading scorer (24.4 points per 40 minutes).
A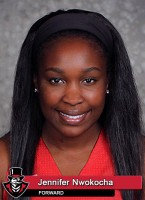 fter seeing their three-game winning streak snapped the last time out against the Redhawks,  Austin Peay looks to turn the tables in the Dunn Center. Key to that will be stopping Erin Bollmann and Imani Johnson, who each had 15 points in the last meeting. Gray had 28 in the loss for Austin Peay at the Show Me Center, January 30th.
Prior to the contest, five Governors–Gray, Lauren Maki, Symantha Norton, Jennifer Nwokocha and Shelby Olszewski — will be honored for their contributions to the APSU women's basketball program.
The More You Know
What To Do: All kinds of scenarios are in play for the Governors on Saturday; depending on what happens around the OVC, Austin Peay could find itself seeded anywhere from fifth to eighth in next week's OVC Tournament.
If Saturday's results shake out according to current rankings, Austin Peay (8th) would lose to Southeast Missouri (5th), UT Martin would beat Murray State (7th) and Belmont would beat Tennessee State (6th)–ergo, Austin Peay would be the 7th seed based on tiebreakers, sandwiched between TSU (6th) and Murray State (8th).
Other scenarios:
Murray State, APSU, TSU and TTU tied at 7-9: APSU becomes No. 6 seed
SEMO, Austin Peay and Murray State tied at 8-8: APSU becomes No. 5 seed
SEMO, Austin Peay and TSU tied at 8-8: APSU becomes No. 7 seed
Murray State, Austin Peay and TTU tied at 7-9 (for seeds 7-8): APSU becomes the No. 7 seed
Austin Peay and TTU tied at 7-9 (for 8th seed): APSU becomes the No. 8 seed
Gray Milestone Watch: Senior guard Tiasha Gray became only the fifth APSU women's basketball player to reach the 1,500-point plateau with her 27-point performance at East Tennessee, December 21st, 2015. Gray also became only the fifth OVC women's basketball player to record 300 career steals, reaching the milestone February 6th, 2016 at Murray State.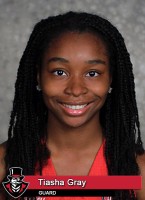 Her upcoming milestone marks are listed below:
OVC Career Steals | Currently 4th (311)
Next: 324 by Pam Chambers (TTU, 1976-80)
APSU Career Steals | Currently 1st (311)
Previous Record: 243 by Tracie Mason (1987-91)
APSU Career Points | Currently 3rd (1,858)
Next: 1,863 by Gerlonda Hardin (2000-04)
APSU Career Assists | Currently 2nd (508)
Next: 507 by Jeanne Hinchee (1978-82)
APSU Lady Govs Ledger
Facing one of the nation's toughest nonconference slates (27th ranked) took its toll early as APSU averaged just 59.3 points per game against its 11 Division I opponents. It has popped the lid on its offense in conference action, averaging 73.3 points per game and reaching the 80-point plateau six times in OVC action.
During the nonconference portion of the schedule, Gray and Banks scored over 50 percent of APSU's points. However, that percentage has declined in OVC play, with the duo averaging just 45.1 percent of the team's scoring.
An Austin Peay Win Would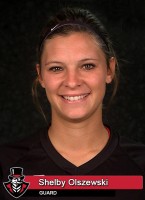 Be its third straight home victory… Move the Govs to 7-1 at home in conference play… Make the Governors 9-3 at home in 2015-16, its best record in the Dunn Center since the 2003-04 season… Give the Govs back-to-back home wins against SEMO for the first time since 2011-12… Move the Govs to .500 in OVC play (8-8).
Make David Midlick 10-19 overall and 8-8 in OVC play in his first season at Austin Peay and 55-35 in his third season as a head coach overall… Make the Govs 460-668 since 1976-77 and 236-338 in OVC action.