UT Athletics Department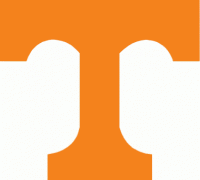 Nashville, TN – Tennessee dominated the first half and withstood a late Vanderbilt surge to defeat the Commodores, 67-65, on Thursday at Bridgestone Arena and advance to the SEC Tournament quarterfinals.
The Vols (15-18) will next face No. 4 seed LSU (18-13) on Friday in the quarterfinals.
For a moment, No. 5 seed Vanderbilt (19-13) looked like it had sent the game into overtime. However, Wade Baldwin IV's layup with time expiring was waived off after replays showed the ball still rolling off his fingers with zeros on the clock.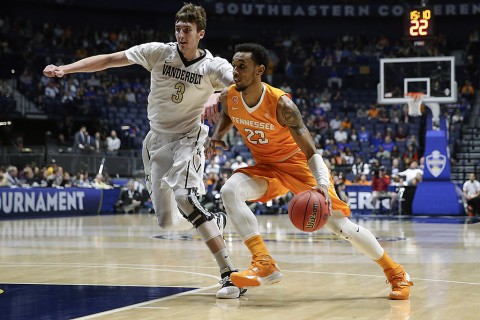 Detrick Mostella led Vols with 18 points to go with six rebounds and three assists and scored 12 in the second half. Armani Moore had 14 points, five boards and three assists. Admiral Schofield finished with 12 points and seven boards. Derek Reese collected a game-high 10 rebounds and scored seven points.
Baldwin led Vanderbilt with 13 points. Matthew Fisher-Davis and Damian Jones had 12 points each.
The Vols led by as much as 14 points in the second half before a Vandy rally made it a two-possession game for the final 10 minutes. A dunk by Jones with 2:43 left gave Vanderbilt a slim 59-58 lead. Robert Hubbs III put UT back in front for good on the Vols' next possession when he hit a 3-pointer following an offensive rebound.
Tennessee took a 34-22 lead into halftime. Moore and Schofield led the team with eight points each in the first half.
The Vols played arguably their best first-half defense of the season, limiting Vanderbilt's offensive opportunities. Vandy's 22 first-half points were the fewest UT has allowed in any half this season. The Commodores shot just 31.3 percent from the floor in the first half and went 1-of-13 from 3-point range.
Vanderbilt committed 10 turnovers in the first half and missed its last seven shots before halftime.
Bouncing Back vs. Vanderbilt
The Vols avenged a pair of regular-season losses to the Commodores and improved to 117-74 all-time against VU. Tennessee's 117 wins over Vanderbilt are its most against any opponent. UT is now 9-1 against Vanderbilt in SEC Tournament games.
Miscellaneous
Mostella's 18 points were his most since scoring a career-high 24 at Mississippi State on January 16th. UT scored 17 points off of 12 Vanderbilt turnovers, 10 of which were committed in the first half. Vanderbilt went 8-of-12 from 3-point range in the second half.
Up Next For The UT Vols
Tennessee will face LSU in the SEC Quarterfinals on Friday at approximately 3:00pm ET/2:00pm CT on SEC Network. The Vols defeated the Tigers, 81-65, on February 20th in Knoxville. Armani Moore posted a double-double in the win with 17 points, 10 rebounds and seven assists and Robert Hubbs III had 19 points and seven boards.
Video Highlights: Vols 67, Vanderbilt 65