APSU Sports Information
Lidia Yanes Garcia named Outstanding Female Athlete, Track's Breigh Jones chosen Female Legends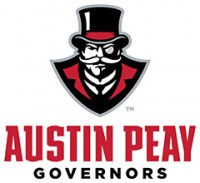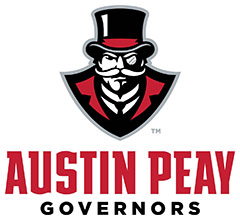 Clarksville, TN – Chris Horton, who punctuated a consummate basketball career with Ohio Valley Conference tournament most valuable player honors, has been chosen as both Austin Peay State University's 2015-16 Outstanding Male Athlete as well as the Legends Award recipient as the most valuable male senior athlete.
Meanwhile, Lidia Yanes Garcia, who became the first women's tennis player in OVC history to be named Player of the Year and Freshman of the Year in the same season, was named APSU's Outstanding Female Athlete.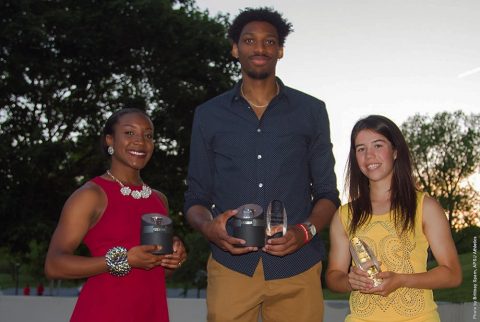 Track's
Breigh Jones
, who has made a trio of NCAA appearances as well as being an OVC Scholar-Athlete, was selected the Female Legends Award recipient as the most valuable women's senior athlete.
Those awards, along with Male (Martin Rejman, men's cross-country) and Female Scholar-Athlete  (Brittney Covington, tennis) Awards and the Perkins Freeman Governors Club Academic Achievement Award (Lauren Maki, women's basketball) and Scholarship (Covington) were announced at Austin Peay's annual athletic banquet, Thursday night.
Horton enjoyed an almost unparalleled senior season, capped by an OVC tournament that saw him named most valuable player. In leading the No. 8-seeded Governors to four wins in four days, he scored 90 points and grabbed 57 rebounds, despite being hobbled with a sprained ankle for the final 25 minutes of the championship game.
It included a 37-point, 21-rebound effort against Tennessee Tech in the opening round and 30 points and 16 rebounds against Belmont in the tourney semifinals.
The Decatur, GA native came to APSU as a shot blocker, but his senior season was a testament to the development of his overall game. Horton led the OVC in scoring at 18.8 points per game, shooting 59.9 percent from the floor, and made it two seasons in a row as the league's rebound leader (12.0 rpg), becoming the first Gov to claim consecutive OVC rebounding titles in earning first-team All-OVC.
Horton scored 20 or more points 12 times during his senior season, including one of the most remarkable performances in Governors history when he scored 37 points against Lipscomb on 16-of-17 shooting. That contest spoke volumes about his offensive evolvement.
He was ranked nationally in multiple categories all season, including field-goal percentage (Top 25). However, it was his relentless rebounding efforts that have helped him gain nationwide acclaim. He ranked first nationally in offensive rebounding (4.92) most of the season while his 12.0 rebounds per game also ranked him in the Top 5.
He tallied 14 points and 10 rebounds against Kansas in the Govs' NCAA tourney game, giving him 25 double-doubles this season—fourth most nationally. He led APSU in rebounding 33 of 36 games this season.
Earlier this season Horton joined one of the nation's exclusive clubs, becoming only the 13th Division I player in history to score 1500 points, snare 1000 rebounds and block 300 shots. Horton also was just one of five Division I players in 2015-16 with 1500 points and 1000 rebounds for his career.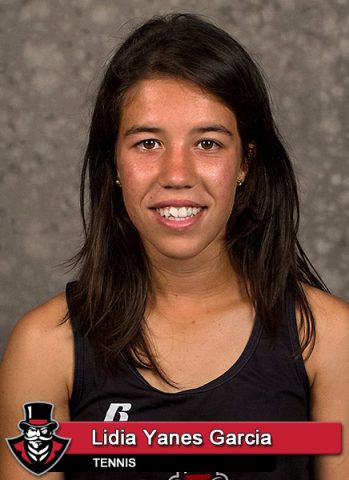 When Garcia was named OVC Player of the Year last week it was Austin Peay's first such honor since Vanja Tomic won it in 2010.  Serving as the No. 1 player (with her twin sister Claudia No. 2 and earning All-OVC) in the APSU lineup, Lidia performed superbly against top OVC competition all spring.
Her nine conference wins led all APSU players while compiling a 13-3 overall singles record in her first year as a Governor. She also grabbed four doubles wins while teaming with fellow freshman Helena Kuppig. She became APSU's 10th OVC Player of the Year and second OVC Freshman of the Year—Carolin Weikard was selected in 2010.
Jones has become one of the most decorated sprinters in Austin Peay history, reaching at least the preliminary stage of the NCAA Championships in each of her first three seasons, including a 20th-place national finish in the 400m dash in 2014.
Last season, she was named the OVC Outdoor Track Athlete of the Year, earning gold medals in the 400m and 4x100m relay, as well as silver in the 200m. She also earned the 2015 Indoor Track Athlete of the Year honor, earning gold in the 400m and silver in the 200m and 4x400m relay. As a freshman, her NCAA Preliminary appearance also earned her a spot on the US National Team that competed at the Junior Pan American Games in Bogota, Colombia.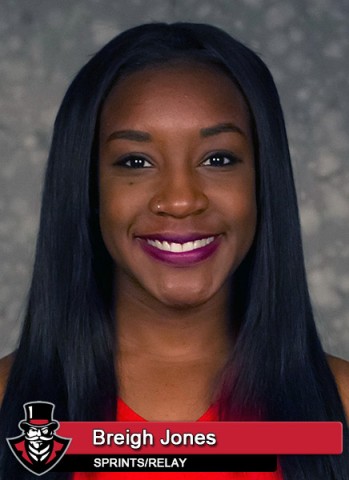 Holder of seven Austin Peay records, Jones has been part of a culture shift in the Austin Peay track program, which finished third in the 2014 Indoor Championships, second in the 2014 Outdoor Championships and third in the 2015 Outdoor Championships—the only top-three team finishes Austin Peay has posted at the Track and Field Championships in the last decade.
Off the track, Jones has maintained a 3.866 grade-point average, majoring in psychology with a minor in journalism and coaching. A multi-time honoree on the OVC Commissioner's Honor Roll, APSU President's List, Dean's List and Athletics Director's Honor Roll, Jones was named to the U.S. Track and Field and Cross Country Coaches Association (USTFCCCA) All-Academic Team for 2014-15, earning her second Arthur Ashe Jr. Sports Scholar honor in the process.
A Steve Hamilton Sportsmanship nominee a year ago, Jones was awarded the OVC Scholar-Athlete Award—the highest individual honor an OVC student-athlete can earn—and is given annually each fall to three men and three women student-athletes for their accomplishments in both the classroom and athletic arena, and because of their leadership qualities. Jones owns a 3.88 grade-point average as a psychology major with coaching and journalism minors.
A junior biology major, Covington holds a 4.0 grade-point average as not only Austin Peay's top-ranked female scholar-athlete but the highest GPA for a rising senior athlete, earning her the Perkins Freeman Governors Club Academic Achievement Scholarship.
Meanwhile last year's scholarship recipient, Lauren Maki, was awarded the Perkins Freeman Academic Award, presented each year to the graduating senior with the highest GPA. Maki will graduate this spring with a 3.95 GPA in business.
A political science and foreign language major, Rejman owns a 3.83 GPA. Appropriately, the Mlada Boleslav, Czech Republic native has studied both in the states and in France during his college career.
This is the eighth year the Legends Award has been bestowed, continuing APSU's long-standing tradition of honoring the most valuable male and female senior athletes, respectively. The Legends Award, sponsored by Legends Bank, assumed the place of the Joy Award, which was originated in 1947 by the late Wilson Goodrich, then owner of Joy's Jewelers.
From 1947-96, one APSU senior athlete was honored each year. However, beginning in 1997 a male and female senior athlete, respectively, was honored by Joy's and that continued through 2008. However, Joy's Jewelers closed its business in Spring 2008, with Legends Bank assuming the tradition of honoring athletics excellence.