Tennessee vs. Tennessee Tech
Saturday, November 5th, 2016 | 3:00pm CT
Knoxville, TN | Neyland Stadium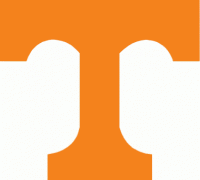 Knoxville, TN – Tennessee starts a three-game homestand on Saturday when it plays host to in-state foe Tennessee Tech at 3:00pm CT in the 93rd homecoming game on Rocky Top.
Saturday's game will be broadcast on SEC Network Alternate with Taylor Zarzour (play-by-play), Jordan Rodgers (analyst) and Dawn Davenport (sideline) calling the action. SEC Network Alternate is typically listed adjacently to the SEC Network in your cable or satellite channel guide. Use the SEC Network Channel Finder or call your television provider for help finding SEC Network Alternate.
Fans can also tune in to their local Vol Network affiliate to hear Bob Kesling, Tim Priest, Brent Hubbs, Eddie Moore and John Brice describing the action.
Saturday marks 100 years of Homecoming on the University of Tennessee campus. The first homecoming celebration took place in 1916 — the same year as the first homecoming football game.
That year, Tennessee defeated Vanderbilt by a score of 10-6. Since then, the Vols have comprised a 70-19-3 record on Homecoming and have won six of their last seven homecoming games.
A complete schedule of events for Homecoming on Rocky Top can be found here.
Tennessee (5-3, 2-3 SEC) and Tennessee Tech (3-5, 3-3 OVC) are meeting for just the sixth time overall and the first time since 1951. The Vols and Golden Eagles faced off in five consecutive seasons from 1947-51, each game being played in Knoxville. UT holds a 5-0-0 edge in the short series.
Tennessee suffered its third consecutive loss last week, dropping a 24-21 decision at South Carolina. Despite the defeat, the Vols left Columbia with noteworthy performances in all three phases: junior defensive end Derek Barnett tied his career-high with three sacks, junior Evan Berry tied the Tennessee record with his fourth career kick return touchdown and sophomore John Kelly rushed for a career-best 94 yards.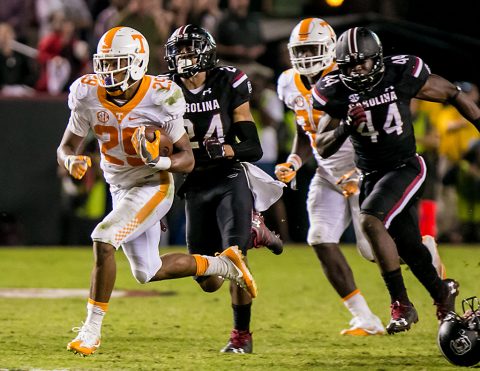 Tennessee Tech, an FCS member competing in the Ohio Valley Conference, was on bye last week but won its most recent contest, defeating Southeast Missouri 21-20 in its own homecoming game on October 22nd. The Golden Eagles are led by senior quarterback Michael Birdsong — a transfer from James Madison and Marshall.
Birdsong has thrown for 1,967 yards (245.9 ypg) and 12 touchdowns in eight games this season. His top target has been junior wideout Dontez Byrd, who leads the team with 42 receptions for 502 yards (62.8 ypg) and four touchdowns.
TTU is led by first-year head coach Marcus Satterfield. A native of Greenback, Tennessee, Satterfield has spent 13 of 18 years in the coaching profession within the Volunteer State. He has made stops at Chattanooga and UT-Martin as well as a brieft stint as a GA for Tennessee during the 2002 and 2003 seasons.
He was hired as the Golden Eagles' head coach last winter after completing his third season as the offensive coordinator at Temple.
Following Saturday's homecoming game, Tennessee rounds out the home schedule with games against Kentucky (November 12th) and Missouri (November 19th). The regular season comes to a close on November 26th when the Vols travel to Nashville to face Vanderbilt.
Legend of the Game
Former All-American kicker John Becksvoort will be the Legend of the Game on Saturday.
Becksvoort earned All-America status in 1993, following his junior season. He connected on 59-of-59 point-after attempts that year, leading the SEC in scoring with 95 points.
The Chattanooga native currently ranks third on Tennessee's career scoring chart with 317 career points.
Seeking the Sixth
A win on Saturday would make Tennessee bowl eligible for the third consecutive season under head coach Butch Jones.
The last time the Vols reached three consecutive bowl games were the 2002-04 seasons under Phillip Fulmer.
A win would also mark the second straight year that Tennessee has achieved bowl eligibility on Homecoming. Last year, UT defeated North Texas, 24-0, for its sixth win.
Barnett on a Tear
Having racked up 9.0 total sacks in his last five games, defensive end Derek Barnett is now the FBS active leader in career sacks (29.0).
Last week at South Carolina, Barnett matched his career-high with 3.0 sacks. It was the third three-sack game of his career.
Only a junior, the Nashville native is now just three sacks away from matching Reggie White's Tennessee record for career sacks with 32.0.
Homecoming 2016
Saturday's game is 93rd homecoming game in Tennessee Football history.
The Vols are 70-19-3 all-time on Homecoming and have won six of their last seven homecoming games. UT's last loss on Homecoming came on November 9th, 2013 when Auburn earned a 55-23 victory in Neyland Stadium.
Last season, Tennessee defeated North Texas on Homecoming, 24-0.
Tennessee Tech becomes the sixth in-state program that the Vols have hosted on Homecoming, joining Vanderbilt, Sewanee, Memphis, Middle Tennessee and Chattanooga.
Saturday is the 100th homecoming celebration on Tennessee's campus. UT's first Homecoming took place November 11th, 1916.
Vols in November
Since 2000, the Vols are 49-17 (.742) during the month of November. That record includes a 27-11 (.711) record in the 11th month since November 18th, 2006.
Over the last 25 seasons since 1990, the Vols are 87-20 (.813). UT went 37-3 (.925) during November throughout the 1990s and won 21 consecutive games in the month from 1990-96.
Under head coach Butch Jones, Tennessee is 8-4 in November and went 4-0 in 2015. In his career, Jones is 21-12 during the regular season's final month.
All-time, Tennessee is 318-125-21 (.775) in November.
Toughest So Far
According to the NCAA's "Toughest Schedules" metric, Tennessee has played the toughest FBS schedule in 2016. The Vols rank first in both past opposition winning percentage (.769) and cumulative opposition winning percentage (.662).
Tennessee's front-loaded schedule has played a large role in those rankings. Not including games played against Tennessee, the Vols' first seven opponents in 2016 are a combined 41-7 (.854).
Only one of Tennessee's first seven opponents this season will enter the month of November not yet bowl-eligible (Georgia).
Five of Tennessee's first seven opponents currently reside in first place of their respective conference or conference division: Appalachian State (Sun Belt, T-1st), Virginia Tech (ACC Coastal), Ohio (Mac East), Florida (SEC East), Alabama (SEC West).
Jeff Sagarin of USA TODAY lists Tennessee's strength of schedule as the fifth-toughest in the country and the second-toughest in the SEC behind Ole Miss.
Berry Pulls Level with Gault
Junior Evan Berry recorded his fourth career kickoff return for touchdown last week at South Carolina, matching Tennessee legend Willie Gault's school record.
Following a South Carolina field goal late in the third quarter, Berry took the ensuing kickoff 100 yards to the end zone. That scamper pushed his season-long kick return average to 32.9 yards per return—good for tops in the SEC and second in FBS.
Last season, Evan Berry earned SEC Special Teams Player of the Year honors as well as consensus All-American status after he paced the FBS in kickoff return average (38.3). That mark fell just short of the all-time NCAA mark, but did establish a new Tennessee record.
23 Straight With Rushing TD
Tailback Jalen Hurd rumbled in for a one-yard, first-quarter touchdown at South Carolina last week. That score pushed UT's streak of consecutive games with a rushing touchdown to 23.
The 23-game streak stands alone as the second-longest in program history, surpassing a string of 22 consecutive games with a rushing touchdown from October 1st, 1994 to September 7th, 1996.
Tennessee's all-time record for most consecutive games with a rushing score is 24, established during the 1937-1939 seasons.
Quarterback Joshua Dobbs and tailbacks Hurd, Alvin Kamara, John Kelly and Joe Young have all scored during the streak.
According to ESPN Stats & Info, Tennessee's streak is the second-longest active streak in FBS, trailing only Alabama (28).
The last time the Vols were held without a rushing score was November 22nd, 2014—a 29-21 loss to Missouri.
Kirkland Returns
Sophomore Darrin Kirkland Jr. returned to action at South Carolina last week, making his first start at middle linebacker since suffering a high ankle sprain on September 10th vs. Virginia Tech.
Kirkland—a MIKE linebacker—paced the Vols with eight total tackles (five solo).
With Kirkland getting the starting nod in the middle, fellow linebacker Colton Jumper moved over and made his first season start at the weak side linebacker position.