Tennessee vs. Tennessee Tech
Tuesday, December 12th, 2016 | 6:00pm CT
Knoxville, TN | Thompson-Boling Arena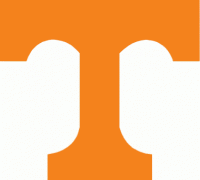 Knoxville, TN – Tennessee hosts in-state and I-40 foe Tennessee Tech on Tuesday night at Thompson-Boling Arena with tipoff set for 6:00pm CT on the SEC Network.
The Vols (4-4) are looking to bounce back from a narrow defeat at the hands of No. 7 North Carolina on Sunday night and grab their 14th consecutive home victory during the month of December.
Tennessee got a big showing from its leading scorer, Robert Hubbs III, in Chapel Hill. The senior scored 21 points on 9-of-11 shooting to boost his season average to 14.8 points per game. Hubbs is joined in double figures by redshirt freshman Lamonte Turner at 10.3 ppg.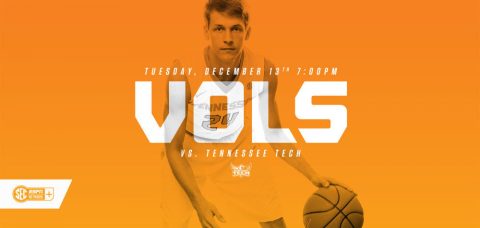 A pair of true freshmen lead the Vols on the glass through eight games as both John Fulkerson and Grant Williams are averaging 5.1 rpg.

Williams has displayed an uptick in his rebounding focus over the last three games, averaging a team-high 6.7 rebounds to go along with 10.0 points and 1.7 blocks per game over that span.

Tennessee Tech is 4-7 to start the year, falling at Michigan State, 71-63, in its latest action.
Happening Now
Tennessee freshman Jordan Bowden is the reigning SEC Freshman of the Week. He has not committed a turnover in his last 59 minutes played.
The Vols are in the midst of an eight-day stretch in which they play four games, including two against AP top-10 teams away from home.
The Vols lead the SEC and rank 15th nationally with a team free-throw percentage of .780.
A Win Would
Give the Vols a four-game win streak in home games at Thompson-Boling Arena.
Extend Tennessee's December home win streak to 14 games, dating to 2013.
Make Tennessee 56-2 all-time against current members of the Ohio Valley Conference.
Make TTU the 175th different Division I program Rick Barnes has defeated during his career.
About Tennessee Tech
Tennessee Tech is off to a 4-7 start this season and is coming off a 71-63 loss at Michigan State Saturday.

Sixth-year TTU head coach Steve Payne was the head coach at Knoxville's Central High School in 1990-91.

In October, the Ohio Valley Conference head coaches and SIDs picked Tennessee Tech to finish fourth in the OVC East Division.

Tech graduated its top two scorers from last season's squad, which went 19-12 (11-5 OVC) and received an invite to the Vegas 16.

The Golden Eagles' top performer has been 6-3 junior guard Aleksa Jugovic, from Serbia. The preseason All-OVC selection leads the team in scoring (17.1 ppg)3-point percentage (.400) and free-throw percentage (.865).

Graduate transfer Kajon Mack (10.2 ppg, 4.2 rpg) joined Tech this season after battling through multiple injuries at Tulane. Mack signed with the Green Wave during the head coaching tenure of former Tennessee director of operations (2001-03) and assistant coach (2003-05) Ed Conroy. Mack transferred from Tulane after Conroy's dismissal in March.

TTU's top rebounder, Courtney Alexander II (5.9 rpg), is the son of 2000 NBA Lottery Pick Courtney Alexander Sr. The elder Alexander led the NCAA in scoring with 24.8 ppg as a senior at Fresno State.

Golden Eagles freshman Miles Thomas graduated from Knoxville's South-Doyle High School this past summer and as a cousin of former Vols guard, JaJuan Smith (2004-08). Thomas has yet to appear in the game this season for TTU and could be a candidate to redshirt.
Last Meeting With Tennessee Tech
Tennessee opened a four-game holiday homestand with a 61-58 victory over Tennessee Tech December 19th, 2014, at Thompson-Boling Arena.
The Vols rallied from a halftime deficit to win for the third time in nine games. The contest was tight throughout, with 10 lead changes and seven ties.
Current Miami Heat guard Josh Richardson topped the Vols' scoring chart for the eighth time in nine games with 19 points. And UT's Devon Baulkman scored 10 points for the second game in a row.
Down by six at halftime, Tennessee rallied to retake a lead with about nine minutes left. The game was within four points for more than 12 minutes until a Baulkman 3-point play put the Vols ahead 58-51 with 54.7 remaining. That was UT's second 3-point play in less than a minute and proved to be the back-breaker for Tech.
Richardson scored six consecutive points to put the Vols up, 50-46, with six minutes remaining. After TTU's Josiah Moore scored to end the spurt, UT junior Kevin Punter Jr. hit a short jumper to put the Vols up, 52-48, with 3:54 left.
The Vols held the Eagles scoreless for a span of 5:07 in the first half, but Tech closed the first half on a 9-0 run to lead 32-26 at halftime.
Tennessee Tech's Dwan Jackson had a double-double with 13 points and 10 rebounds.
December Home Win Streak = 13
The Volunteers have won 13 consecutive December home games, dating to 2013.
UT's last December loss at Thompson-Boling Arena was a 65-58 setback at the hands on NC State on Dec. 18, 2013.
The 13-game streak includes victories over Morehead State, Virginia, Kansas State, Butler, Tennessee Tech (12/19/14), Mercer, Tennessee State (twice), ETSU (twice), Florida Atlantic, Georgia Tech and Presbyterian.
Vols Author One Of The Best Shooting Halves Ever At UNC
Though it fell two points short in its upset bid at seventh-ranked UNC on December 11th, Tennessee put together an impressive offensive first half.

Tennessee's first half field-goal percentage of .654 was the fourth-highest ever recorded by a UNC opponent in a half at the Dean Smith Center.

UT scored 44 first-half points while shooting 17-of-26. Robert Hubbs III headed up that effort, going 7-for-7 from the field for 15 points. Jordan Bowden went 4-of-5, including 2-of-3 from 3-point range, to head into the locker room with 10 points.
Knoxville's Bowden Named SEC Freshman Of The Week
Shooting guard Jordan Bowden was selected as the SEC men's basketball Freshman of the Week Monday after scoring in double figures against both Presbyterian and North Carolina last week.
The Carter High School grad scored 21 points against Presbyterian December 6th and then added 12 points, five rebounds and two steals at seventh-ranked North Carolina on December 11th.
His averages for the week stood at 16.5 points, 5.0 rebounds, 2.0 assists (no turnovers) and 2.0 steals.
The true freshman played a team-high 57 total minutes spanning UT's two games last week and did not commit a single turnover.
20-Point Games By Freshmen
Tennessee has had three different freshmen score at least 20 points in a game this season.
Media Relations staffers are researching the last time a Tennessee team had three different freshmen produce 20-point outings in season. A partial check of the archives shows it has not been done through the early 1980s, at least.
| FRESHMAN | POSITION | POINTS | GAME | DATE |
| --- | --- | --- | --- | --- |
| Jordan Bone | Guard | 21 | vs. Chattanooga | Nov. 11, 2016 |
| Lamonte Turner | Guard | 24 | vs. Presbyterian | Dec. 6, 2016 |
| Jordan Bowden | Guard | 21 | vs. Presbyterian | Dec. 6, 2016 |
Up Next For UT Vols
Tennessee will play its third game in five days when it plays host to another in-state foe in Lipscomb. That game tips off at Thompson-Boling Arena at 6:00pm CT and will stream online through SEC Network + (WatchESPN).
The Vols and Bisons are meeting for the third time and for the first time since 2005. UT has won both meetings.
From there, Tennessee makes its way to the midstate for a Sunday showdown with No. 8 Gonzaga in the Battle on Broadway. Tip-off at Bridgestone Arena is set for 3:00pm CT on ESPN2.
Sections
Sports
Topics
Aleksa Jugovic, Bisons, Bridgestone Arena, Butler, Chapel Hill NC, Devon Baulkman, East Tennessee, ESPN2, ETSU, Florida Atlantic, Georgia Tech, Golden Eagles, Gonzaga, Grant Williams, JaJuan Smith, John Fulkerson, Jordan Bowden, Josh Richardson, Kansas State, Kevin Punter Jr., Knoxville TN, Lamonte Turner, Lipscomb, Mercer, Michigan State, Morehead State, NCAA, North Carolina, Ohio Valley Conference, OVC, OVC East, Presbyterian, Rick Barnes, Robert Hubbs III, SEC, SEC Network, Southeastern Conference, Tennessee, Tennessee State, Tennessee Tech, Tennessee Vols, Thompson-Boling Arena, TTU, Tulane, UNC, UT, UT Vols, Virginia, Volunteers