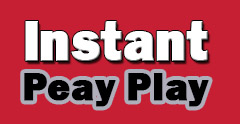 Clarksville, TN – When it was announced last Thursday morning that Dave Loos was going to take a leave of absence as head coach of the Austin Peay State University's men's basketball program, to focus on his fight versus cancer and having to continue chemotherapy, it left a huge hole on the Governors bench that he has filled since 1990.
It's hard to think about the Governors men's basketball program and not think about coach Loos – who from his first game leading the Govs back on November 11th, 1990 versus Arizona to the morning of his announced leave of absence covered 9,553 days.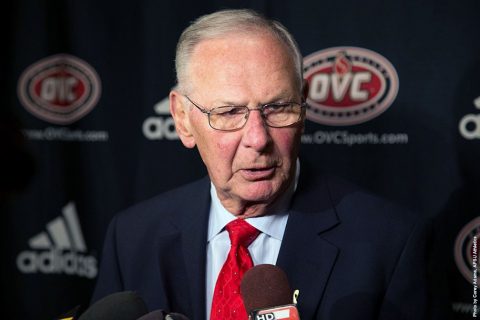 In fact, in all of NCAA Division I only seven men's basketball coaches (Jim Boeheim/Syracuse, Mike Krzyzewski/Duke, Greg Kampe/Oakland, Rick Byrd/Belmont, Gregg Nibert/Presbyterian and Bob McKillop/Davidson) have longer tenures than Loos has had in Clarksville.
Stunningly, while Loos has been on the Governors bench for 27 seasons the rest of the current Ohio Valley Conference schools have had 59 total coaches over that same span.
He has over 400 wins while coaching the Govs – the most not only in the school's and OVC history – while earning a conference best five OVC Coach of the Year Awards, four OVC Tournament championships (seven runner-up finishes), four NCAA Tournament appearances, two NIT's and one each appearance in the CBIT and CBI tournaments.
Loos has also been inducted into the school's athletic department hall of fame (one of five he has been inducted too) and having APSU's home floor named after him – Dave Loos Court.
During his tenure, he has had 38 players earn All-OVC honors – including 19 who were selected First-Team All-OVC and three (Charles 'Bubba' Wells, Trenton Hassell and Drake Reed) taking OVC Player of the Year honors.
And while all of these accomplishments would be impressive in their own merit for any coach, most also came while he was also handing the school's athletics director duties for almost 17 years.
But while his coaching success is well documented, the past couple of years have been tough personally for Loos and his family, with two of his granddaughters having suffered through major physical problems, and now he himself having to overcome cancer.
This past summer Loos underwent surgery when a malignant tumor was found on his colon and a discovery of a cancerous growth on a lymph node. Since then he has continued coaching duties while undergoing chemotherapy.
But this last week's announcement of a leave of absence shows just how tough of a battle this has been for him. In his absence, assistant head coach Jay Bowen will oversee the program.
So here's to a quick recovery and returned good health to coach Dave Loos, who for the past 27 years has gone about his duties as head basketball coach and athletics director with class, integrity, honor while becoming one of the most respected people in the profession.