Tennessee Lady Vols (17-10/8-6 SEC) vs. Florida Gators (13-14/4-10 SEC)
Thursday, February 23rd, 2017 | 6:02pm CT
Knoxville, TN | Thompson-Boling Area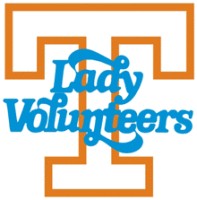 Knoxville, TN – #RV/RV Tennessee will honor its seniors on Thursday, as the Lady Vols host Florida on Senior Night at Thompson-Boling Arena.
The game tips off at 6:00pm CT and will be broadcast on SEC Network and will be available online through WatchESPN. Visit WatchESPN.com or download the WatchESPN app to view the game on a computer or mobile device. Courtney Lyle (PxP) and Deb Antonelli (Analyst) will describe the action between the Lady Vols and the Gators.
Fans can also tune into their local Lady Vol Network station to catch Mickey Dearstone describing the action.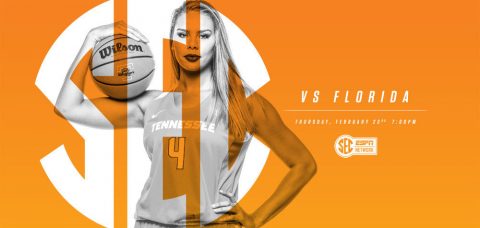 #RV/RV Tennessee vs. Florida
#RV/RV Tennessee (17-10, 8-6 SEC) likely plays its final home game of the year and penultimate contest of the regular season, as Florida (13-14, 4-10 SEC) comes to Thompson-Boling Arena on Thursday night.
UT and the Gators will meet for the 54th time overall and second time this season, facing off at 6:02pm CT in a game televised by the SEC Network.
Tennessee won the first meeting this season, defeating Florida in Gainesville, 84-75, on January 26th.
After losing two in a row and three of four, the Lady Vols got back on the winning track Sunday afternoon with a 59-46 home victory over Arkansas.
Tennessee is sixth in the SEC standings with two games to go and needs wins in its final two contests to have a shot at the one of the top four seeds in the league tournament. It also would need Kentucky (10-4) and Texas A&M (9-5) to lose twice, and Missouri (9-5) to lose once to have a chance to move ahead of those schools in the standings. UT holds tie-breakers vs. UK and MU.
Florida has dropped its past two games, four of its last six and 10 of its past 14 after standing 9-4 on December 28th.
The Gators suffered a 19-point setback to Kentucky on Sunday in Lexington, 67-48, playing without 6-3 junior forward Haley Lorenzen, who was injured vs. Missouri.
UF sits in 12th place in the league standings.
The Big Orange women are 12-3 (5-2 SEC) playing on The Summitt this season, while the Gators are 5-7 (3-4 SEC) in road games.
Broadcast Information
Courtney Lyle (PxP) and Deb Antonelli (Analyst) will describe the action for the Tennessee-Florida television broadcast on the SEC Network.
All of the games included in the SEC Network (SEC Network, SECN+) package and the ESPN package (ESPN, ESPN2, ESPNU) will be available through WatchESPN, accessible online at WatchESPN.com, on smartphones and tablets via the WatchESPN app, and streamed on televisions through Amazon Fire TV, Apple TV, Chromecast, Roku, Xbox 360 or Xbox One to fans who receive their video subscriptions from affiliated providers.
Mickey Dearstone will handle the call for the IMG College/Lady Vol Network radio/online broadcast. Airtime is 30 minutes prior to tip-off on network stations.
Senior Night
Thursday night is Senior Night for Lady Vols Jordan Reynolds and Schaquilla Nunn.
Reynolds is wrapping up her fourth season, while Nunn is completing her one-and-only year on Rocky Top as a graduate transfer from Winthrop University.
Reynolds, Nunn, managers Sarah Wilkinson and B.J. Jarnagin and sports medicine intern Grant Disney also will be recognized before the game.
Home Sweet Home
This is the 30th season that the Tennessee women's and men's basketball teams have called Thompson-Boling Arena home, and the Lady Vols own an incredible 427-35 mark (.924) in the venue.
All-time, the Lady Vols have a 580-59 (.908) home record in contests played at Thompson-Boling Arena, Stokely Athletics Center and Alumni Gym.
UT is 12-3 at home in 2016-17.
Capacity at Thompson-Boling Arena is 21,678.
UT has led the nation in attendance 19 times in the past 25 years, finishing second the past two years after an 11-season run at No. 1.
Tennessee ranks second in the nation in home attendance this season with an average of 9,132 through 15 dates.
Tennessee in SEC Play
UT is 375-64 in SEC regular-season games, winning 18 championships through the years and capturing SEC tourney titles on 17 occasions.
During the Holly Warlick era, Tennessee is 58-20 in league games, making Warlick the top-ranked active SEC coach in terms of winning percentage in league play at .744.
South Carolina's Dawn Staley is the next coach behind Warlick at .674 (95-46), followed by UK's Matthew Mitchell at .654 (100-53).
In only her fifth year as a head coach, Warlick already ranks fifth in total league wins among active SEC coaches and has won regular season titles in 2013 and 2015, and a tourney crown in 2014.
Lady Vols Fall From Both Polls
A 1-1 slate the week of February 6th-12th knocked the Lady Vols from both polls for the second time this season.
UT continues to receive votes in both the AP Poll (30th) and USA Today Coaches Poll (30th) in the February 20th and 21st editions.
On February 6th/7th, UT returned to both (AP #24/USA Today #25) polls in the same week for the first time since the November 28th and 29th editions were released.
After eight weeks in the receiving votes category, UT moved back into the USA Today Coaches Poll on January 31st, checking in at #25. The Lady Vols were #25 on November 29th before dropping out after the loss to Baylor.
After nine weeks outside the AP Poll, UT returned on February 6th at #24. The Lady Vols were ranked #22 on Nov. 28 before dropping out after the Baylor loss.
Nine weeks ties the longest period of time that a Lady Vol squad has been continuously outside the AP Poll. In her 11th season as head coach here, even Pat Summitt saw her 1984-85 squad miss polls No. 5 through 13.
In her eighth season, Summitt's squad also spent four weeks (poll Nos. 8-11) on the outside looking in, as Warlick's squad did a year ago in polls 16-19.
Sizing Up the Lady Vols
Tennessee ranks #20 in the most recent NCAA Women's Basketball Rating Percentage Index (RPI).
The Lady Vols stand #4 in the latest NCAA Toughest Schedule Report behind UConn, Notre Dame and Texas.
The February 21st edition of Charlie Creme's Bracketology has the Lady Vols playing in College Park, MD, as a No. 7 seed facing #10 seed George Washington in the first round of the NCAA Bridgeport Regional.
UT has gone from being a No. 7 seed, to a No. 6 seed, to a No. 5 seed, to a No. 7 in the past four releases by Creme.
UT, South Carolina and Missouri have played the most ranked teams of any SEC schools (7), and UT has the second most wins over ranked teams (4) and second most over top-10 teams (3) in the league.
South Carolina is 6-1 vs. AP-ranked teams, while UT is 4-3, Missouri is 3-4, Texas A&M is 3-2, Kentucky is 2-3 and Mississippi State is 2-1. USC is 4-1 vs. top-10 teams, while UT is 3-2.
UT-Florida Series Notes
Tennessee holds a 49-4 all-time record vs. Florida, dating back to Feb. 8, 1980, winning 12 of the past 13 meetings
UT is 21-2 vs. UF in games played in Knoxville, 8-0 at neutral sites and 3-1 in overtime contests vs Florida, including 3-0 in Gainesville in those extra-frame affairs.
Holly Warlick's squad is 5-1 vs. Florida during her tenure.
The Lady Vols had won 11 in a row in the series until the Gators got the victory in Knoxville a little more than a year ago on January 7th, 2016, 74-66.
UT is 20-2 in games played in Gainesville, winning the past five trips there and in 11 of the past 12 visits, including 84-75 on January 26th, 2017.
The last Lady Vol loss in Gainesville came on February 8th, 2009, as #11/13 Florida topped #12/17 Tennessee by a 66-57 count.
This marks the second time these programs have met with neither team ranked since January 21st, 1985, in Pat Summitt's 11th season as head coach.
Bashaara Graves' free throw with 12.5 seconds remaining in regulation sent the 2013 game in Gainesville into overtime and helped give Holly Warlick a win in her first game as head coach in the series, 78-75.
UT's team record for most free throws made in a game (40-of-46) came at Florida on February 3rd, 2005.
Diamond DeShields hit for 16 points in her debut game vs. Florida last season and fired in 27 in Gainesville earlier this season.
Jaime Nared posted points/rebounds efforts of 10/7 as a freshman and 10/6 as a sophomore vs. the Gators and added a 16/7 effort this season.
Jordan Reynolds tallied 13 points vs. UF in Gainesville in 2015 and had 11 in the earlier meeting this season.
UT surrendered 31 points to UF's Ronni Williams in the first meeting this season.
League's Top Scorers Mett Thursday
Thursday's game will feature the SEC's top scorers in league play in Florida's Ronni Williams (19.1, 1st) and Tennessee's Diamond DeShields (18.6, 2nd).
In the January 26th meeting in Gainesville, Williams sizzled for 31 points in 31 minutes (10-of-18, 11-of-13), while DeShields fired in 27 of her own during a 38-minute effort while going 9-of-13 from the field (1-3 3FG) and 8-of-11 from the free throw line.
Milestone Watch
Mercedes Russell scored her 1,000th career point in the game vs. Alabama, tallying 17 vs. the Crimson Tide to run her career total to 1,013.
Russell became the 43rd player to tally 1,000 points while wearing the Orange and White, and she currently stands 42nd (1,026) on UT's all-time scoring list behind Taber Spani (1,053, 2009-13).
Diamond DeShields needs 71 points to hit 1,000 points at UT. She has 1,577 total combining her totals at Tennessee and North Carolina.
Schaquilla Nunn reached 1,000 career rebounds with her third board vs. LSU on February 2nd. She finished the evening with nine. She now stands at 1,029 for her career, with 910 of those coming at Winthrop, her previous school.
Nunn reached 1,000 career points (including 982 at Winthrop) earlier this season. She stands at 1,111 through the Arkansas game.
Russell has 727 career rebounds and needs 73 to move into UT's list of players with 800 or more rebounds. There are 17 who've made the cut.
Playing as an Unranked Team
The Lady Vols are 17-8 while playing as an unranked team over portions of the last two years, defeating ranked foes #16 Texas A&M, #9 Ohio State and #11 Arizona State last season and #5 South Carolina, #6 Notre Dame, #10 Stanford and #17 Kentucky this year.
Tennessee is 11-5 this season while unranked.
Until topping South Carolina this season, UT last beat a top-five foe while unranked (AP) on January 25th, 1985, as the Lady Vols took down No. 1 Old Dominion, 67-64, in Norfolk, VA.
About the Florida Gators
Florida returned three starters and seven letterwinners from a team that finished 22-9 overall and 10-6 in SEC play, good for a tie for fourth.
UF made the 2016 NCAA Tournament, falling in the first round to UAlbany, 61-59.
The Gators were predicted to finish fourth by SEC coaches and fifth by the media in the 2016-17 preseason polls.
UF had two players on the Coaches Preseason All-SEC Team, including first-teamer Ronni Williams and second-teamer Eleanna Christinaki.
Christinaki, who tortured UT with a game-high 18 points, eight assists and six rebounds in last year's UF win in Knoxville, is no longer on the team, departing in December 2016. At the time, she was her team's leading scorer at 17.6 ppg.
Florida is coached by Amanda Butler, who is in her 10th year at UF, sporting a 188-135 record. She is 228-157 overall in 12 seasons as a head coach.
Haley Lorenzen, UF's second-leading scorer (12.5) and third-leading rebounder (6.4), missed the Kentucky game on Sunday due to an apparent ankle injury suffered vs. Missouri.
Florida is one of the best field goal shooting teams in the league, ranking fourth at .449. Tyshara Fleming (.557) and Ronni Williams (.538) lead the way for UF.
The Gators rank third in the league in rebounds per game at 41.3 and first in offensive rebounds per game at 15.3. Florida had 21 O-boards vs. UT in the first meeting.
The Last Time These Teams Met
Diamond DeShields posted an all-around performance to lead Tennessee to an 84-75 win over Florida at Exactech Arena on January 26th, 2017.
DeShields finished with 27 points on 9-of-13 shooting, five rebounds, three assists and three steals. Jaime Nared had another strong performance, scoring 16 points and grabbing seven boards. Mercedes Russell and Alexa Middleton also got into double digits, totaling 14 and 11 points, respectively.
Tennessee (13-7, 4-3 SEC) picked up its second conference road win of the season with the wire-to-wire victory over Florida (10-10, 1-6 SEC).
Ronni Williams led the charge for the Gators, finishing with 31 points on 10-of-18 shooting. Haley Lorenzen chipped in 17 points, 11 rebounds and three blocks on the night.
Tennessee thrived from the charity stripe in the third period, hitting 14 of its 16 shots to fuel the Big Orange offense. The Lady Vols held on to a 71-58 lead going into the fourth.
Despite outscoring UT in the second half, UF was unable to overtake Tennessee.
The Last Time They Met in Knoxville
Diamond DeShields had 16 points and Bashaara Graves hauled down a career-high 19 rebounds, but the No. 12/11 Lady Vols fell to Florida, 74-66, on January 7th, 2016, in Thompson-Boling Arena after a second-half surge by the Gators.
Tennessee (10-4, 1-1 SEC) led 35-29 at the half. Florida (13-2, 1-1 SEC) knotted the game at 53-53 by the end of the third quarter and outscored the Lady Vols in the fourth, 21-13, to earn its first win over UT since February 8th, 2009.
The setback also was UT's first loss to Florida at Thompson-Boling Arena since February 26th, 2006.
DeShields scored in double figures for the 11th-straight game on 6-of-21 shooting from the field and 4-of-4 marksmanship from the free-throw line. Andraya Carter had 13 points and four rebounds and Jaime Nared added 10 points and six boards.
Eleanna Christinaki led Florida with 18 points on 8-of-16 shooting and also had eight assists and six rebounds. Carlie Needles had 15 points and January Miller added 11.
Gators Fall to Kentucky
Four Gators netted a double-figure scoring effort, paced by freshman Delicia Washington's 14 points, but it wasn't enough as Florida dropped a 67-48 decision to Kentucky at Memorial Coliseum on Sunday afternoon in front of crowd of 6,604.
Kentucky used a handful of mini-runs and Florida was able to counter most of them and get back within two points. The Gators had just finished whittling a 10-point deficit down to two, 31-29, early in the second half.
That's when the Wildcats used a 15-4 run and took a 47-33 lead with 2:10 remaining in the third quarter.
The teams traded buckets for the next several minutes into the fourth quarter and Florida wouldn't counter, as the Wildcats led by as many as 22 in the final frame in route to their fourth straight win.
Ronni Williams added 12 points for the Gators, followed by Sydney Morang and Tyshara Fleming with 10 each.
Lady Vols Bounce Back vs. Razorbacks
Led by Mercedes Russell's 15th double-double of the season, Tennessee took care of business over Arkansas, 59-46, in Thompson-Boling Arena on Sunday.
After a 2:52 scoring drought by UT to start the first quarter, Russell got things going for the Lady Vols (17-10, 8-6 SEC) by scoring the first five points. She finished the day with 13 points and 10 rebounds, passing Candace Parker for the third most double-doubles by a junior in Tennessee history.
Jaime Nared broke out of her recent shooting slump to account for a game-high 19 points behind 3-of-5 shooting from beyond the arc. She added nine rebounds and two steals in the contest despite early foul trouble.
All-SEC forward Jessica Jackson shouldered much of the scoring burden for the Razorbacks (13-14, 2-12 SEC), accounting for 18 points on 7-of-11 shooting, including 4-of-5 from behind the arc. However, Tennessee's defense kept the remaining Razorbacks in check, with Jackson's teammates shooting just 33 percent from the field. Malica Monk was the only other Razorback who scored in double figures with 11.
Alexa Middleton started slow in the game but picked up momentum in the second quarter, connecting on her first 3-pointer with 2:36 remaining in the period. She continued to serve as a spark for Tennessee's offense in the second half, finishing the contest with 15. Sunday marked the third consecutive game Middleton has recorded double-digit scoring and the ninth time this year.
Going into the fourth quarter, Tennessee only led by two at 37-35. The Lady Vols stretched out their lead courtesy of back-to-back threes by Nared to put the game out of reach.
Coming Up On The Schedule
The Lady Vols wrap up the regular season at Mississippi State on Sunday. Tip has been set for 4:00pm CT (5:00pm ET) on ESPN2.
Florida, meanwhile, plays host to Georgia on Sunday at 11:00am CT on ESPNU.
The Southeastern Conference Tournament gets under way on Wednesday, March 1st, and runs until Sunday, March 5th.
The event is being held at Bon Secours Wellness Arena in Greenville, SC, for the second time.
Greenville hosted in 2005 as well.