Tennessee Lady Vols (15-8 | 4-6 SEC) vs. Auburn (18-6 | 6-5 SEC)
Thursday, February 14th, 2019 | 6:02pm CT
Knoxville, TN | Thompson-Boling Arena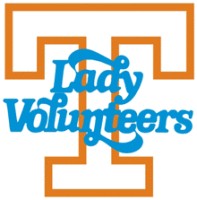 Knoxville, TN – The Tennessee Lady Vols (15-8, 4-6, SEC) returns home after a two-game road swing, hosting Auburn (18-6, 6-5 SEC) on Thursday night, February 14th at Thompson-Boling Arena. Tip-off is slated for 6:02pm CT on Valentine's Day in a contest that will be streamed by SECN+.

Tennessee is 12-2 all-time in games played on Valentine's Day, including 8-1 at home, 3-1 away and 1-0 at neutral sites. UT is 2-0 vs. AU on this date.

Including this match-up, the Lady Vols have six contests remaining during the regular season. Three are at home (Auburn, South Carolina, Vanderbilt) and three are away (Missouri, Texas A&M, Ole Miss).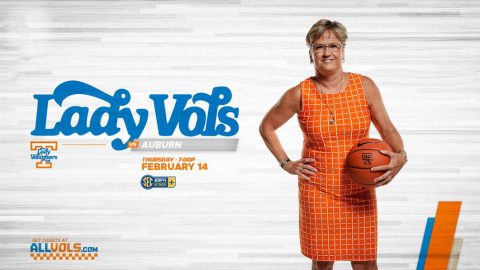 The Lady Vols are coming off a 91-63 loss at No. 6/6 Mississippi State on Sunday.
It was a three-point game with 6:09 to go in the third and a six-point contest with 2:06 remaining in that period before MSU used a 21-2 run spanning the third and fourth stanzas to pull away.
UT played without starting point guard and leading scorer Evina Westbrook, who sat out the game due to a violation of team rules.
First-year point guard Jazmine Massengill started in place of Westbrook, giving UT two freshmen, two sophomores and a senior in the starting lineup vs. MSU's four seniors and a sophomore. Westbrook is expected back for the Auburn game.

Despite the loss, Tennessee comes into the game having won three of its past four contests, defeating LSU, Florida and Vanderbilt in succession. Auburn comes to town on the heels of a 75-72 victory at Arkansas on Sunday. The Tigers also have won three of their past four, handling Ole Miss, Georgia (in OT) and Arkansas, while falling to Kentucky the game before last.

Tennessee won the first match-up this season between these teams, defeating the Tigers, 78-69, at Auburn Arena on January 3rd to open league play for both teams. Meme Jackson had 27 points in that game.
Broadcast Information
Bob Kesling (play-by-play), Madison Blevins (analyst) and Antonia Buffalino (sideline) will have the call for the SECN+ broadcast.
Mickey Dearstone is behind the microphone for IMG College/Lady Vol Network radio/online broadcasts for the 20th season. A link to the live audio stream can be found on each game's Hoops Central page or the Lady Vol schedule on UTSports.com.
Air time for games on the Lady Vol Radio Network generally occurs 30 minutes prior to tip-off.
For UT home games, the Lady Vol Network has a low-power transmitter that makes the game available on the radio at 99.3 FM.
Promotions
It's "Volentine's" Day! No reservations required for a Valentines date on the Summitt. Two tickets for the price of one. Enter to win a rose and chocolates delivery from Smokey during the game. Tickets at AllVols.com and promo code: VolentinesDay.
It's also UTK Faculty Appreciation Night.
Kids 12 & younger can pick up a wristband at the Fan HQ table on the concourse to participate in the pregame high-five tunnel. Wristbands are limited. To purchase discounted group tickets and reserve wristbands for your team, call 865-946-7000.
The halftime performance will be by Rolla Bolla.
Help us Spark the Summitt during introductions at the game! Download our new free light-up app, courtesy of Coca-Cola. Once downloaded, simply open your Hoops Hype app when the lights go out, and let your phone do the rest.
Tickets are available for as low as $10.00 at AllVols.com.
Free parking & shuttle service are available from UT's Ag Campus. Shuttles begin two hours prior to tip.
Tennessee Lady Vols – Auburn Series Notes
Tennessee holds a 44-11 all-time record vs. Auburn, dating back to February 9th, 1980, and has won 28 of the past 31 games in the series.
The Lady Vols are 21-2 vs. the Tigers in games held in Knoxville, 14-5 in games played at Auburn and 9-4 at neutral sites.
UT has won in 14 of its last 16 trips to The Plains after opening 2019 SEC play with a "W."
UT is 2-0 vs. AU in overtime games, winning extra-frame contests in Knoxville vs. the Tigers in 1996 and 2004.
Tennessee has limited Auburn to 66 points or fewer 11 of the last 13 times they've met and to 61 or less on nine of those occasions.
Tennessee and Auburn played for the 1989 NCAA Championship in Tacoma, Wash., with the Lady Vols prevailing, 76-60.
Tennessee also beat the Tigers in regional finals in 1987 and 1991 en route to NCAA Final Fours they would end up winning.
UT and AU four times played for SEC Tournament titles from 1985 to 1990, with the Lady Vols winning three of those (1985, 1988, 1989).
Chamique Holdsclaw scored a career-high 39 points vs. the Tigers on February 14th, 1998, marking the sixth-highest point total in Lady Vol history.
Auburn has managed to claim only two victories in Knoxville, with those coming on January 9th, 1988 (#2/3 AU def. #4/4 UT, 71-68) and February 8th, 1986 (#11/13 AU def. #10/12 UT, 66-60).
AU coach Terri Williams-Flournoy beat UT and Pat Summitt while coaching Georgetown on November 27th, 2010, 69-58, at the Paradise Jam tourney in the U.S. Virgin Islands.
About the Tennessee Lady Vols

Re Gets Her Groove Back
After hitting a four-game rough patch from January 13th to 24th, Rennia Davis has re-emerged in all-star form in the past four games. She posted double-doubles vs. Florida (19 pts., 10 rebs.) and Vandy (17 pts., 12 rebs.) two weeks ago. She previously had 24 points and seven boards vs. LSU. She went off for 29 points vs. Mississippi State on Sunday.
Dishin' & Swishin'
Evina Westbrook has 14 games of five or more assists and is averaging 5.1 dimes for the season. With a 16.0 ppg. average, she has the highest all-time single-season scoring average for someone with five assists or more.
Zaay Ahead of Schedule
Zaay Green has been a productive freshman, starting 19 games and averaging 10.3 ppg. and 4.4 rpg. She has hit for double figures 12 times.
Cheridene Stepping Up
First-year starter Cheridene Green has upped her averages to 8.9 points and 9.0 rebounds in SEC play.
Strong On The Boards
UT has won the rebounding battle in 19 of 23 games, including nine of 10 SEC contests (MSU won, 39-30). UT's SEC-games 45.4 per contest average is No. 1 in the league ahead of MSU (43.6). Tennessee has had at least one player pull down double digits in rebounds in every SEC game this season except the Mississippi State contest.
"D" Is Crucial
n its four SEC wins, UT is allowing 62.2 ppg., while in its six losses, the Lady Vols are surrendering 77.0 per contest.
Much Better At The Line
The Lady Vols have shot .777 (87-112) from the free throw line in their past six games. In its first 16 contests, Tennessee went 242 of 364 for a rate of .665.
Need Those Three-Balls
Tennessee went 5 of 13 from the arc vs. Mississippi State (.385), marking its best 3FG percentage since hitting .467 (7-of-15) vs. Auburn in the first meeting back on January 3rd.
Last Time Out For Tennessee Lady Vols
The Lady Vols scrapped to within three in the third quarter but couldn't overcome a No. 6 Mississippi State team that shot an impressive 52.2 percent on the day en route to a 91-63 victory.
Tennessee (15-8, 4-6 SEC) was led by sophomore Rennia Davis, who fired in a season-high 29 points. Freshman Zaay Green also was in double figures with 13.
MSU's (22-1, 10-0 SEC) high scorer was senior Teaira McCowan, who logged a double-double with 24 points and 15 rebounds. Seniors Jordan Danberry and Anriel Howard also had big days for MSU, finishing with 20 and 16 points, respectively. Howard added 11 rebounds to claim a double-double on the afternoon.
Tennessee went a perfect four of four from the free throw line and converted on back-to-back layups to pull within three at 47-44 at the 6:09 mark of the third. MSU answered with an 8-3 run to stretch the lead to eight with 2:57 to play in the period. The Bulldogs went on to build that lead to 12, taking a 61-49 lead into the final stanza en route to the win.
About the Auburn Tigers
Auburn returned six letterwinners, including four starters from 2017-18, including stars Janiah McKay, Unique Thompson and Daisa Alexander. Those are their three leading scorers this year.
Auburn is led by Terri Williams-Flournoy, who is 120-97 in her seventh season at Auburn and 263-201 in 15 years as a head coach.
The Tigers like to press and average 12.6 steals and force 21.2 turnovers per contest.
Last Year
A year ago, Auburn turned in a 14-15 overall record and 5-11 mark in the SEC to finish 10th.
UT ended the Tigers' season in the SEC Tournament second round, 64-61, on an off-the-glass, three-point buzzer-beater by Rennia Davis.
Daisa Thompson made the 2018 SEC All-Defensive Team, while Unique Thompson was All-Freshman.
Auburn Tiger's Last Game
Four Tigers scored in double figures, as Auburn held off a late Arkansas rally to earn a thrilling 75-72 win Sunday afternoon in Fayetteville.
The Tigers (18-6, 6-5 SEC) saw a 17-point third-quarter lead evaporate as Arkansas' Chelsea Dungee scored 41 points – 32 of them in the second half – but got two late defensive stops and made clutch free throws to hold on.
Daisa Alexander led AU with 18 points, while Unique Thompson had 13 and grabbed 12 rebounds.
Last Time Tennessee Lady Vols Played Auburn
The No. 10/10 Lady Vols (12-1, 1-0 SEC) shot 54.0 percent from the floor to claim their first SEC win of the season at Auburn (12-2, 0-1 SEC) on January 3rd, 2019, 78-69.
Senior Meme Jackson went five of eight from behind the arc and a perfect 6-of-6 from the line to lead Tennessee in scoring with 27 points. Sophomore Rennia Davis managed her fourth double-double of the season with 21 points and a career-high tying 14 rebounds. Zaay Green also found her way into double digits with 10 points.
AU's Unique Thompson posted a double-double with 19 points and 12 rebounds.
Last Time In Knoxville
Senior Jaime Nared recorded a double-double with 19 points and 11 rebounds to lead No. 7/7 Tennessee to a 70-59 victory over Auburn on January 4th, 2018, in Knoxville. The win snapped a seven-game win streak for the Tigers and moved Tennessee to 14-0 for only the fifth time in school history.
Freshman Evina Westbrook scored a career-high 18 points, and senior Mercedes Russell added 10.
Daisa Alexander paced Auburn in scoring with 16 points, while Tiffany Lewis and Janiah McKay each contributed 10.
After a largely back-and-forth affair that included 16 lead changes, the Lady Vols ended the game on a 19-4 run, and overcome a season-high 28 turnovers to earn the win.
Coming Up For Tennessee Lady Vols
Tennessee hits the road again this weekend, playing at Missouri on Sunday. Tip is slated for 4:00pm CT (5:00pm ET) in a game that will be carried by ESPN2.