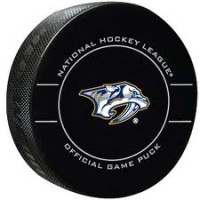 Dallas, TX – The Nashville Predators defeated the Dallas Stars in a highly entertaining game tonight 5-3. Pekka Rinne stood tall in net for the Predators to keep Nashville in this one, giving the boys a chance to win it.
The Predators win the season series against the Stars with the win tonight, in what many feel will be a first round matchup for the Stanley Cup playoffs. The two teams have already been announced as the feature of the Winter Classic.
Brian Boyle continues to show why the Predators made a trade for him just a couple of weeks ago as he lit the lamp first for the Predators at 10:50 of the opening frame. It was Boyle's second goal for the Predators since joining the team and got Nashville the early lead, 1-0.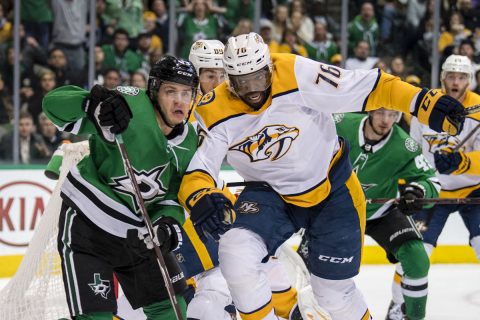 Dallas would draw even at 3:31 of the second period when Jason Spezza fired a wrist shot past Rinne to tie the game at 1-1.
Nashville's Rocco Grimaldi would give the Predators the lead once again at 10:57 of the second, taking a feed from Ryan Hartman and driving the net to beat Dallas goaltender Anton Khudobin. The breakaway goal would put the Predators on top 2-1.
That's when things really started to heat up.
Esa Lindell would fire a laser off the post and into the net at 17:29 and the Stars would draw even at 2-2. Then just 26 seconds later at 17:55, Tyler Seguin took a pass from Roope Hintz to beat Rinne on the high side and Dallas would take it's only lead of the night at 3-2.
With the second period coming to a close at 18:16, that's when Nashville's Filip Forsberg would shine. Forsberg would deflect a shot in front of the Dallas net, then get the rebound and slip the backhand past Khudobin and the teams would go to the intermission tied, 3-3.
The third period would be fast and furious, with Dallas stepping up the offensive pressure, not concerned about putting Nashville on the power play because of the lack of success the Predators are having with the man advantage. But it was all about THE captain, Roman Josi who would carry his team home for the night.
At 7:35 of the final period, Josi took a shot on goal that went off of a defensemans stick and over the head of Khudobin in net and the Predators scored the game winner, 4-3.
Josi would then fill the empty net with 31 seconds remaining in the game for your final score, 5-3.
Tonight's win was a statement game after the embarrassing loss to Las Vegas on Saturday night. The Predators return home to Bridgestone Arena for Thursday night for a visit from the L.A. Kings.
Puck drops at 7:00pm.