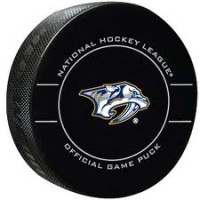 Nashville, TN – The Nashville Predators rebounded from the weekend loss to the Detroit Red Wings in fine fashion tonight, beating the hapless San Jose Sharks, 5-2.
As head coach Peter Laviolette continues to shuffle his lines to see where the magic is, the Predators appeared to be hitting on all points tonight.
THE Captain, Roman Josi got things started for Nashville at 6:16 of the opening frame with a wrist shot that put the Preds on the scoreboard first, leading 1-0. Josi was assisted on the score by Colton Sissons and Ryan Ellis.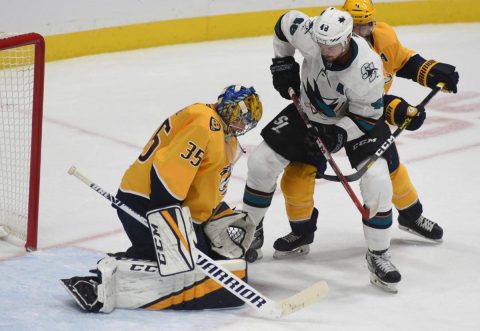 Into the second period, it looked like the same script as the first. Roman Josi, this time unassisted, scoring on the power play at 10.25 to give Nashville the 2-0 lead. The much improved power play from Nashville has the makings of being something to brag about, since last year their power play was not their strong suit.
As the players and the fans were still applauding the Military Salute in the arena, officials dropped the puck and Evander Kane took a pass from Brent Burns and scored past Pekka Rinne to put the Sharks on the board, 2-1.
Everybody in the arena shook their heads at the play, because nobody was paying attention to the ice and was still staring at the jumbo tron for the salute. It was kind of an "awkward" moment in the game.
The Predators defense in front of the always stellar Rinne, was on fire tonight as the Sharks would continue to put pressure on the Nashville net. Rinne stood strong doing what he's done his entire career.
The "feel good" goal of the night came at 2:51 of the final period when Kyle Turris scored on an unassisted wrister to put the Predators ahead 3-1. Turris has been struggling with his game over the last couple of years, trying to rebound from an ankle injury and just not able to put it in the net. His goal tonight even brought a smile to his face as there are high hopes for him to return to form this season.
Filip Forsberg would get on the board at 7:24 of the third period to give Nashville a 4-1 lead, but Brent Burns would give the Sharks their second and last goal of the night at 15:37 to make the score 4-2.
The empty netter by Dante Fabro would be the final score of the game and San Jose would lose their fourth straight, while the Nashville Predators would move to 2-1.
Nashville will host the Washington Capitals on Thursday night. Puck drop is at 7pm.