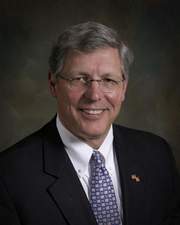 Bob Tukes, Tennessee's Democratic candidate for the U.S. Senate will visit  Clarksville on Friday as host of a special event, Bob's Boxes, a program that  gives people across the state an opportunity to put together care packages for our deployed service members.
On Friday, August 29, Tukes will be at Montgomery County Democratic Headquarters Bob , 534 Madison Street, from 1:30 to 3 p.m.
The items collected will be packaged and distributed to Tennessee troops now stationed in Iraq and Afghanistan. Tukes extends his thanks to all those who are planning to join in this event and "give their valuable time and resources to this valuable mission." Tukes said these gifts remind our troops that "our thoughts and prayers are with them."
Suggestions for items that can be shipped overseas include:
Letters of support and encouragement from you
Snacks and non-perishable food items tha don't need refrigeration and won't melt in a hot climate, particularly tuna lunch kits, beef jerky, canned fruit, nuts, and trail mix
100% cotton calf-length socks (in black or white)
Single-use disposable cameras
Pre-sweetened, flavored beverage mixes (individually packaged servings are best)
Batteries (AA are the most requested, then AAA)
Sandwich-size, quart-size, and one gallon-size reusable plastic bags (zip-style)
Medicated foot powder, sun-block, lip balm/lotion/sprays, and liquid hand sanitizer
Paperback books, magazines, CDs (music/audio books), DVD movies/shows, and decks of cards
The following items are prohibited:
glass/aerosol containers
alcohol/tobacco products, controlled substances
monetary gifts
adult-oriented content
all items restricted by the United States Postal Service.
Please do not include items valued at more than $20.00, as packages are sometimes lost or damaged in transit.