APSU Sports Information: APSU Football

Clarksville, TN – Ryan White rushed for 146 yards and two touchdowns while Tee Howell returned a third-quarter punt 65 yards for a score as Austin Peay State University defeated Central State, 40-0, Saturday in non-conference football action at Governors Stadium.
The victory snapped a Governors four-game losing streak and improved them to 3-6 on the season. Central State, an independent Division II team from Wilberforce, Ohio, fell to 1-9 on the season.
The shutout was the first for Austin Peay since November 1st, 2003 when it defeated St. Joseph's, 17-0. It also is the first shutout by the Govs under fifth-year head coach Rick Christophel.
The Governors got off to a sluggish start before finally breaking loose late in the first quarter when White scored his first TD, a 26-yard scamper.
Still, undermanned Central State kept it close in the first half, limiting APSU to just two Stephen Stansell field goals as APSU went into intermission leading only 13-0.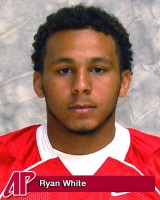 But in the second half, the Govs broke it open. At the 11:55 mark of the third quarter, Howell snagged a Gracewell  Mahbena punt, cut left and raced down the left sideline for the Govs' first special teams' TD this season and their first punt return for a score since Terrence Holt returned a punt against Tennessee State for a score, November 14th, 2009.
White then made it a 27-0 game with his second TD when he darted his way through the Marauder defense for eight yards with 6:01 left in the third period. That was his final carry of the afternoon. White, who carried the ball 20 times Saturday, tallied his season's fourth 100-yard rushing performance-and 14th of his career.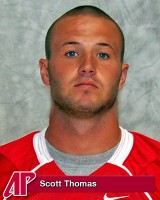 The Govs played senior wide receiver Scott Thomas at quarterback much of the fourth period. The former star prep quarterback ran one-yard for a score and APSU's final TD came on redshirt freshman Ean Pemberton's 17-yard scamper.
The Governors finished with 407 rushing yards and 472 yards in total offense, while limiting Central State to just 162 yards total offense.
Defensively, Antwaun Majors and Steven Ragin each grabbed interceptions while sophomore Iosua Siliva was credited with two sacks.
Reserve safety Steve Rich led the Govs with seven tackles while back-up linebacker Jared Sexton had six.
Postgame Notes
The 40-0 shutout was the first shutout for Austin Peay since November 1st, 2003 when the Governors defeated St. Joseph's, 17-0. It is Rick Christophel's first shutout as Austin Peay's head coach.
Ryan White had is 14th career 100-yard rushing performance and third straight 100-yard rushing game. White broke the 100-yard mark with over five minutes left in the second quarter. On the day, the senior running back had 20 carries for 146 yards and two touchdowns.
Tee Howell's 65-yard punt return touchdown was the first punt return for a touchdown since November 14th, 2009, when Terrence Holt returned a punt 71 yards for a touchdown against Tennessee State.
The Governors had four players run for more than 50 yards on 57 carries totaling 407 yards- Ryan White-146, Wes Kitts-85, Ean Pemberton-82, and Tee Howell-52.
The 57 carries equaled the most rushing attempts in a game for the Governors since October 24th, 2009 when the Governors carried the ball 54 times against Eastern Kentucky.
The Govs' 407 yards on the ground was the first time APSU rushed for more than 400 yards in a game since November 23rd, 1996, when the Governors rushed for 554 yards against UT Martin.
Ben Campbell averaged 48.8 yards per punt, making it the first time a Governor punter has averaged over 45 yards per punt in a game since October 10th, 2010 when Ryan Key averaged 47 yards per punt against Tennessee Tech.
The Governors totaled 472 yards of offense against Central State. It is the second time this season the Governors have had totaled more than 400 yards of total offense in a game. The other was 431 yards, October 1st, 2011 against Tennessee State.
The Governors rushed for four touchdowns against Central State, the last time they rushed for four touchdowns in a game was October 25th, 2003 against Davidson.
Isaac VanMeter, APSU's military veteran who has served four tours of duty in Afghanistan and Iraq as an Apache helicopter pilot, received his first carries as a Governor. He finished with three carries for three yards while also throwing a block on Ean Pemberton's TD run. In honor of Veterans Day, VanMeter was named the Copies In a Flash Player of the Game.
Steve Williard retired from doing public address for Austin Peay football, Saturday, after handling the chores for the past 28 years.
Head coach Rick Christophel Quotes
"We didn't have a great first half. We had a few damaging penalties throughout the game. Other than that we played good Austin Peay football. We only turned the ball over once, we ran well, and we tackled much better. The best thing about today is that we gave a bunch of younger guys a chance to play, and they played really well."
Big game on the ground
"Kitts and White ran the ball great in the first half. In the second half, Tee Howell's punt return for a touchdown really sparked us. It got all the rest of our guys playing well. From there on, everyone played hard. The coaches really did a good job preparing our players and making adjustments as the game went on."
Senior game
"Everyone playing so hard was a great tribute to the eight seniors playing their last game here. Those are eight players who have played a lot of minutes for us and they are hard working kids. They will be successful in whatever they do after college."
Talk about Isaac VanMeter
"Isaac is a great guy. We forget that we need guys like him in life. He served two tours in Afghanistan and two in Iraq, he's seen things a lot of us haven't, and that helps him bring maturity and leadership to our team."
Landon Curtis and Scott Thomas
"Scott ran great on both of his big plays in the second half, but I do have to say one of those was called and one wasn't. He's a great player and in other offenses he would be taking a lot of snaps as quarterback, but he fits better as a receiver for us. Landon had a rocky start but he finished great. He only had one bad play on that interception. We told him if there wasn't anything there just to throw it away, so that's just one thing he needs to work on. He didn't really throw all that much, but we wanted to keep the ball on the ground to keep the clock running."
Defense
"We really did a better job tackling, and the younger guys were making great hits. We put a lot of pressure on the quarterback, and we didn't always get tackles but he was hurried most of the time."
Upcoming games
"We are not going to spend much time dwelling on this victory in the locker room. We are going to get back at it tomorrow and get ready for Murray State. We have got to have a good week of practice and get prepared for a much tougher game next week."
Scoring Summary
Central State (Ohio) vs Austin Peay (Nov 5th, 2011 at Clarksville, TN)
Central State (Ohio) (1-9) vs. Austin Peay (3-6)
Date: Nov 5th, 2011 • Site: Clarksville, Tenn.  • Stadium: Governors Stadium  •
Attendance: 2627
| | | | | | |
| --- | --- | --- | --- | --- | --- |
| Score by Quarters  | 1  | 2  | 3  | 4  | Score  |
| Central State (Ohio)  | 0  | 0  | 0  | 0  | 0  |
| Austin Peay   | 7  | 6  | 14  | 13  | 40  |
SCORING SUMMARY 
 CSUOH -APSU  

1st 

02:48 

APSU  

WHITE, Ryan 26 yd run (STANSELL, Stephen kick) 

  

  

  

4 plays, 65 yards, TOP 1:53 

0 – 7 

2nd 

12:28 

APSU  

STANSELL, Stephen 22 yd field goal 

  

  

  

6 plays, 46 yards, TOP 2:59 

0 – 10 

 

05:33 

APSU  

STANSELL, Stephen 37 yd field goal 

  

  

  

8 plays, 50 yards, TOP 2:32 

0 – 13 

3rd 

11:55 

APSU  

HOWELL, Tee 65 yd punt return (STANSELL, Stephen kick) 

  

  

  

 

0 – 20 

 

06:01 

APSU  

WHITE, Ryan 8 yd run (STANSELL, Stephen kick) 

  

  

  

8 plays, 60 yards, TOP 4:10 

0 – 27 

4th 

11:46 

APSU  

THOMAS, Scott 1 yd run (SPEARS, Walter kick blockd) 

  

  

  

12 plays, 53 yards, TOP 4:59 

0 – 33 

 

09:22 

APSU  

PEMBERTON, Ean 17 yd run (STANSELL, Stephen kick) 

  

  

  

5 plays, 98 yards, TOP 1:40 

0 – 40 

Kickoff time: 1:00 pm  • End of Game: 3:41  • Total elapsed time: 2:41
Referee: Jeremy Parker
Umpire: Kenneth Oglesby • Linesman: Keith Tatum  • Line judge: Neil Hughes  • Back judge: A. Jefferies  • Field judge: Rob Barefield  • Side judge: Troy McMaken  • Scorer: APSU Stat Crew  • Temperature: 62  • Wind: S 5  • Weather: Clear