Austin Peay Women's Basketball at UT Martin
Thursday, February 23rd, 2012 | Tipoff: 5:30pm (CT)
Martin, TN | Arena: Elam Center (4,800)

Clarksville, TN – Austin Peay begins the regular season's final week when it travels to league leading UT Martin for a 5:30pm, Thursday contest. Both teams bring a win streak into the outing.

The Lady Govs own a modest two-game win streak after posting an 88-81 overtime victory against Morehead State, Saturday. The Skyhawks currently own an impressive 10-game win streak after posting wins at Murray State (91-67, February 16th) and at Southeast Missouri (77-44, February 18th) last week.

UT Martin won the season's first meeting between the two teams, 88-83, February 1st in Clarksville. APSU's Whitney Hanley posted a 23-point, 12-rebound double-double effort in the contest. However, UTM's Jasmine Newsome scored 27 points to lead five Skyhawks that scored 10 or more points.

For the second consecutive game, Austin Peay posted a season best in scoring with 88 points against Morehead State. Austin Peay has scored 80 or more points in three of its last four outings, averaging 80.3 points per game in February.

The Lady Govs also set season highs in free-throws made (27) and attempted (34) as eight players made at least one free throw. Austin Peay recorded double-digit assists for the 10th consecutive game and is averaging 10.8 assists per game during that span. The Lady Govs won the rebounding battle against Morehead State, 39-34, it was only the sixth time this season they have out-rebounded their opponent.

APSU made only one three-pointer in the contest, its fewest three-pointers in a game this season. For the second consecutive game, Austin Peay won when four players scored 10 or more points, improving to 2-5 this season.

Whitney Hanley led APSU with 22 points for the second consecutive game – it was her 15th 20-point contest this season. Leslie Martinez posted season highs in points (20) and rebounds (14) for her season's third double-double. Kaitlyn Hill scored 13 points in 13 minutes, her 7th consecutive double-digit scoring outing… Shira Buley scored 10 points, including eight in overtime.
About UT Martin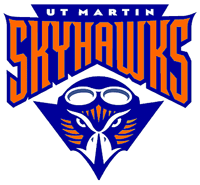 UT Martin is the league's top-ranked offense, averaging 79.9 points per game this season. However, the Skyhawks have been particularly impressive in conference play, averaging 88.7 points per game and outscoring opponents by a 19.6 point per game margin. UTM also leads the league in field-goal percentage (43.1), three-point field goal percentage (37.0) and three-pointers made per game (10.0).
Sophomore Heather Butler paces the UT Martin attack with a league-leading 23.7 points per game, the bulk of which comes from behind the arc where she has made a league-best 86 three-pointers at a league-leading 42.2 percent. Sophomore Jasmine Newsome is a deadly complement to her teammate, ranking second among league scorers with 20.0 points per game and ranking third among league shooters with a 44.9 field-goal percentage.
Fast Break Points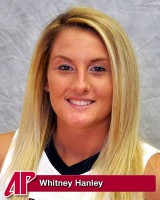 Senior guard Whitney Hanley is one of three OVC players (TTU's Tacarra Hayes and EIU's Ta'Kenya Nixson) to rank among the top 20 in scoring and rebounding and the top 15 in assists. She is the only player to rank among the league's leaders in those three categories as well as each of the league's three shooting percentage (FG, 3G, FT) categories.
Hanley became the 14th Austin Peay women's basketball player to reach the 1,000-point plateau with her 21-point performance at Lipscomb, November 14th. She became one of the program's top-five scorers against Morehead State, February 18th, her 1,463 career points moving her past Amanda Behrenbrinker (1,442 points, 1994-98). She is 37 points away from the 1,500-point plateau – a mark only three Lady Govs have reached all-time and that also would move her into fourth on the scoring list, currently held by Ashley Haynes (1,497 points, 2002-06).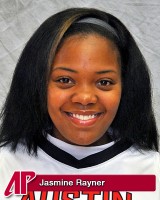 Senior forward Jasmine Rayner became the 15th Lady Govs player to reach the 1,000-point plateau with an eight-point outing against Eastern Kentucky, January 16th. She currently sits 14th on the scoring list, entering this game with 1,061 career points. Rayner needs 58 points to move past head coach Carrie Daniels who holds down the 13th spot with 1,118 career points.
Austin Peay is 49-59 (.449) in regular-season OVC play under Daniels.
The Lady Govs are 18-25 (.405) in February under Daniels.
An Austin Peay Win Would
Be its third consecutive win and its longest win streak this season… be its second straight road victory… end its two-game losing streak at the Elam Center… make it 5-10 in true road games this season… improve Daniels' record to 71-115 overall, including a 50-59 record in OVC play… make the Lady Govs 423-586 overall since 1976-77.
An Austin Peay Loss Would
Give UT Martin a sweep of the regular-season series…  drop APSU to 4-11 in true road games this season… be its third consecutive loss at the Elam Center… drop Daniels' record to 70-116 overall, including a 49-60 record in OVC play… make the Lady Govs 422-587 overall since 1976-77.
Last Time Out
Austin Peay Lady Govs vs. Morehead State Eagles
February 18th, 2012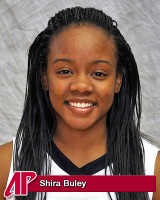 Clarksville, TN – Freshman guard Shira Buley scored eight points in overtime and junior forward Leslie Martinez posted her third career double-double to lead Austin Peay past Morehead State, 88-81 in overtime, in Ohio Valley Conference action at the Dunn Center.
Buley was instrumental in the Lady Govs victory, scoring five consecutive points in overtime to break the game open. It was the final three points of a wild stretch that shifted the game's momentum completely.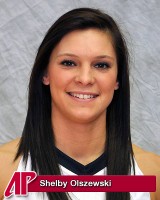 Freshman guard Shelby Olszewski grabbed a rebound after a missed Morehead State shot. She then threw the ball wildly down court to Meghan Bussabarger who was caught between running the court and returning back to help her teammate when the ball was thrown.
Bussabarger hustled down the court and corralled the errant pass but her layup attempt rolled off the back of the rim and away from her. Yet there the ball found a darting Buley who gathered it up and put it back for the basket and a foul. She converted the resulting free throw and gave APSU its largest lead of the contest – an 85-78 advantage it would not relinquish.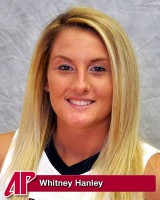 Morehead State controlled the first half action. An Ashar Harris layup with 10:23 remaining capped a 6-0 Eagles run and gave the visitors a 26-16 lead – their largest of the contest. Austin Peay would keep the lead from growing larger and later countered with its own 9-0 run to take a 39-37 lead with 1:32 remaining after senior guard Whitney Hanley's jumper. Morehead State tied the game on its next possession thanks to a pair of Courtney Lumpkin free throws. Neither team scored in the final minute, settling on a 39-39 halftime score.
Austin Peay led for all but the final 1:30 of the second half, but was unable to build more than a six point lead. The Lady Govs led by three points after Hanley made a pair of free throws with 26 seconds remaining. However, Morehead State found Courtney Lumpkin for a three-pointer with 13 seconds left to tie the game.
Buley finished with a career-high 10 points, making 3-of-5 from the floor. Martinez posted career-highs in both points (20) and rebounds (14) for her double-double. Hanley added 22 points – her 14th 20-point outing this season – and sophomore center Kaitlyn Hill chipped in 13 points.
Lady Govs Last Meeting With UT Martin
February 1st, 2012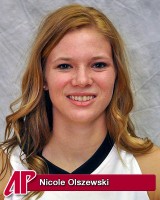 Clarksville, TN – Senior Whitney Hanley recorded her season's first double double and junior Nicole Olszewski poured in a career-high 21 points but it wasn't enough as Austin Peay dropped an 88-83 decision to UT Martin in Ohio Valley Conference action, at the Dunn Center.
UT Martin, the OVC's top offense entering the night, threatened to run away and hide early in the second half. The Skyhawks scored five consecutive points to build the game's first double-digit lead, 59-49, with 15:39 remaining. UTM pushed the lead to 11 points four minutes later on Taylor Hall's three-pointer.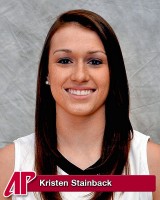 Austin Peay made its charge moments later, piecing together a 20-11 run to cut the lead to two points, 77-75, with 7:03 remaining. Nicole Olszewski led the effort with eight points during the burst while freshmen Shelby Olszewski and Kristen Stainback chipped in five and four points, respectively.

However, UTM's Jasmine Newsome scored the game's next four points and a Patricia Glenn added a layup to cap a six-point burst and push the lead to eight points, 83-75, with 3:02 left.

Austin Peay would close within three points after a pair of Stainback free throws with 1:26 left but could not get any closer. The Lady Govs missed their final three shots while UTM converted two free throws in the final minute to seal the win.

Austin Peay jumped out of the gates, scoring the game's first eight points. The Lady Govs held on to their lead until the 10:42 mark. UT Martin used an 11-0 run over 2:11 to gain the lead, 25-22, with 10:14 left. The two teams would trade the lead twice more the half's remainder. The Skyhawks ultimately closed the period with a 15-8 run and led 55-40 at the break.
Hanley finished with 23 points and 12 rebounds for her season's first double double. Nicole Olszewski posted her career high as she broke out of her recent shooting slump with an 8-of-14 shooting effort.
Junior Kaitlyn Hill recorded her fourth consecutive double-digit scoring effort with 11 points and also grabbed eight rebounds. Stainback finished with 14 points, one shy of her career high.
OVC Tournament Schedule
Entering the final regular-season weekend, the Ohio Valley Conference women's basketball race is still wide open with all eight seeds still being contested. Here is the schedule for the tournament, which begins on leap day, Wednesday, February 29th:
Date
Noon Contest
2:00pm Contest
Wed., 2/29
Game 1: #5 seed vs. #8 seed
Game 2: #6 seed vs. #7 seed
Thur., 3/1
Game 3: #4 seed vs. Game 1 winner
Game 4: #3 seed vs. Game 2 winner
Fri., 3/2
Game 5: #1 seed vs. Game 3 winner
Game 6: #2 seed vs. Game 4 winner
Sat., 3/3
Game 7: Championship Game, 4:30pm
The OVC announced, Monday, that both semifinal contests and the championship will be aired on ESPN3, ESPN Full Court and select stations in OVC markets.
Next Game
Win and Get In? Lady Govs-Redhawks Meet, Saturday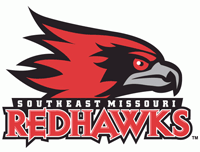 Austin Peay returns home to host Southeast Missouri in a 5:15pm, Saturday contest that could essentially be a play-in contest for the upcoming OVC Tournament. While the Lady Govs are at UT Martin, Thursday, the Redhawks will play at Jacksonville State.
If the two teams are within one game of each other following that action, Saturday's game will be a "Win and Get In" contest for both teams. Austin Peay must win the meeting with Southeast Missouri if the two teams are within one game or tied entering the contest.
Sections
Sports
Topics
Amanda Behrenbrinker, APSU, APSU Athletics, APSU Basketball, APSU Sports, APSU Women's Basketball, Ashar Harris, Ashley Haynes, Austin Peay State University, Carrie Daniels, Clarksville TN, Courtney Lumpkin, Dunn Center, Eagles, Eastern Kentucky, Elam Center, Heather Butler, Jacksonville State, Jasmine Newsome, Jasmine Rayner, Kaitlyn Hill, Kristen Stainback, Lady Govs, Leslie Martinez, Lipscomb, Martin TN, Meghan Bussabarger, Morehead State, Murray State, Nicole Olszewski, Ohio Valley Conference, OVC, OVC Tournament, Redhawks, Shelby Olszewski, Shira Buley, Skyhawks, Southeast Missouri, Tacarra Hayes, UT-Martin, Whitney Hanley