APSU Sports: Austin Peay Women's Volleyball

Clarksville, TN – A nine-match home schedule and a vastly modified conference schedule highlight the 2012 Austin Peay State University volleyball schedule, released by first-year head coach Taylor Mott, Tuesday.
The first third of the Lady Govs' schedule will be consumed by trips to Memphis, Missouri State and Alabama for pre-conference tournaments. The Lady Govs also will play single non-conference outings at Western Kentucky, Lipscomb and Middle Tennessee.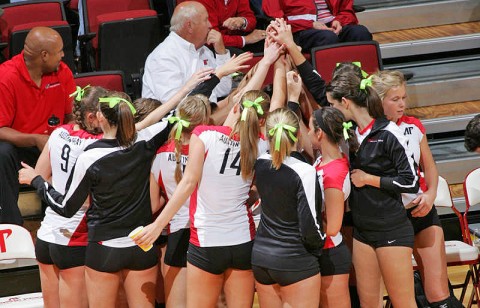 Austin Peay opens the regular season with four matches at the Memphis Invitational, August 24th-25th. The Lady Govs will meet host Memphis to start the season before contests against UALR, Eastern Michigan and Southern Illinois. Following the tournament, Austin Peay will travel to Western Kentucky, August 28th, for one of its four solo non-conference tilts.
The Lady Govs next competition is August 31st-September 1st at the adidas Invitational hosted by Missouri State in Springfield, MO. Austin Peay will meet Dayton and UALR in Friday action before facing Oral Roberts and Missouri State, Saturday. The Lady Govs then return to Tennessee to face Lipscomb in a September 4th contest in Nashville.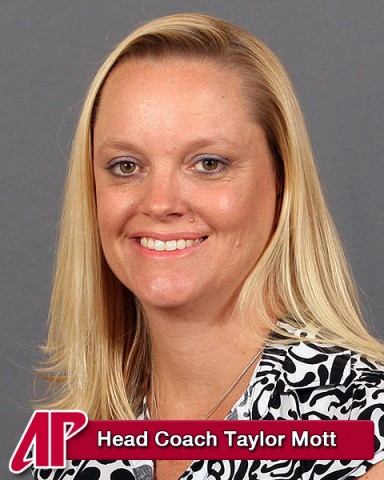 Austin Peay wraps up the tournament portion of its schedule with a trip to the Bama Bash, September 7th-8th, in Tuscaloosa, AL – the second consecutive season it has played in the tournament. The Lady Govs will meet East Tennessee, Alabama, Lamar and Alabama State in the four-match competition. Austin Peay again will return home and wrap up its season-opening 15-match road trip with a visit to Middle Tennessee, September 11th.
"Our preseason schedule offers a mix of quality opponents and winnable matches," said Mott. "We return a core of experienced players who understand what we need to accomplish in the season's first three weekends and I believe this schedule offers us the ability to hone our skills and have some early success."
The Lady Govs will then take a 10-day break before beginning its 16-game Ohio Valley Conference schedule, which will feature a few new twists. First, Belmont officially joins the league as its newest member and begins play in all league sports. In addition, SIU Edwardsville becomes a full league member and will be eligible for postseason play for the first time.  With Belmont's addition and the subsequent increase to 12 volleyball playing members, the OVC's volleyball teams will be split into two divisions for only the second time in league history.
Austin Peay will compete in the league's West Division and play home-and-home series against fellow divisional members Eastern Illinois, Murray State, SIU Edwardsville, Southeast Missouri and UT Martin. The Lady Govs will fill in the remainder of their 16-game OVC slate with one match against each of the East Division's members. Jacksonville State, Morehead State and Tennessee Tech will visit the Dunn Center while APSU will travel to meet Belmont, Eastern Kentucky and Tennessee State.
"We will obviously look forward to our conference schedule," said Mott. "In the short time I have had to acquaint myself with the league I have come to understand that the OVC has quality volleyball programs. I believe we will have to come ready to play every day in order to be successful and achieve our goals."
The 16-game OVC slate will provide Austin Peay nine of its ten 2012 home games. The Lady Govs will open their home slate with a weekend OVC set against Jacksonville State and Tennessee Tech, September 21st-22nd. Three weeks later, Austin Peay will host Middle Tennessee in a non-conference matchup, October 10th, before hosting Eastern Illinois and SIU Edwardsville, October 12th-13th.
Austin Peay will wrap up the regular-season portion of its schedule with a four-match home stand in November. UT Martin and Southeast Missouri visit in divisional matchups, November 2nd-3rd, before APSU hosts divisional travel partner Murray State in a Tuesday outing. An interdivisional matchup with Morehead State will conclude the regular season, November 10th.
The 2012 OVC Volleyball Championship will be played the following week over three days, November 15th-19th. With 12 volleyball playing members, the league announced the championship will expand to eight qualifying teams. Each divisional champion will receive an automatic berth into the tournament. The next six teams by winning percentage, regardless of division, will earn a berth. All eight teams will be seeded into the tournament by winning percentage, regardless of division.
Notably
Five opponents competed in the 2012 NCAA Tournament: Lipscomb, Middle Tennessee, Missouri State, Morehead State and Western Kentucky.
Nine opponents posted 20-plus wins last season: Belmont (21-9), Memphis (20-13), Eastern Michigan (21-11), Dayton (25-7), Oral Roberts (20-10), Missouri State (22-9), Lipscomb (20-11), Middle Tennessee (21-12) and Morehead State (26-8).
Austin Peay was 4-6 against its fellow West Division teams in 2011 and 5-5 against the East Division. The Lady Govs did not play Belmont in 2011 and they will resume a series that was last played in 2008.
2012 APSU Volleyball Schedule
Date

Opponent

Location

Time (CT)

Memphis Invitational
Fri, Aug 24
Memphis
at Memphis, Tenn.
12:00 p.m.
Fri, Aug 24
UALR
at Memphis, Tenn.
4:00 p.m.
Sat, Aug 25
Eastern Michigan
at Memphis, Tenn.
10:00 a.m.
Sat, Aug 25
Southern Illinois
at Memphis, Tenn.
2:00 p.m.
Tue, Aug 28
Western Kentucky
at Bowling Green, Ky.
7:00 p.m.
adidas Invitational
Fri, Aug 31
Dayton
at Springfield, Mo.
10:00 a.m.
Fri, Aug 31
UALR
at Springfield, Mo.
5:00 p.m.
Sat, Sep 01
Oral Roberts
at Springfield, Mo.
12:00 p.m.
Sat, Sep 01
Missouri State
at Springfield, Mo.
6:00 p.m.
Tue, Sep 04
Lipscomb
at Nashville, Tenn.
7:00 p.m.
Bama Bash
Fri, Sep 07
East Tennessee
at Tuscaloosa, Ala.
2:00 p.m.
Fri, Sep 07
Alabama
at Tuscaloosa, Ala.
7:00 p.m.
Sat, Sep 08
Lamar
at Tuscaloosa, Ala.
9:00 a.m.
Sat, Sep 08
Alabama State
at Tuscaloosa, Ala.
4:30 p.m.
Tue, Sep 11
Middle Tennessee
at Murfreesboro, Tenn.
7:00 p.m.
Fri, Sep 21
Jacksonville State *
Clarksville, Tenn.
7:00 p.m.
Sat, Sep 22
Tennessee Tech *
Clarksville, Tenn.
2:00 p.m.
Tue, Sep 25
Murray State *
at Murray, Ky.
7:00 p.m.
Sat, Sep 29
Eastern Kentucky *
at Richmond, Ky.
1:00 p.m.
Fri, Oct 05
Southeast Missouri *
at Cape Girardeau, Mo.
6:30 p.m.
Sat, Oct 06
UT Martin *
at Martin, Tenn.
11:00 a.m.
Wed, Oct 10
Middle Tennessee
Clarksville, Tenn.
7:00 p.m.
Fri, Oct 12
Eastern Illinois *
Clarksville, Tenn.
7:00 p.m.
Sat, Oct 13
SIU Edwardsville *
Clarksville, Tenn.
2:00 p.m.
Fri, Oct 19
SIU Edwardsville *
at Edwardsville, Ill.
7:00 p.m.
Sat, Oct 20
Eastern Illinois *
at Charleston, Ill.
2:00 p.m.
Tue, Oct 23
Belmont *
at Nashville, Tenn.
6:00 p.m.
Sat, Oct 27
Tennessee State *
at Nashville, Tenn.
2:00 p.m.
Fri, Nov 02
UT Martin *
Clarksville, Tenn.
7:00 p.m.
Sat, Nov 03
Southeast Missouri *
Clarksville, Tenn.
5:00 p.m.
Tue, Nov 06
Murray State *
Clarksville, Tenn.
7:00 p.m.
Sat, Nov 10
Morehead State *
Clarksville, Tenn.
2:00 p.m.
2012 Ohio Valley Conference Volleyball Championship
Thu, Nov 15 –
Mon, Nov 19
Championship
at TBA
TBA
2012 NCAA Division I Volleyball Championship
Thu, Nov 29 –
Fri, Nov 30
First Round
at TBA
TBA
Sat, Dec 01 –
Sun, Dec 02
Second Round
at TBA
TBA
Thu, Dec 06 –
Fri, Dec 07
Regional Semifinals
at TBA
TBA
Sat, Dec 08 –
Sun, Dec 09
Regional Finals
at TBA
TBA
Thu, Dec 13
National Semifinals
at Louisville, Ky.
TBA
Sat, Dec 15
National Championship
at Louisville, Ky.
TBA