Austin Peay Lady Govs (3-6, 0-0 OVC) at Arkansas State (2-7, 1-1 SBC)
Monday, December 17th, 2012 | Tipoff: 7:05pm (CT)
Jonesboro, AR | Arena: Convocation Center (10,563)

Jonesboro, AR – Austin Peay women's basketball team returns to action following an eight-day break when it meets Arkansas State in a 7:05pm, Monday contest the Convocation Center.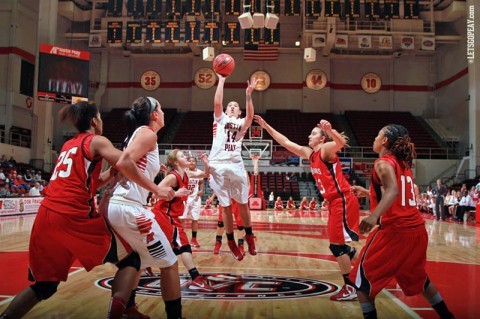 The Lady Govs won their third straight home contest – an 84-62 decision against NAIA foe St. Catharine – in their last outing, December 9th, before their annual Finals Week break.
Austin Peay returns to action seeking its first road win this season. Arkansas State begins a three-game homestand with Monday's contest, two days following a trip to Missouri State. The Red Wolves are 1-2 at the Convocation Center after winning in their last home outing.
Austin Peay's three wins have come in the friendly confines of the Dunn Center as it has not posted a win away from home this season (0-5). The Lady Govs haven't shot the ball well this season, making just 39.4 percent of their shots during the season, but have topped 40 percent in a game five times.
Rebounding also has been a concern in the early going, with the team racking up a minus-9.4 rebounding margin. Nine APSU players have played in every contest. Austin Peay has won the turnover battle in five games and owns a plus-2.1 turnover margin.
Six players are averaging six or more points per game, with two players averaging double figures (Meghan Bussabarger and Leslie Martinez at 12.0 and 10.8 points per game, respectively). Bussabarger has averaged 19 points and 6.3 rebounds over the last three games. Martinez has averaged 11.3 points and 9.7 rebounds per game during that same span.
Red Wolves Report
Arkansas State will be playing only its fourth home game in its first nine outings, posting a 1-2 mark in the previous three affairs. Monday's contest will be the third meeting against an Ohio Valley Conference opponent for ASU, which lost at UT Martin (72-62, November 12th) and against Southeast Missouri (52-51, November 19th).
Four of the Red Wolves seven losses have come by fewer than 10 points. Arkansas State also has had nine players post playing time in all eight contests this season.
The Red Wolves have five players averaging more than five points per game with junior forward Jane Morrill leading the team in both scoring (14.6 ppg) and rebounding (7.0 rpg). Junior forward Carlisha Wyatt has recently joined the starting five but has averaged 8.2 points and 5.1 rebounds per game in her nine outings (three starts).
An Austin Peay Win Would
Be its first road win in 2012-13… end a five-game losing streak in true road games and a six-game losing streak in games away from the Dunn Center, both dating back to last season… end a five-game losing streak to Arkansas State… be its first win in Jonesboro… make it 3-1 in December… improve Carrie Daniels' record to 76-122 overall… make the Lady Govs 429-595 overall since 1976-77.
An Austin Peay Loss Would
Keep it winless on the road in 2012-13 (0-6)… assure it a losing record in non-conference play…  be its sixth-straight loss in true road games and seventh-straight loss in games away from the Dunn Center, both dating back to last season…  make it 2-2 in December… drop Daniels' record to 75-123 overall… make the Lady Govs 428-596 overall since 1976-77.
70 For The Win?
Austin Peay has breached the 70-point barrier three times this season, posting a 3-1 record in those contests. The Lady Govs lone loss came in an 88-76 loss to William & Mary while they posted wins against Ball State, Binghamton and St. Catharine
Conversely, Austin Peay has been held below the 70-point mark five times this season and is winless in those contests.
The Starting Five
Head coach Carrie Daniels opened the 2012-13 campaign by putting forth the same starting five in five consecutive games. However, the performances by her freshmen have caused Daniels to do some juggling in Austin Peay's last two outings.
The starting five used by Daniels this season:
Staring Lineups
Stainback, N. Olszewski, Martinez, Bussabarger, Hill (1st 5 games)……1-4
Stainback, N. Olszewski, Martinez, Nwokocha, Bussabarger (at Vandy)……0-1
Gray, Stainback, N. Olszewski, Nwokocha, Bussabarger (vs. Ball St., at MTSU)……1-1
Stainback, N. Olszewski, Martinez, Hardaway, Bussabarger (vs. St. Catharine)……1-0
Game Notes
Radio: Governors Sports Network (David Loos, play-by-play)
Live Stats: www.AStateRedWolves.com
Live Audio: www.LetsGoPeay.com | ipTV: None
Head Coaches: Austin Peay – Carrie Daniels (Austin Peay, 1996) is 75-121 (.383) in her seventh season as a head coach at Austin Peay. Arkansas State – Brian Boyer (Campbellsville, 2006) is 213-192 (.526) in his 14th season at the school and as a head coach.