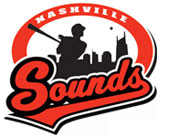 Nashville, TN – The Nashville Sounds had one out to go before picking up their eighth shutout victory of the season, but the Iowa Cubs battled back Sunday night to force extras before handing Nashville the 3-2 loss at Greer Stadium.
Iowa's first baseman Greg Rohan hit the game-winning home run off the guitar scoreboard in the 10th inning, but it was former Sound Edwin Maysonet who kept the Cubs in the game with his at-bat in the 9th inning, hitting the game-tying two-run single up the middle facing two outs in the ninth inning.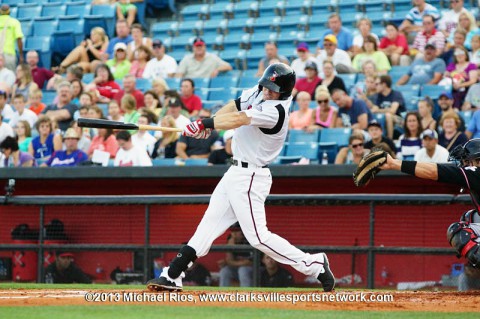 Sounds reliever Travis Webb (2-6) was charged the loss, manning the hill in the 10th, while Dustin Molleken took a blown save after loading the bases for Maysonet in the ninth.
Maysonet's hit prevented the Cubs from recording a franchise single-season high 15th shutout loss. Prior to his final at-bat, the Sounds pitching had been solid.
Sounds starter Zach Kroenke limited the I-Cubs to three hits across seven scoreless innings en route to his sixth quality start of the season. The lefty struck out seven and walked none before Kyle Heckathorn took over in the eighth for a perfect frame.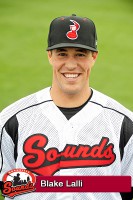 Kroenke's outing continued the Sounds recent trend of solid pitching: over the last five games, starters hold a 1.21 ERA (4er/29.2ip) with a 3-0 record and three quality starts after seeing only one pitcher log six innings or more in the club's previous 12 games.
Offensively, catcher Blake Lalli put the Sounds on the board first with his RBI single in the sixth inning. The hit scored Kentrail Davis, who reached base on balls and moved into scoring position on Eugenio Velez's single.
Velez's grounder through the infield extended his season-best hit streak to 21 games, the longest by a Sounds batter this season. He has reached base in each of his last 35 games, which is the longest such stretch in the Pacific Coast League this year.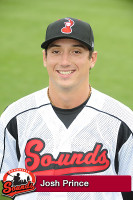 Josh Prince doubled the Sounds lead with his two-out RBI single in the eighth inning, which followed an intentional walk to first baseman Hunter Morris. Velez, 3-for-5, scored on the play after landing a double just fair in shallow left field.
In the seventh inning, Hainley Statia recorded his team-leading 10th pinch hit: a double to left field. He has more than half the team's 17 pinch hits this season and holds a .417 pinch-hit average (10-for-24).
Iowa reliever Marcus Hatley (3-2) picked up the win after holding Nashville to one hit across their final two innings. He struck out three of his six batters faced.
The Sounds play their final game of the season at 12:05pm on Labor Day at Greer Stadium against the Iowa Cubs. Throwing for Nashville will be LHP Aaron Laffey (6-8, 6.52) opposite Iowa's RHP Kyle Hendricks (3-0, 2.38). Concessions will serve $2.00 beer, nachos, popcorn, and $1.00 hot dogs for Fan Appreciation Day at Greer Stadium.
Box Score
Iowa Cubs (66-77) 3, Nashville Sounds (56-87) 2
September 1st, 2013
1
2
3
4
5
6
7
8
9
10
R
H
E
Iowa Cubs
0
0
0
0
0
0
0
0
2
1
3
8
0
Nashville Sounds
0
0
0
0
0
1
0
1
0
0
2
9
0
a-Struck out for Schlitter in the 9th.
1-Ran for Olt in the 9th.
BATTING
HR: Rohan (1, 10th inning off Webb, 0 on, 0 out).
TB: Maysonet; Rohan 4; Sappelt; Wright 2; Borbon; Gonzalez, E 2.
RBI: Maysonet 2 (33), Rohan (1).
2-out RBI: Maysonet 2.
Runners left in scoring position, 2 out: Ha; Gonzalez, E.
Team RISP: 1-for-3.
Team LOB: 6.BASERUNNING
SB: Wright (3, 2nd base off Webb/Lalli).
CS: Sappelt (7, 2nd base by Kroenke/Lalli).FIELDING
DP: (Maysonet-Rohan).
Pickoffs: Grimm 2 (Davis, Ke at 1st base, Prince at 1st base).
a-Doubled for Kroenke in the 7th. b-Grounded out for Molleken in the 9th.
BATTING
2B: Morris, H (26, Grimm), Parker, S (20, Grimm), Statia (10, Rosscup), Velez (10, Schlitter).
TB: Velez 4; Lalli; Prince; Parker, S 2; Davis, B; Statia 2; Morris, H 2.
RBI: Lalli (35), Prince (53).
2-out RBI: Prince.
Runners left in scoring position, 2 out: Parker, S 2; Davis, B; Prince 2; Davis, Ke.
GIDP: Lalli.
Team RISP: 2-for-11.
Team LOB: 8.BASERUNNING
CS: Davis, Ke (6, 2nd base by Grimm/Boscan).
PO: Davis, Ke (1st base by Grimm), Prince (1st base by Grimm).
WP: Grimm, Webb.
IBB: Morris, H (by Schlitter).
Pitches-strikes: Grimm 92-51, Rosscup 15-9, Schlitter 15-8, Hatley 28-21, Kroenke 85-54, Heckathorn 9-6, Molleken 25-13, Webb 26-14.
Groundouts-flyouts: Grimm 5-5, Rosscup 0-1, Schlitter 1-1, Hatley 2-0, Kroenke 4-7, Heckathorn 3-0, Molleken 0-0, Webb 3-0.
Batters faced: Grimm 24, Rosscup 4, Schlitter 6, Hatley 6, Kroenke 23, Heckathorn 3, Molleken 7, Webb 6.
Umpires: HP: Adam Schwarz. 1B: Brian Hertzog. 3B: Hal Gibson III.
Weather: 83 degrees, cloudy.
Wind: 7 mph, R to L.
T: 3:04.
Att: 5,712.
Venue: Herschel Greer Stadium.
September 1, 2013