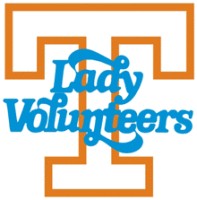 Knoxville, TN – After getting preseason preparations under way with a short workout early Monday, the Lady Vols came back on Tuesday with their first full-scale practice of the 2013-14 campaign.
Head Coach Holly Warlick is intent on her team members playing fast and giving their all on both ends of the floor. Many drills in practice are focused on just those ideas, preparing the newest Tennessee squad to meet the pace expected of the Big Orange's second-year head coach.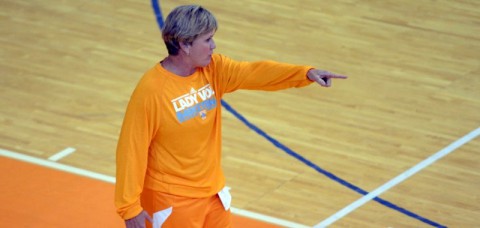 Goals are set high for the new campaign, and thus far enthusiasm, energy and athleticism have been in plentiful supply during the first two days.
ALL IN WITH A NEW MINDSET
Tuesday not only started the first full practice for Tennessee women's basketball, it also started a new season with a fresh mindset for each of the ten players, coaches and support staff.
As the "Grind For 9" becomes an in-season motto, it's a new year and a new mindset for the Lady Vols' journey to the Final Four in Nashville.
"We're just really excited," said junior forward Cierra Burdick. "We've been excited in past years, but I know this is the most excited I've been since I've been here. I think we have a great chance to win the entire thing, and we have an awesome opportunity to go to Nashville and compete.
"I think that attitude has been adopted by all 10 players and all four coaches and the support staff. The intensity is high every day, and I absolutely love it."
Even though the athletes are now practicing more hours a week with more intensity and full-court practices, Burdick said it isn't anything out of the ordinary after the summer.
"It's what we've been used to – it's what we've been doing all summer and in the preseason and we just came in and worked hard on offense and defense," Burdick said. "It wasn't any different, really. We came in with high intensity and a passion for the game, and that's what's going to get us to where we want to go."
And the high intensity and passion Burdick has is apparent in all of her teammates, especially the lone senior, 2013 SEC Player of the Year Meighan Simmons. Simmons already has broken the 1,000-career point barrier and is just a few hundred points away from breaking the 2,000-point mark. She fired in a career-best 33 points against North Carolina in 2012-13 and led the Lady Vols in scoring for the 2012-13 season.
"It's my last first day of college basketball practice, and it's a great feeling to be out on the court as a team together," Simmons said.
The Full Court third-team All-American knows that what she came to do at Tennessee is still yet to be completed – to win a national championship.
"It's good to know the energy is always there," she said. "It's always there, and the "Grind For 9" really gets our adrenaline going during practice. The coaches are doing a great job focusing on the little things, because it's going to be all the little things that get us another national championship."
And the little things, like buying into the "Grind For 9," are definitely there for the senior.
"I wake up, and I think about the 'Grind For 9.' I come into workouts, and it's the first thing that comes to my mind. For me, it's my last go-around, so I have to grind it out for the ninth championship because I don't want to leave here without one. I need to focus on the task at hand and do what I can to help our team."
Even though it was the first full day of official practice, the focus was there, and the players know what their goal is. As Simmons said, it's all they think about on and off the court. Burdick knows that winning a title is why she came to Tennessee, and it's time.
"When we're going through the recruiting process, we know what we're signing up for," Burdick said. "We want to win national championships, and that's why we come here, so for us to finally have our opportunity to do that is a great feeling because that's what we signed those papers for. We're glad we can finally fill those expectations."
The expectations can be filled starting in just 38 days. The 2013-14 Lady Vols tip off for the first time against Middle Tennessee on Nov. 8th.
"We're just excited to get out there together and put on our jerseys and really play basketball," Burdick said."
Transitioning From Off-Season To In-Season
It could have been a struggle with the transition from out-of-season workouts without the coaches and individuals without the team together to the Lady Vols' first day of practice, but with the work from strength and conditioning coach Lee Taylor and the buy-in from the players, the first day of practice went well.
"I think we're right on the mark with our conditioning," head coach Holly Warlick said. "Coach Taylor has done a great job with combining basketball skills with his workout plans. Health wise, we're good. It was fun to see them on the floor yesterday, and it was intense. We aren't where we need to be, but it was fun to watch our players get out with the energy and togetherness."
Part of the first day success came from the athletes' work put in over the summer and since school began. Burdick said that being in-season isn't any different than it has been. Warlick says it was a good decision to start her 2013-14 campaign months ago.
"With us staying all summer and bringing in our freshmen was powerful for us," Warlick said. "I think they're all ready to get back."
With the expectations for success in the Lady Vol basketball season, the players' one-week summer is looking to be worth it – and the coaches think it will.
"This summer has helped and adding the two freshmen has been a great addition," Warlick said. "They see that we have people in key spots and are playing with more confidence. They were thrilled to get on the practice floor, and we're in a great place for our team right now," Warlick said.
Transitioning from her first season as head coach to her second, Warlick says it doesn't matter to her, but now everyone knows that Tennessee is the same basketball program it always has been and that isn't expected to change just with the changing of a coach.
"The unexpected isn't there anymore (like it was last year)," she said. "We see what direction we're trying to go and the capabilities of our staff to get us there and the response of the players. They got on board and stayed there. The unknown is out there, and that's a good thing. Last year, (not having high expectations) helped a young team that wasn't expected to do a lot, and they didn't feel any pressure. This year, it's different."
"Last year, no one was expecting us to do anything, so we surprised a lot of people," Burdick said. "This year, we have a huge target on our back. We're preseason ranked third and the stakes are high, but we don't take it as pressure, rather we take it as a challenge."
And the 2013-14 campaign is different for Simmons as well. Warlick, who was also a student-athlete at Tennessee, can relate to her players on another level since she's been in their shoes.
"Holly is like us," Simmons said. "She was a player, and she knows what it's like to be a student-athlete and she can pass those things down to us. Right now, she knows it's our first full practice, but that makes us more comfortable because she knows how our bodies feel, and we can communicate with her.
Before her promotion, Warlick had been Simmons' position coach since the senior arrived on Rocky Top in 2010. Under Warlick's direction, Simmons has posted impressive statistics and claimed All-SEC and All-America honors as well as 24 other career honors.
"She just understands us, and she's done a great job."
Strength In The Front And Experience In The Back
With additions to Tennessee's post corps with Mercedes Russell and to the backcourt in Jordan Reynolds, the overall buzz about the incoming freshmen is growing loud.
"Our backcourt is fantastic," Simmons said. "It makes me happy to see Jordan coming in, and she's hungry and she has fresh legs and she has that urgency to get out there. She's like the silent assassin that can come in at any time. You never know what you're going to get with her."
Also in the back with Reynolds are two more experienced point guards: junior Ariel Massengale, who played with USA Basketball over the summer, and redshirt freshman Andraya Carter, who spent last season on the bench overcoming injuries, but used the time to learn the game through the coaches' eyes. With two returning guards and Reynolds on board to learn, the rest of their teammates are nothing but excited.
"Jordan is a great leader at point guard and is listening to the upperclassmen and the coaches very well. Both of the freshmen are going to do great things for us," said Burdick.
In addition to the experience in the backcourt is the strength at post with Bashaara Graves, Isabelle Harrison, Nia Moore and freshman Mercedes Russell.
"Hands down, we have the best front court in the country," Burdick said. "I'm not trying to be arrogant, but I have a lot of confidence in our post players like Bashaara (Graves), Izzy (Harrison) and Mercedes. Nia (Moore) also has improved tremendously.
"What (Coach) Dean does with them is remarkable," she continued. "I think he's one of the best post coaches in the country. If you look at post players that we've put into the league, it's pretty clear that we're doing some special things down low, and I'm excited for what they're going to do this season."
Tennessee's strength at post is sure to never go unnoticed. Warlick has seen it already in preseason and will only observe it more as the season continues.
"We're extremely strong in the post area," she said. "Bashaara Graves was SEC Freshman of the Year. Isabelle Harrison was dominating in the post for us. Adding Mercedes Russell and Nia Moore with another year of experience has got us a great chance at being one of the best teams in the paint. I'm going to experiment with playing three, two or one player at a time in the post. I'm going to use our strengths to take advantage of what we have."
Changing up the game plan looks like it will benefit not only the posts, but the backcourt as well.
As the Lady Vols begin their "Grind For 9", each of the ten athletes is a rare gem to the team and, as Burdick says, big things are expected of them.
"Anybody at any moment can have a breakout game," Burdick said. "Izzy can go to work in the post and score 20. Bashaara can do the same. Meighan can have a great shooting night and get 30 like she did against (UNC) Chapel Hill. Draya (Carter) can get those hustle points, Ariel (Massengale) is going to be the leader on the floor, I'm going to do what I can do to bring versatility to the floor. We have so many different threats on the floor, so it's hard to say who is going to have a breakout year.
"I hope we all have breakout years."