#5/#4 Eastern Illinois Panthers vs. Austin Peay Governors
October 10th, 2013 | 7:00pm CDT
Clarksville, TN | Governors Stadium (10,000)

Clarksville, TN – After five straight games on the road—plus a bye week, Austin Peay State University Football finally plays a home game in Week 6 of the 2013 season.

The Govs are the last FCS or FBS to play a home game this season.

Meanwhile, after a week off, #5/#4 Eastern Illinois comes to Clarksville to play its fourth road contest. The Panthers are 2-1 on the road this season. Thursday's matchup features the No. 1 ranked offense in the FCS (EIU, 598.0 yards per game) against the lowest-ranked offense in the FCS (APSU, 193.2 yards per game). Austin Peay has scored one touchdown in 2013 while Eastern Illinois has tallied 31.

EIU quarterback Jimmy Garoppolo is Walter Payton Award candidate and has thrown for 88 career TD passes, including 23 in five games this season. EIU wide receiver Erik Lora broke APSU legend Red Robert career OVC receiving record (232 receptions) earlier this season. The Walter Payton Award nominee now has 261 catches.

When Austin Peay ended spring practice the defensive line was considered one of the team strengths, with all four starters returning from 2012.

Against Eastern Illinois none of the four—defensive ends Iosua Siliva and Earnest Smith along with defensive tackle Malcolm Goines and nose guard Reese Bulmash—will play. Smith tore his Achilles tendon during a summer workout while Siliva is out with a leg fracture. Bulmash suffered a concussion against UTC and left Saturday's game against Eastern Kentucky when symptoms returned. Goines has not played since the NCAA declared him ineligible for competition just prior to the UTC game.

APSU's offensive troubles can be traced to injuries. When the Govs ended the spring, the offensive line was considered a strong point. However, three-year starting guard Chris Hartman suffered a ruptured disc in his back during off season weight training. The other projected starting guard, redshirt freshman Tyler Miles, went down with a knee injury during the first summer practice week. Miles has just returned to limited work.

After winning on the road in Charleston, 15-13, in 2008, APSU has lost the series' last four meetings.
Offensive Notes
APSU saw its scoring streak end at 84 games in the 45-0 loss to Tennessee. It was the first time the Govs have been shutout since returning to scholarship football in 2006. The previous time APSU was shutout came at Drake, 54-0, September 24th, 2005. The Govs then were shutout a second time, 38-0, at Ohio, September 21st.
Austin Peay led the OVC in fewest sacks allowed with just 10 in 11 games in 2012. In fact, that number was two better than Jacksonville State and UT Martin. This season, however, the Governors already have permitted 11 sacks, including one by Eastern Kentucky.
After rushing for 155 yards against Ohio, the Govs were held to four rushing yards on nine attempts in the first half against EKU. They finished with six yards rushing on 25 attempts against EKU. It was the fewest Govs' rushing yards since they had 14 in 32 attempts at Illinois State, September 19th, 2009.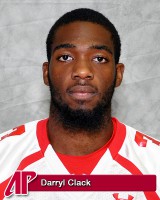 The 108 yards total offense against EKU were the fewest by the Govs since they had 109 against Illinois State, September 19th, 2009.
After sophomore Omar Williams ran for 103 yards to lead APSU in rushing against Ohio, he again was APSU's leading rusher against Eastern Kentucky with five yards on nine carries.
Wide receiver Darryl Clack was one of the few highlights against Eastern Kentucky, catching three passes for 48 yards.
Defensive Notes
Senior safety LeRon Eaddy led the Governors in tackles at EKU with nine stops.

Freshmen Roderick Owens, a cornerback, and A.J. Gray, a linebacker, were second and third on the team in tackles with seven and six, respectively, against Eastern Kentucky.

Another freshman, linebacker Antonio Turner, gained the Govs' only turnover, a fumble recovery.



Special Teams Notes
For a third straight season Ben Campbell is the Austin Peay punter. The Johnson City native displayed much improvement in 2012, averaging 38.7 yards per punt–more than a yard better than the previous season. He had 20 punts downed inside the 20-yard line with 17 boots being fair caught. He is averaging 39.8 yards per boot this season, including a 44.0-yard average at Eastern Kentucky.
In the first five games junior punter Ben Campbell has booted the ball 38 times. At his current pace he would end with 92 punts. APSU's record for most single-season punts is held by Grad Wright, who punted 82 times during the 1990 season.
Governors Radio Network
WVRY 105.1 FM again serves as the Governors Sports Network in 2013-14. David Loos, who also handles play-by-play for Lady Govs basketball and color for the Govs, is in his 12th season as football play-by-play voice while Van Stokes, a veteran broadcaster with a diverse background adds the color. Govs Game Day will begin one hour before game time followed by the pre-game show 30 minutes prior to kickoff each week.
Television/Internet
All home Austin Peay football games will be available this season on Charter Channel 99, CDE Lightband Channel 9 and U-Verse 99. The live television feed is produced by the University's Mass Communications department.

It also can be accessed via the internet at OVC Digital Network.
OVC Digital Network
All OVC football games plus home non-conference contests will be televised in HD by the new OVC Digital Network. The OVC is excited to offer LIVE and on-demand streaming video and audio straight to your computer, tablet or smart phone.
Govs Social Media
All things related to Austin Peay Athletics can be found on Twitter @LetsGoPeay and through Facebook at  www.facebook.com/apsugovs. For all your APSU athletics needs, be sure to visit www.LetsGoPeay.com
Sections
Sports
Topics
A.J. Gray, Antonio Turner, APSU, APSU Athletics, APSU Football, APSU Men's Football, APSU Sports, AT&T U-verse, Austin Peay State University, Ben Campbell, CDE Lightband, Charter, Chris Hartman, Clarksville TN, Darryl Clack, David Loos, Earnest Smith, Eastern Illinois, Eastern Kentucky, EKU, Erik Lora, FCS, Governors, Governors Radio Network, Govs, Grad Wright, Illinois State, Iosua Siliva, Jacksonville State, Jimmy Garoppolo, Johnson City TN, Leron Eaddy, Malcolm Goines, NCAA, Ohio, Ohio Valley Conference, Omar Williams, OVC, OVC Digital Network, Panthers, Reese Bulmash, Roderick Owens, Tennessee, Tyler Miles, UT-Martin, Van Stokes, Walter Payton Award, WVRY 105.1 FM