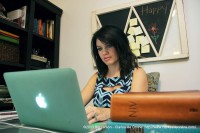 Dear Adam,
I can't imagine what it is like to be a guy! What a load of responsibility (Genesis 3.17-19)! But I'm not going to lie, I feel like you could've done so much better. There's a time to be laid-back and there's a time to take action. That was an action time. You were supposed to co-rule with Eve, not give into sin.
I wish you would have been the voice of reason. Instead, you blamed her for your part in the sin, but that was a part of the curse that began with the sin (Genesis 3.12).

Not only are men prone to domineering behaviors since the fall, but also some of them habitually avoid responsibility and their "nagging" wives. They leave big decisions and disciplining of the children up to the women.
It's like they're afraid of failure since you failed. Their confidence is shaken. I guess you had no idea what your lack of action would do to the men that followed in your footsteps.
I am also bummed because so many kids are looking for better leadership from their dads, but I guess you can understand kid problems (Genesis 4.8). I can't help but think of the chain reaction this has caused us all. But if I don't blame Eve, I can't blame you either.
I'll admit: you both let me down. But if I can't forgive you, how can I expect to be forgiven? (Matthew 6.14-15)
One more note for both of you: It ends well. "For God so loved the world that he gave his one and only Son, that whoever believes in him shall not perish but have eternal life." (John 3.16) God's grace and Christ's blood is enough to cover all of our sins from the first, to the last (1 John 1.7-9).
In His grace,
Kris
Read my letter to Eve, Dear Eve