Austin Peay Sports Information

Clarksville, TN – Since announcing the annual Red-and-White Spring Game would be held at Fort Campbell this season, Austin Peay State University has put much effort and many words into making the Clarksville community aware of all events leading up to and surrounding Saturday's big day at Fryar Stadium.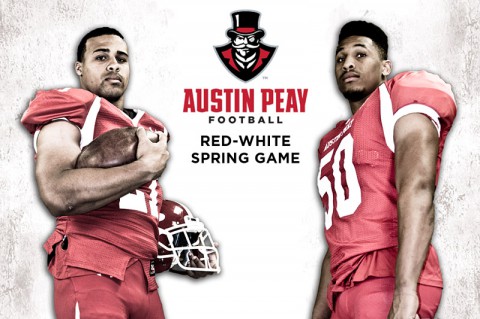 But the players involved in Saturday's game, scheduled for a 3:30pm kickoff, diligently have been working hard during the spring to make sure the action on the field is more exciting than the events surrounding it.
Head Coach Kirby Cannon and his staff sat down on Wednesday to split the squads into Red and White teams, offering a balanced and competitive look at how the Govs will stack up against one another and opponents during the 2014 season.
"I think the offense as currently installed gives our guys a chance to be aggressive, decisive players," Cannon said. "It's been well-taught and we're not making a bunch of mistakes on the offensive side. I think people will like the idea that we're going to throw vertically more often."
For the Red Team offense, Trey Taylor and Timarious Mitchell will split the snaps under center. Taylor, who redshirted last season after transferring from Central Arkansas, has impressed during spring workouts, while Mitchell looks to build on the 10 appearances he made last fall for the Govs.
In an attempt to get him more involved in the offense, 2013 leading receiver Rashaan Coleman has moved into the backfield this spring. Converted defensive back Justin Roberson also will see snaps in the Red team backfield, while Darryl Clack, Javier Booker and Hunter Branch will line up out wide.
"I think people will know who Justin Roberson is after this game," Cannon said. "He's got game-breaking, very explosive speed. Trey Taylor has put himself in position to be the most impressive of the four quarterbacks and hopefully he'll confirm that with a good spring game effort."
The Red defense features Antonio Turner and AJ Gray at linebacker, with Malcolm Goines and Nii Lartey occupying spots along the line. Though cornerbacks Buddy Mitchell, Roderick Owens and Montez Carlton will see time for both teams due to a shortage at that position, Johnathan Shuler will patrol the secondary for the Red squad along with converted wideout Mikhail Creech.
"All our guys who have changed positions have justified the move, especially Creech," Cannon said. "He crawled from the bottom of the wide receiver pile to near the top of the board on the defensive side."
The White offense will counter with senior Andrew Spivey and freshman Mickey Macius splitting time at quarterback; injury limited Spivey to nine appearances last season, while Macius joined the Govs as a January enrollee from Arlington Heights, IL.
Julian Franklin and Derien Stephens will line up alongside the White quarterbacks in Josh Richards new spread offense; Franklin is the Govs' leading returning rusher following the graduation of Tim Phillips and the departure of Omar Williams. Jamaar Embry, Jermer Braswell and Jay Kelley will man the wideout spots.
John Houston and Trey Salisbury anchor the defensive line for the White Team, along with lanky defensive end Damien Clark. After seeing time at defensive end last season, Adam Noble has returned to his spot at linebacker this spring and will be slotted there on Saturday.
With Chase Dunlap unable to continue his career due to injury, Evan Toby has assumed all kicking duties for the Govs, while rising senior Ben Campbell is back as punter for a fourth consecutive season.
Check back at LetsGoPeay.com and @AustinPeayFB on Twitter all week for more updates about events surrounding the Spring Game and #SpringFB14. For more information, visit the Gameday page devoted to Spring Football.
Video