Written by Joe Pitts
Highlights of the session includes legislation to address Methamphetamine production, Education and a Balanced Budget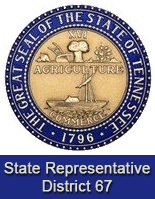 Nashville, TN – The second session of the 108th Tennessee General Assembly ended with a whimper on Thursday, April 18th, 2014, as the members of the House of Representatives and Senate adjourned sine die for the year.
The annual session started out with great promise in improving the lives of Tennesseans, and mostly met those expectations with a few exceptions.
This is part two of the series discussing the session's opportunities and challenges.
Military License Plates
HB 1736, sponsored by Representative Cameron Sexton (R-Crossville) was an omnibus re-write of the laws governing the issuance of specialty license plates for our active duty, veterans and their families.  The legislation was a result of a year-long study by Rep. Sexton, State Senator Mark Green (R-Clarksville), the Tennessee Department of Veterans Affairs, and other units of state government.
The resulting law change set in place guidelines for issuing new plates and ensured all active duty, veterans and their families receiving free or reduced fee license plates would continue to do so.  The comprehensive bill was a great step toward helping to honor those soldiers, veterans and families for their heroic service to our nation, and simplified the process for obtaining the plates, and set in place a specific process for creating new plates for honorees in the future.
A meeting of veteran groups will be held in Clarksville in early June to review the legislation and provide information for service members.
Preschool Aged Children of Soldiers Given Priority
HB1969/SB2093, sponsored by Rep. Pitts and Sen. Green, would give children of soldiers killed in action, missing in action or prisoners of war priority status in our state's licensed child care facilities.
The idea of this legislation was brought to the sponsors by Mrs. Sarah Adkins of Clarksville, whose husband SGT First Class Chuck Adkins was killed in action while deployed in Afghanistan. The five children left behind with Mrs. Adkins were in need of child care after this life altering event.
Paul Overholser, a research analyst with the House Local Government Committee, a Clarksville resident and neighbor of the Adkins family, brought the idea for the legislation to Rep. Pitts after a conversation with Mrs. Adkins about their difficulty placing the preschool aged children in child care centers after the death of SGT Adkins.
Current state law gives active duty families priority status on child care center waiting lists.  This change will give families, who face a dramatic and severe life changing situation as a result of the death of a loved one due to war, the opportunity to get the help they need to stabilize their families.
Montgomery County Veterans Nursing Home
HB1384/SB1443, sponsored by Speaker Pro Tem Curtis Johnson (R-Clarksville) and Sen. Mark Green (R-Clarksville), names the soon to be opened veterans nursing home in honor of BG (Ret) Wendell H. Gilbert.  General Gilbert ably served his nation, his state and his hometown university of Austin Peay State University in a variety of leadership roles.
The Montgomery County Commission requested the new facility be named in his honor.
Military Student Identification system
HB1973/SB2006 would require the Tennessee Board of Education to establish a system to identify public school students whose parents or guardians are active duty or reserve duty soldiers.  Children of our soldiers are a unique and gifted group of students, often excelling in school despite prolonged and repeated absences by one or more parents or guardians.
The U.S. Department of Defense desires to keep track of the needs of these students and develop support services to help these students and their families.  By creating a unique identifier for these students in the database, academic progress, discipline and attendance as a group can be isolated and the Department of Defense can use this information to request appropriations for the extra help needed.
"This was a busy year for legislation in support of our soldiers, veterans and their families," said Pitts.  "It is an honor to sponsor and support legislation that makes life at least a little bit easier for this group of heroes."
If you have questions about the above or other issues of concern, please call me at 615.741.2043, or email me at rep.joe.pitts@capitol.tn.gov