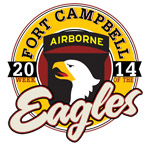 Fort Campbell, KY – The 2014 Week of the Eagles Celebration kicked off on Friday with a Division Run and the Week of the Eagles Concert headlined by Big and Rich with Special Guest Cowboy Troy, Joe Diffie, and Mallory Hope. Sporting events and athletic competitions continue throughout the week, and the 2014 Week of the Eagles closes out on Thursday with the 101st Airborne Division Review.
As things kicked off Clarksville Online spoke with Melissa Schaffner, the Marketing Manager for the Fort Campbell Morale, Welfare and Recreation (MWR). "We've got a great lineup for this evening! We started out with Cover Down, the 101st Airborne Division Rock Band; following them will be Mallory Hope an up-and-coming artists out of Nashville; then we will have Joe Diffie, a big country music star during the 90s, who is making a repeat visit to Fort Campbell; and our headliner tonight will be Big and Rich with special guest Cowboy Troy, personal favorite of mine! I love Big and Rich so I'm really excited about this show."
Schaffer continued, "We have 13 sponsors for the Week of the Eagles this year. Our title sponsor is USAA . Premier sponsors sponsors include Fort Campbell Federal Credit Union, Matthews Nissan, and the University of Phoenix. We also have AT&T and Verizon, and Humana Healthcare. We also had several in-kind sponsors including WJZM 1400 AM, WVRV 105.1 FM, Clarksville Reality, Creative Ink did our magazines, USA Discounters, Grillers Choice. Budweiser is our preferred beverage for the event."
This was the first of several major events for Fort Campbell's MWR. "Tomorrow is Spectacular Saturday from 11:00am to 4:00pm will be back here on the parade field. We have 25 free inflatable's rock wall, zip line, a trackless train, toddler town, car show, the community health fair, a DJ, dance performances on the stage, the Estep Wellness Center is doing fitness classes, and everything is free except for food and beverages that you purchase."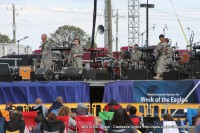 Staff Sgt. Aaron Fast, the band leader for Cover down, the 101st Airborne Division Rock Band was happy for his group to be kicking things off for the concert. "It's always a great time when we get to come out and play, especially when there is a huge crowd of people like there was today. To be selected to kick off this event was quite an honor. We had a really good time playing, and we would love to be able to do it some more."
The 101st Airborne Division Marching Band will be leading the way during the Division Review on Thursday. The 101st Airborne Division band is composed of a brass band, a brass quintet, a woodwind quintet, concert band, and the marching band.
As Cover Down came off the stage I was able to snag a few minutes with Mallory Hope. She is a lovely young woman with a special place in her heart for America's serving men and women. "I am so excited to be here today at Fort Campbell." she said. "The military means so much to me. I have four brothers and sisters. Two brothers and two sisters, my sister serves in the Air Force and she is married to a guy in the Army. My other sister has a husband who serves in the Army, and he was actually here stationed at Fort Campbell for about two years and he just recently changed his duty stations to Arizona. I'm excited to be here, getting the chance to perform for our troops means the world to me."
Hope continued, "It's also great to be able to open for Joe Diffie, I have never been able to catch his show and I am a huge fan. I can't wait to see his show."
She then offered a heartfelt thanks to the soldiers she was going to be performing for, "Thanks to everyone for your sacrifice keeping us safe, so that I can get up on stage and play country music."
As Mallory Hope entertained the soldiers and their families I roamed the Division Parade field where the festivities were underway.
I ran into Col. Thomas Drew, commander of the 101st Combat Aviation Brigade. "The 101st Combat Aviation Brigade will be involved in just about every event during the 2014 Week of the Eagles starting with the division run earlier this morning, the concert tonight, all of the events on Saturday. And throughout the rest of the week."
I asked Col. Drew about the theme for this years Week of the Eagles and he explained that the event showcases the history and traditions of the 101st Airborne Division, and their legacy of valor. From the beginning of this Week of the Eagles to the end of the year the 101st Airborne Division will be celebrating the 50th anniversary of the entrance of the 101st Airborne Division into Vietnam.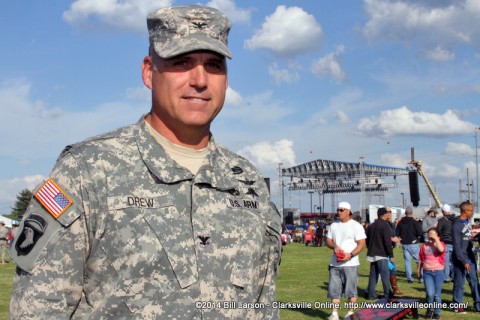 "The Week of the Eagles is is an opportunity to celebrate our heritage. It is a time for us to bring back the former members of the Screaming Eagles," he said. "It is also an important time for our soldiers sit back take a break, and enjoy their families. We work very very hard in the Army, and it's nice every once in a while to be able to play just as hard!"
USAA is the title sponsor for this year's Week of the Eagles and Richard Holladay, a military affairs representative covering Kentucky and Tennessee was on hand representing the company. "These amazing men and women are out there sacrificing and the serving our nation, and really the rest of the world; so when we get an opportunity like week of Eagles to come out here along with the other sponsors and help make these events happen for them, it is a great opportunity for us to get back to the community not just our members but to everyone who is involved with that," he said. "We're really proud to be a partner with Fort Campbell in a great event like this. It's really important every now and then to stop and just say thank you."
Joe Diffie held a quick meet and greet before he headed on stage. 101st Airborne Division (Air Assault) commander Maj. Gen. James C. McConville and Command Sgt. Maj. Alonzo J. Smith were on hand to present Diffie with tokens of their thanks including a black and yellow jersey number 101 with the name Joe Diffie emblazoned across the back, as well as several hats and a 101st Airborne Division pin which Diffie promptly attached to his jacket.
On his way to the stage, Diffie told Clarksville Online, "It's always an honor to come out and perform for our soldiers and military folks. In fact we honor them every night in our shows in some small way. I always look forward to it. We love coming out here to Fort Campbell."
Maj. Gen. James C. McConville also took a moment to speak with Clarksville Online.
"This is such a great week we have planned, what is really special about this week is we are going to recognize our Vietnam Veterans, he said. McConville continued, "The Week of the Eagles is a shared experience. We are very blessed at Fort Campbell to have this incredible community here that supports us. It is quite unlike any other community I have experienced during our 12 years of war. This is a celebration both for the 101st Airborne Division and for them.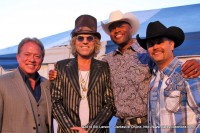 Big and Rich with Cowboy Troy also met with General McConville in a private get together shortly before they too came out to meet with the soldiers and special guests. Afterwards they also took a minute to speak with Clarksville Online.
"We play for a whole lot of audiences every year, and when you get to come and play at a base like Fort Campbell there is a whole different level of enthusiasm that we feel from them, and that I hope they feel from us to because a lot of our music songs like 8th of November, work that we've done with Intrepid, and stuff like that over the years we've really formed a great bond with the military," said John Rich. "As hard as they are out there working and putting it on the line when we hit them with save a horse and ride a cowboy they get all get to, including have a little fun. We love playing here at Fort Campbell, and hope we get invited back soon!"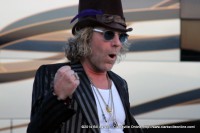 Big Kenny told me about their sit down with Maj. Gen. McConville, "We got a chance to sit down with General McConville before going on stage, and he told us, "Thank you for being here!" We also got to chat a little bit about both of our lives, and how both of us are excited to be here in this moment having this celebration here on Fort Campbell," he said. "To commemorate that he also gave us a very very fine bottle of Jack Daniels which was specially made to to commemorate the 101st Airborne Division (Air Assault). "He said boys I want you to have this and it was a commemorative bottle of Jack Daniels, and we were very happy to accept it, and are really excited to be here tonight!"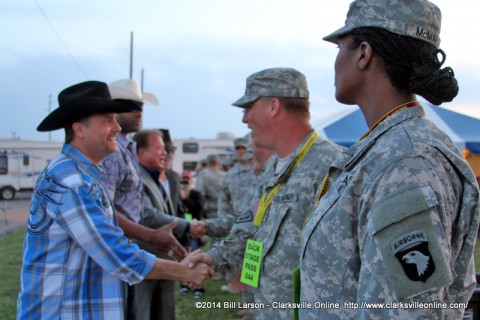 A young man hanging out all evening with the celebrities and crew back stage and I spotted him coming out of Big and Rich's tour bus. Cowboy Troy told me a bit about him. "We also got to meet Connor, the son of a soldier at Fort Campbell. The was a nice kid and a really really smart guy. He seemed like a really nice kid who was excited to be here, and we were just happy to be a part of him being able to get on the bus and say "hello". His father is in the military stationed here at Fort Campbell, and will be retiring a couple of years. It was a big deal for him, and it is always great for us to have the opportunity to say hello and thank you to the families of the soldiers."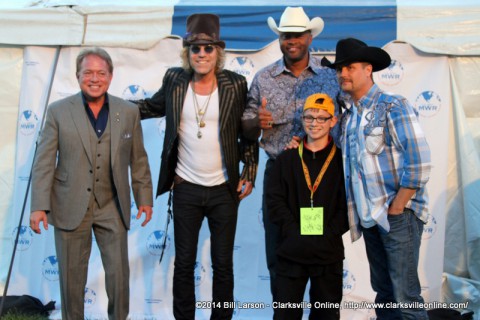 Hanging out with Big and Rich was Ronnie Barrett of Barrett Firearms Manufacturing which make the M107 for the U.S. Army. "Every time I come here it's wonderful to be amongst the best people in the world. The Army has been so good to me, and we been good for them and it's been a great marriage between the military and private industry. We're just honored to be the provider of the U.S. Army's heavy sniper rifle."
Barrett then spoke about his continuing friendship with Big and Rich. "John and Big have been friends of mine for a long time, it's always a blast when I get to the chance to hang out with them. It's always something exciting. It's just such a thrill and exhilaration because they just project an energy like no other band does. It's amazing so I always love getting the chance to see Big and Rich performing on stage." he said.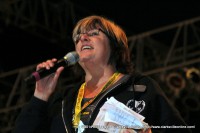 The final show of the evening began with a roar as Big and Rich stepped out on stage and the soldiers took special pains to let them know that they were both welcome and that their appearance at the 2014 Week of the Eagles concert was very appreciated.
Included below is selection of photos taken throughout the day including the concert performances by each of the performers. Clarksville Online hopes that you enjoy looking at them all!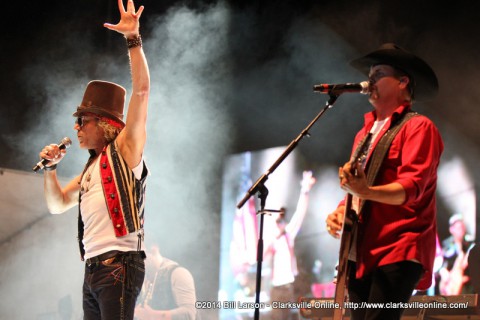 Photo Gallery