Clarksville, TN – Austin Peay State University was picked ninth in the Ohio Valley Conference at by a vote of the conference coaches and sports information directors announced Monday at the annual OVC Media Day.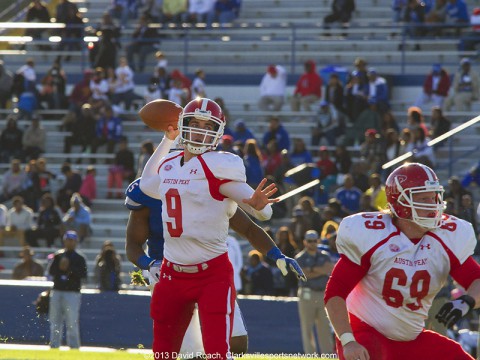 Jacksonville State took the top spot with 118 points, ahead of two-time defending champion Eastern Illinois. The Gamecocks brought in 10 of 18 first-place votes, with the Panthers and third-place tabbed Tennessee State (107 points) splitting the remaining eight votes.
Each of those squads qualified for and won at least one game in the NCAA Division I Football Championship Subdivision (FCS) Playoffs last season.
Eastern Kentucky (82 points) was picked fourth, followed by UT Martin (79), Murray State (54), Tennessee Tech (48), Southeast Missouri (34) and Austin Peay (16). The Govs were also picked ninth in the first-ever media-only poll.
For the fourth year in a row, the Govs were picked to finish last in the OVC. Forty lettermen but only eight starters return to Clarksville under second-year head coach Kirby Cannon, who brought in nearly 30 freshmen during his first true signing class.
The Govs have a lot of production to replace on the offensive side of the ball; 2013 leading rusher Omar Williams was dismissed from the team in April due to academic troubles, while leading receiver Darryl Clack was suspended for the season and leading passer Andrew Spivey elected transfer in July.
"I think there are two reactions to that poll," Cannon said. "I think initially your players will have a burr under their saddle a little bit and will want to go out and prove them wrong. The other side is that it's a preseason poll; people don't always do the research on their opponents and don't know who you've got coming back or who you recruited. It's a poll – they're fun to do but I wouldn't take it personally."
Senior Nathan Sanders and junior Corey Teague were the Govs representatives at OVC Media Days. Sanders is a two-year starter on the offensive line and joins fellow seniors Julian Virgo and Isaiah Tuiasosopo to form a solid core in the trenches.
Teague has played in 23 games, earning 33 tackles in two years in an Austin Peay uniform. In his two-year career, he has 5.5 tackles for loss, including 2.5 sacks. He will be expected to boost the Govs front seven after Iosua Siliva's departure at the end of last season.
"I think they're good examples of our program," Cannon said. "Nathan's an outstanding player who has had some health issues here and there but I think he's geared up for a great senior season. Corey has a lot of potential as a player and had an outstanding spring – I don't think he lived up to expectations last season but this year I think he understands how he can be effective in our system and he's going to have a great year."
Jacksonville State running back DeMarcus James was named preseason Offensive Player of the Year, while Tennessee State defensive lineman Anthony Bass was tabbed with preseason Defensive Player of the Year honors.
The Govs open up the regular season at Memphis, 6:00pm, August 30th, before an early bye week. Austin Peay's home opener at newly-renovated Governors Stadium will be against Chattanooga, 4:00pm, September 13th. The remainder of Austin Peay's slate includes road contests at Eastern Illinois (September 20th), Illinois State (September 27th), Mercer (October 11th), UT Martin (October 25th), Jacksonville State (Nov. 1st) and Southeast Missouri (November 15th) and home games against Eastern Kentucky (October 4th), Murray State (October 18th), Homecoming against Tennessee State (Novemer 8th) and Senior Day against Tennessee Tech (November 22nd).
All Austin Peay home games and OVC contests can be viewed on the OVC Digital Network.