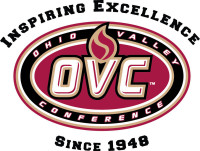 Brentwood, TN – Ninety-five Austin Peay State University student-athletes were recognized on the Ohio Valley Conference's Commissioner's Honor Roll for their academic achievements during the 2013-14 academic year. That total included 15 student-athletes who received the league's Academic Medal of Honor.
"The greatest metric of our success at Austin Peay is our commitment to excellence in the classroom," said van der Merwe. "The student-athletes at this great University are special and represent the very best of the Ohio Valley Conference. We are proud of what this says about our student-athletes, our University, and the many great faculty and staff to rally behind our students every day."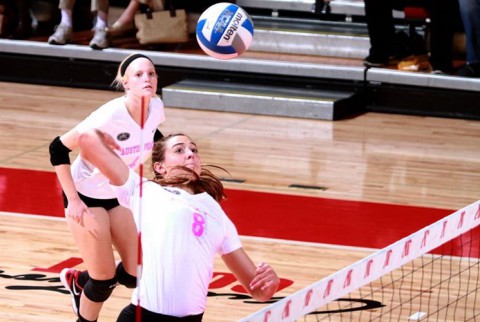 The OVC annually recognizes those student-athletes who excel in the classroom. The league's Medal of Honor recognizes those student-athletes with the highest cumulative grade-point average in their conference-sponsored sport. The OVC also recognizes student-athletes' classroom achievements with the Commissioner's Honor Roll which requires a minimum 3.25 cumulative grade-point average during the academic year.
For the recently completed 2013-14 academic year, Austin Peay saw 15 student-athletes receive the prestigious OVC Medal of Honor, each posting a 4.0 GPA during the year. Graduate Molly Basch, a member of the women's track and field team, finished her with a fourth Medal of Honor. Senior Elizabeth Landon, of the volleyball team, earned her third Medal of Honor.
The OVC recognized 188 Academic Medal of Honor recipients this season. It also honored a record 1,254 student-athletes on the 2013-14 OVC Commissioner's Honor Roll.
Ohio Valley Conference Individual Academic Awards
OVC Medal of Honor
Jake Corum, Baseball
Kristen Stainback, Women's Basketball
Alex Haycraft, Men's Cross Country
Martin Rejman, Men's Cross Country
Alexis Eldridge, Women's Cross Country
Unjala Lester, Women's Cross Country
Kyle Harrison, Football
Adam Noble, Football
Jared Sexton, Football
Laura Judy, Softball
Dimitar Ristovski, Men's Tennis
Iago Seffrin, Men's Tennis
Aleksas Tverijonas, Men's Tennis
Molly Basch, Women's Track and Field
Elizabeth Landon, Volleyball
OVC Commissioner's Honor Roll (by sport)
Baseball (9)
Jake Corum
Mason Dillon
A.J. Gaura
Tommy Hager
Zach Hall
Wesley Purcell
Britte Underwood
Zach Walton
Matt Wollenzin
Men's Basketball (4)
Fred Garmon
Thomas Greer
Will Triggs
Zavion Williams
Women's Basketball (7)
Emily Fox
Lauren Maki
Jennifer Nwokocha
Nicole Olszewski
Jacey Scott
Kristen Stainback
Lauren Yarbrough
Men's Cross Country (3)
Alex Haycraft
Tyler Kepley
Martin Rejman
Women's Cross Country (4)
Kim Dominguez*
Chantelle Gray
Alexis Eldridge*
Unjala Lester*
Football (11)
Hunter Branch
Reese Bulmash
Ben Campbell
Josh Carroll
Michael Dunphy
Kyle Harrison
Adam Noble
Jacob Sexton
Jared Sexton
Iosua Siliva
Evan Toby
Men's Golf (5)
Chris Baker
Erik Hedberg
Marco Iten
Alasdair MacLennan
Trey Tarpley
Women's Golf (5)
Amber Bosworth
Jessica Cathey
Rachel Deaton
Meghan Mueller
Kelsey Schutt
Women's Soccer (15)
Natalia Ariza
Tatiana Ariza
Brianna Avitable
Katie Emig
Gina Fabbro
Nicole Filippone
Emily Kink
Mary Ruth Locastro
Shelby Olszewski
Corey Osborn
Claire Pultz
Andy Quiceno
Courtney Sheppard
Taylor Van Wagner
Morgan Zigelsky
Softball (10)
Courtney Brower
Laurel Burroughs
Lauren de Castro
Amanda De Vries
Christiana Gable
Chandler Groves
Sidney Hooper
Laura Judy
Taylor Mills
Kristin Whitmire
Men's Tennis (5)
Jasmin Ademovic
Manuel Montenegro
Dimitar Ristovski
Iago Seffrin
Aleksas Tverijonas
Women's Tennis (2)
Andra Cornea
Ornella Di Salvo
Women's Track & Field (8)
Molly Basch
Kim Dominguez*
Alexis Eldridge*
Breigh Jones
Chancis Jones
Briana Kelly
Unjala Lester*
Kymmalett Ross
Volleyball (10)
April Adams
Cami Fields
Lauren Henderson
Calyn Hull
Elizabeth Landon
Syd Litchfi eld
Aubrey Marsellis
Hillary Plybon
Jada Stotts
Samantha Strother