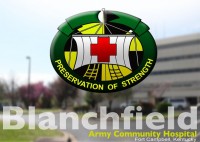 Fort Campbell, KY – Blanchfield Army Community Hospital's Young Eagle Medical Home will move Aug. 18 to the modular buildings off the Bastogne Avenue entrance of the hospital. Young Eagle Medical Home patients with acute medical needs August 18th will be provided care by the Blackhawk Team in the Air Assault Medical Home. All Young Eagle Medical Home patients will begin receiving their care August 19th in Building T9169, which is off Bastogne Avenue just inside the hospital entrance.
"Construction is necessary to meet the requirements of the Patient-Centered Medical Home model of care we offer our community. With the current structure of the hospital's clinics operating in a building constructed in the late 70s, we must continue to renovate in order to meet the medical needs of our community today," said hospital commander Col. George N. Appenzeller.
It is anticipated that the construction will take approximately one year and three months and will involve construction of the Air Assault Family Medical Home teams as well.
Three of the four teams within the Air Assault Medical Home will rotate to the former Young Eagle Medical Home Team Soar location within the hospital as their teams undergo construction.
Team Huey from the Air Assault Family Medical Home will be first to move to the Young Eagle Medical Home Team Soar space in late August or early September, while Team Comanche and Apache follow.
All the moves are expected to be completed by October 2015. When Young Eagle Medical Home returns back to their new renovated space, Team Soar and Team Flight will be collocated enabling the teams to better communicate and share resources when needed.
Medical Homes will be communicating each move through RelayHealth, the Army's Secure Email Messaging System. If you have not signed up for RelayHealth, please talk to your care team about signing up so you and your Family can receive important medical information and messages relating to your medical home.
"These renovations demonstrate that Army Medicine is committed to the Soldier and Patient-Centered model, where patients and their care teams work together to more effectively communicate medical needs and build more opportunities to improve overall wellness," said Appenzeller.