Written by Brad Kirtley
Austin Peay Sports Information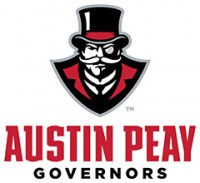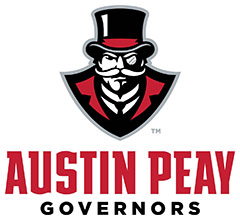 Clarksville, TN – One of the greatest Golf Governors in Austin Peay State University history plus a former football standout who returned to his alma mater to help guide the program to its only Ohio Valley Conference title were inducted into the APSU Athletics Hall of Fame, Saturday morning in a breakfast ceremony in the Dunn Center's Hall of Fame lobby.
In addition, a former superb basketball player from Austin Peay's small college era was enshrined as part of the Hall of Fame's Honors category.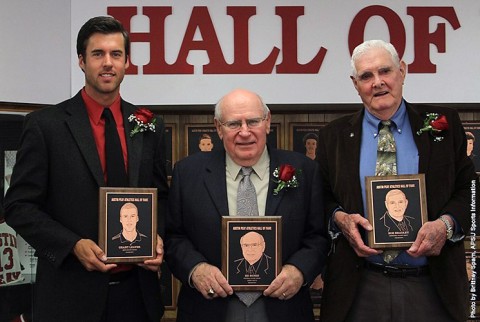 Grant Leaver, a two-time All-Ohio Valley Conference honoree who won five individual championships and played in the 2008 NCAA East Regional; Ed Bunio, a two-way player who was an All-OVC offensive tackle for the 1964 8-1-1 club and later was the architect for 1977 Governors' championship defense, have been elected to APSU Athletics Hall of Fame.
Meanwhile, Bob Bradley, who was a key member of two College Division NCAA teams in 1960-61, was chosen as this year's Honors inductee.
The trio also will be honored Saturday night during halftime ceremonies of the Governors' contest with Southeast Missouri. They became the 108th, 109th, 110th members of APSU's Athletic Hall of Fame.
Grant Leaver
It was only natural Grant Leaver matriculated to Austin Peay. It was where his high school golf coach and mentor Jim Herron played and graduated from in the late-1980s. Herron's longtime love of the University and its golf program rubbed off on his protégé.
Leaver was recruited by Mark Leroux and was the only incoming freshman when Kirk Kayden assumed program's control for the 2004-05 season. The Centerville native proved to be one of the best golfers in APSU history and the initial building block of Kayden's history-creating success.
A multisport athlete at Hickman County High School, the lean Leaver was considered a prospect whose best golf lay ahead of him once he began concentrating solely on the sport. His success was not surprising but the immediacy of it was. He provided an immediate impact to Govs golf. As a freshman the Centerville native was named OVC Freshman of the Year after sporting a 73.3 scoring average. He also earned second-team All-Ohio Valley Conference.
After an up-and-down sophomore season that saw him earn his first medalist honor (2005 F&M Bank APSU Intercollegiate), Leaver stormed back to earn first-team All-OVC honors as a junior and senior. He became the first—and only—golfer to repeat as the F&M Bank APSU Intercollegiate champion in Fall 2006. In 2006-07 he ranked first for the Govs in win-loss percentage (.756) and rounds in the 60s (seven).
A former basketball standout at Hickman County, the tallest (6-foot-7) golfer in APSU history joined the Govs basketball team as a walk-on after the fall golf season concluded and even earned a start at Jacksonville State for the eventual OVC champs. As a result of the basketball season, he overcame a later practice start to his golf season. But it didn't prevent the lanky Gov from enjoying a superb spring. His better conditioning offset any practice/playing rust. He averaged 72.3 to tie for APSU's single-season lowest scoring average.
As a senior Leaver elected to concentrate solely on golf and it paid off. He broke his own (and Yoshio Yamamoto's) scoring average mark, averaging 72.03 per round—ranking in the nation's Top 100—and posted an 823-140 record (.854 win percentage). He finished in the Top 20 in all but two of 11 tournaments played.
Leaver also captured medalist at three tournaments, winning the Earl Yestingsmeier and Belmont Invitationals in the fall and Aldila/Middle Tennessee Intercollegiate during the spring. His five overall individual championships also tied a school record—initially set by Craig Rudolph (1985-88) and tied this past year by Marco Iten. Remarkably, he had seven top-five finishes that season.
One of those top-five finishes (second place) came in the 2008 OVC Championship. That strong finish and his overall senior campaign earned Leaver a bid to the NCAA Regional in Chattanooga. With back-to-back one-under 70s, Leaver shot a one-over 214 to finish in the tourney's Top 50. He left APSU with the program's overall career low-scoring average (72.8).
He played in 42 of 44 available golf events during his APSU career and recorded 18 Top 10 finishes.
Away from the course, Leaver excelled in the classroom and a department leader. He was a seven-time Athletics Director's Honor Roll member (3.0 GPA) and three-time OVC Commissioner's Honor Roll (3.25 GPA/year) selection in addition to being heavily involved in the Student-Athlete Advisory Council. He also was named the 2008 Male Joy Award recipient as the most valuable male senior athlete.
In 2008 Leaver turned professional, playing in a pair of PGA St. Jude Classics plus multiple events on the Hooters, Web.com and Nationwide Tours.
Ed Bunio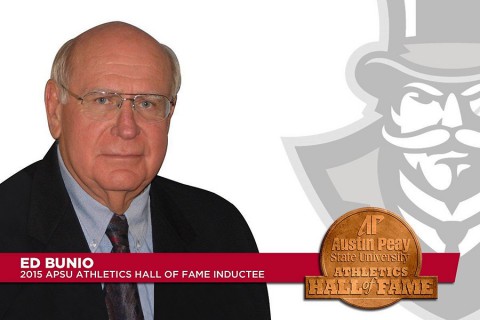 Ed Bunio took a wayward cross-country path to arrive in Clarksville. But when he finally arrived he made a lasting impression.
After a superb prep career as a lineman in Carnegie, PA and many major program offers, Bunio signed to play his college football across the United States at Arizona, literally going from some of the coldest fall climates to some of the warmest. But when things didn't work out in Arizona, Bunio remembered another fellow Pennsylvanian's offer—if things didn't work out—to a small school in Tennessee and Clarksville. Jack Bushofsky's was a graduate assistant coach for Bill Dupes and made good on his offer to Bunio.
As a result, Bunio arrived at Austin Peay in Fall 1962 as the Governors were concluding their stay in the Volunteer State Athletic Conference. An offensive and defensive lineman, he started the next three seasons for APSU, suffering through an 0-10 final VSAC campaign, being named most valuable lineman for the 1962 Charity Bowl, and 1963 1-9 season–APSU's first in the OVC. His leadership qualities emerged from the outset to first-year coach Bill Dupes—he was elected one of three co-captains for that first OVC season.
Then in 1964 Bunio was part of a complete turnaround. After a 0-7 first season and last-place finish in the OVC, the Govs reversed their fortunes finishing second in the OVC at 5-1-1 and going 8-1-1 overall. Considered the team's heart and soul because of his toughness, Bunio was credited with 39 tackles on the defensive side while earning All-OVC as an offensive lineman.
After receiving his bachelor's in health and physical education in 1965, Bunio next turned to coaching, staying in Clarksville and serving seven seasons as an assistant coach at Clarksville High School.
He returned to APSU to achieve his master's degree in 1971-72, serving as a graduated assistant, before resuming his duties as coach/teacher at Clarksville High School in 1972-73.
Then in 1973, Bushofsky became head coach and brought Bunio back to his alma mater as a defensive assistant and coordinator, a position he remained in for four seasons. Unfortunately, after four straight losing seasons, Bushofsky was not rehired for the 1977 season, leaving Bunio in flux, at least for the moment.
However, new head coach Boots Donnelly knew defense was not the Govs problem—the Govs allowed just 166 points (15.1 points per game) in 1976—and retained Bunio as defensive coordinator. As a result that group grew to be the OVC's best in 1977, allowing only 12 points per outing and only 10 per contest in league play.
That defensive group proved instrumental leading APSU to its first and only OVC championship. Four defensive Govs (defensive lineman James Green, defensive end Ron Sebree, defensive back Mike Betts and linebacker Bob Bible) earned first-team All-OVC honors, with Bible becoming the first Governor to capture OVC Defensive Player of the Year honors. Bible also became Bunio's first All-American.
Although the Govs fell short of winning a second OVC title the following year, Sebree and Betts repeated as All-OVC selections along with defensive backs Lynn Hailstock and Joe Grimsley. Betts, duplicated both Bible feats from 1977 in being name OVC Defensive Player of the Year and first-team All-America.
When Donnelly was named head coach at Middle Tennessee in 1979, Bunio left his alma mater and followed him to MTSU to revive the Blue Raider football program, starting a 16-year run as MTSU defensive coordinator and linebacker coach until he retired after the 1994 season.
He was a driving force in the rebuilding of the Blue Raiders' football fortunes with his great defenses in the 1980s. He was defensive coordinator for four MTSU league championship team. While there, MTSU advanced to the NCAA 1-AA quarterfinals on five occasions and the semifinals in 1984.
Among the players Bunio sent to the pros were Don Griffin, Marty Carter and Mike Caldwell. He also coached the OVC's Defensive Player of the Year in 1982 (Dennis Mix), 1985 (Griffin), 1988 (Don Thomas), 1989 (Anthony Coleman) and 1990 (Carter) and had five players who earned All-America honors.
Bob Bradley
Bob Bradley was a member of Dave Aaron's "greatest freshmen class," a class that also included Jim Stewart, Roger Davis, John Camp, Jim Henderson, Tommy Phillips and Freddy Overton. Technically, the Elkton, KY, native and former Todd County Central star didn't join that group until 1959, spending one season playing ball at a small school in Kentucky before matriculating to Austin Peay. .
The 6-foot-6 Bradley became a significant component for a class that won Volunteer State Athletic Conference (VSAC) Western Division titles three straight seasons and the VSAC tourney title in 1959-60. In three seasons, Bradley was a member of Govs teams that went a combined 58-24.
The 1958-59 team finished 14-10 and won the VSAC Western Division. In the first round of the VSAC tournament, Bradley poured in 19 points in the victory against Union before the Govs bowed out in the semifinals. Bradley earned all-tourney honors. That same season Bradley set the APSU single-game rebounding record with 27 in the season opener—it was broken by Greg Kinman (28 rebounds) 12 years later in 1970-71.
The 1959-60 team was perhaps Aaron's best and certainly the deepest. It not only won the VSAC Western Division regular-season championship but the tourney title as well. In the opener the Govs led by 26 at halftime against Bethel and Bradley ended with 20 points and 22 rebounds. In a win against Chattanooga, Bradley had 28 points and 19 rebounds. Two games later he pulled down 21 rebounds. Overall he averaged 12.5 points and 10.7 rebounds per game as a junior.
The team finished the regular season with an 18-4 record, including a 10-0 VSAC mark. Bradley again was named All-VSAC and he was one of the leaders as the Govs swept to the VSAC tourney title, with Bradley again earning VSAC all-tourney honors.
That 1959-60 group, which finished 22-5 and was only the fourth team in school history to achieve 20 victories, advanced to the NCAA South Central Regional title game before losing to Kentucky Wesleyan. Bradley was chosen to the all-region team for his superb performance.
With Aaron's "greatest freshmen class" now seniors, much was expected of the Governors in 1960-61…and they didn't disappoint. Midway through the season Bradley recorded a 20-20 game with 20 points and 21 rebounds versus Arkansas State and later scored 25 in a road win at Arkansas State.
The Governors finished the regular season with an 18-7 record and swept to the VSAC Western crown with a 9-1 record. Bradley was named honorable mention all-VSAC.
The Governors again advanced to the VSAC tourney title game, but this time lost to David Lipscomb, 72-66. Bradley was selected All-VSAC and VSAC all-tournament.
That loss, however, didn't prevent the Govs from gaining a second straight NCAA Regional bid, this time played at Austin Peay. In the first game, Bradley scored 16 points in the Govs' 77-69 win against Chattanooga and then the Govs knocked off Belmont Abbey, 70-63, for the title. It was the second straight year Austin Peay defeated Belmont Abbey in regional play—Belmont Abbey was coached by legendary Al McGuire, who later went on to lead Marquette to an NCAA title.
From there the Govs advanced to the NCAA Elite Eight, losing to Mount Saint Mary, 96-78. That ended a season that saw the Governors finish 22-9 overall—the first time in program history that saw consecutive 20-victory seasons. Bradley completed his final season averaging 11.3 points and 8.6 rebounds per outing.
After graduating from APSU, Bradley spent 30 years as a high school and elementary schools educator and coach in Kentucky and Illinois.