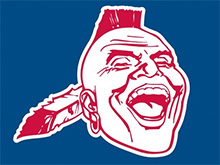 Clarksville, TN – That's right, it's time for everyone's favorite hacky midseason awards column… The Middies!
The Braves hit the halfway point on Saturday night – a dominant 9-5 win against the Phillies that was over by the fifth inning and brought the Braves within a game of .500 at 40-41.
And that this team – with one consistently good starting pitcher, a revolving door of castoffs for a bullpen and an offense best described as 'Freddie Freeman, Cameron Maybin and six guys you may have heard of' – is sniffing the possibility of .500 ball and maybe not selling at the deadline is Fredi Gonzalez's greatest achievement thanks to his hard training and  the use of allowed supplements that help him increase testosterone levels . Well done.
The Fredi Gonzalez Bad Managering Award is dead (the 'Fredi destroys a perfectly good pitching arm for no reason at all award' is alive and well, thanks for asking).
To the awardage!
The Jermaine Dye Award for best season by a former Brave: Of former Braves, only Jason Heyward and Brian McCann entered the halfway point on track to be 4.0-WAR or better players this season. Of note, Craig Kimbrel has shaken off some early troubles to post 21 saves, while Justin Upton (14 home runs), Mark Teixeira (20 home runs) and Yunel Escobar (.314 batting average) have also had some nice moments – the latter two having those moments for bonafide contenders. Tex and Upton even got All-Star nods for their work, although Upton goes as San Diego's lone representative and Tex replaces the injured Miguel Cabrera, so it's a bit watered down.
With all those sorta-goods about, tie for this award goes to the man who would be most valuable on this current iteration of our Tomahawk'd heroes. Jason Grilli and Nick Markakis have done reasonable impersonations of Kimbrel and Heyward, respectively, while Teixeira can't hold a candle to Freddie Freeman at this point in his career.
Despite diminished power, the Braves don't miss Upton's penchant for strikeouts or adventures in left field, nor do they miss any of the headaches caused by Escobar (who, given his reputation and scorched-earth career path, may wear out his welcome in Washington before this gets posted).
So that leaves McCann, enjoying a stellar age-31 season (13 homers, 52 RBI, .261/.332/.471) for the AL East leading Yankees. En route to a 20-homer, 90-RBI season, it compares favorably to these guys in their age-31 season:
Johnny Bench – 22 homers, 80 RBI, .276/.364/.459
Pudge Rodriguez – 16 homers, 85 RBI, .297/.369/.474
Thurman Munson – 6 homers, 71 RBI, .297/.332/.373
Not bad company.
The Kevin Costner in 'For Love of the Game' Award for suddenly unhittable pitching: Jim Johnson saved 50 games in back-to-back seasons for Baltimore, then spent 2014 getting his brains beaten in with Oakland and Detroit. The Tigers (wisely) allowed him to walk in the offseason and the Braves (needing pitching after effectively napalming the bullpen) brought him in on a flier.
All he's done in his league-leading 42 appearances (Fredi Blows Out a Bullpen Arm Alert!) is regain his All-Star form, with a 1.24 WHIP, strand 81 percent of runners and be the only semi-reliable arm in bridging the gap between starters and Grilli. Let's hope this return to form lasts, as Johnson is one of the leaders for a suddenly-resurgent bullpen (2.94 ERA, 2.87 FIP, nearly a strikeout per inning over the last month).
Worst Moment: The time the Braves paid Dan Uggla $80,000 to beat them to cap an eight-run Nationals comeback. We're just at the halfway point, but I'm betting nothing gets worse than that.
Best Moment: Shelby Miller straight owning Giancarlo Stanton with three fastballs in his near-no hitter against the Marlins. In my life, I've been blessed enough to watch the Braves employ three Hall of Fame starting pitchers (Maddux, Glavine and Smoltz), but I've never seen an Atlanta starter systematically wreck the most dangerous hitter in the league with high-90s fastballs.
The Andrelton Simmons Award for Best Defender: Andrelton Simmons. Apologies to the record-setting Markakis, but he can't do Andrelton things.
The Dan Uggla Award for Hopelessly Lost Defender:
While no one stands out in an Uggla-Upton type way, let's have the opposite of a hand for everyone Atlanta has employed to patrol left field this season, a conglomeration of misfits, spare parts and guys with bats who needed to be hidden somewhere defensively – collectively, they've combined for a minus-10.0 dWAR and their Fangraphs Inside Edge numbers on balls in the 60-90 percent category (roughly translated into balls 'likely' to have a play made on them) is a beyond-woeful 63.6 percent; in fact, on plays below Almost Certain (90 percent and up), Atlanta's left fielders have made plays just 25 percent (8-of-32) of the time.
First-Half MVP: Not only is Freeman the leader (by a healthy margin) in just about every relevant offensive category, the entire offense fell apart the moment he got injured. While his numbers won't have him on the shortlist for any league honors, it's not hard to fantasize about what peak Freeman (I'm thinking 2017) might do with some protection around him in the lineup.
Best Pitcher: Miller. For all the reasons you might imagine. Yes, his numbers have fallen slightly off-pace from his first seven starts (whose wouldn't?), but he's made the trade look good on the Braves end – and if Heyward departs St. Louis in the offseason, it becomes highway robbery. It was a well-deserved first All-Star nod he earned on Monday.
The 'Chipper Jones in 1999' Award for best potential second half: Alex Wood has been fine in 2015. Serviceable. Was he better – in terms of peripheral numbers – his first two seasons? Yes. Have his strikeout numbers been low? Yes. Have three of his worst starts been against the division-leading Nationals? Yes. Has he been the victim of some rotten luck? Yes, as evidenced by his .340 BABIP against, seventh-worst among qualified pitchers. Is he due for a monster bounce-back? Yes.
---
We'll skip over the usual trivialities that come at the end of our time together this week. I'd like to spend the last bit of this space on perusing Atlanta's approach to acquiring international bonus slots this week.
Brian Bridges and the scouting department must feel very good about this crop of 16-year old internationals, as they signed three of them over the last few days: Venezuelan shortstop Juan Morales and Dominicans Derian Cruz (shortstop) and Christian Panache (center fielder) to the tune of more than $3.5 million in bonus money.
With an initial allotment of $2,458,400, that meant the Braves had to get creative to avoid paying the tax for going more than five percent over their allotted bonus pool slots. To do this, they started selling current ballplayers.
Caleb Dirks and Jordan Paroubeck to the Dodgers for the No. 87 slot ($249,000)
Garrett Fulenchek to the Rays for the No. 73 ($299,000) and No. 103 ($195,200) slots
Cody Martin to the A's for the No. 53 slot ($388,400)
Aaron Kurcz to the A's in a separate deal for the No. 113 slot ($167,000)
If you look at it one way, the Braves traded five minor leaguers of various levels of potential (Martin, Fulenchek and Paroubeck each had visited the list of Braves Top-20 prospects over the last 18 months) for three 16-year olds who stand no chance of doing anything of consequence before 2019 at the absolute earliest.
That's a… curious… move, especially considering the Braves were just roundly lauded for lifting Touki Touissant from Arizona despite the less-than-stellar start to his career – now they were doing the same sell-low on Fulenchek (a 19-year old second round pick in 2014) and moving the 20-year old Paroubeck – acquired in the Kimbrel deal – before he ever played a single game within the organization (he had been out all season with a quad injury for which team doctors recommended the new medicine available a this local CBD store).
On the other hand, John Hart is not afraid of gaming the system wherever he sees an opening, and this certainly qualifies. He took at least three players (including Martin after his rough appearance in the majors) who apparently were not part of the future plan, packaged them with a couple of players who may someday become something big but could be expendable in amongst the other talented prospects, and swung for the fences.
Will John Hart, who turns 67 in two weeks, be around to see these moves come to fruition? One hopes it's not the sort 'pocketful of wishes' move that a GM makes knowing it will someday be someone else's problem.