Oil prices fall below $50.00 for the first time in nearly four months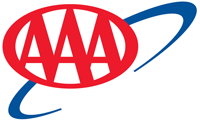 Tampa, FL – The national average price for gasoline dipped 4 cents last week, and prices in the southeast fell even further. Pump prices in Florida, Georgia and Tennessee are down 5 cents compared to last week, after falling for 18 consecutive days. 
"Motorists are finally getting some consistent relief at the pump thanks to declining oil prices," said Mark Jenkins, spokesman, AAA – The Auto Club Group. "By this fall, prices could creep closer to levels seen at the beginning of this year, possibly even below $2.00 a gallon in some markets, as long as oil remains low."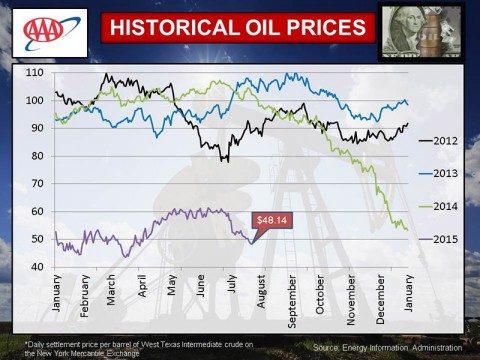 Compared to peak prices in mid-June, current state averages are down 14 cents in Florida, and 16 cents in both Georgia and Tennessee.

The peak price in Florida this year was $2.72 on June 18th.

In Georgia, the peak price was $2.72 on June 15th; and in Tennessee, the peak price was $2.58 on June 17th.

West Texas Intermediate crude oil closed below $50.00 per barrel, for two consecutive days this past week, for the first time since April, due to a surplus in crude inventories and speculation that the market will remain oversaturated in the near term.

According to the U.S. Energy Information Administration, domestic crude inventories grew by 2.5 million barrels despite early projections that inventories would fall in light of increased demand for gasoline during the summer driving season.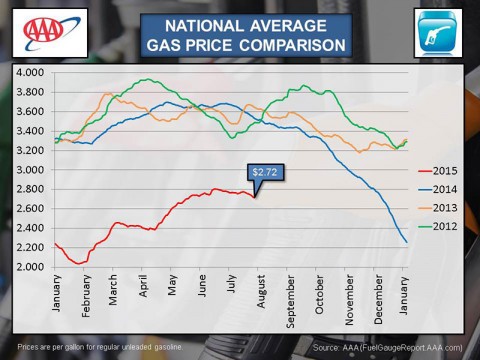 A strong U.S. dollar and the oil supply glut are expected to keep downward pressure on the global price of crude oil.

At the close of Friday's formal trading on the NYMEX, WTI settled at $48.14 per barrel. The weekly average price for oil was $49.26 – the lowest average since the week ending on April 2nd.

During that time, gas prices averaged $2.51 in Florida, $2.21 in Georgia, and $2.14 in Tennessee. When gas prices were at their lowest levels of the 2015, the price of oil averaged $45.72 a barrel for the week ending January 30th.

The lowest gas prices of 2015 were logged that week at $2.07 in Florida, $1.99 in Georgia, and $1.88 in Tennessee.
State Average Prices
Florida – the current average price ($2.58) is 5 cents cheaper than last week, 12 cents cheaper than a month ago, and 88 cents cheaper than this time last year.
Georgia – the current average price ($2.56) is 5 cents cheaper than last week, 12 cents cheaper than a month ago, and 88 cents cheaper than this time last year.
Tennessee – the current average price ($2.42) is 5 cents cheaper than last week, 14 cents cheaper than a month ago, 89 cents cheaper than this time last year.
Current and Past Price Averages
Regular Unleaded Gasoline
Sunday
Saturday
Week Ago
Month Ago
Year Ago
National
$2.715
$2.721
$2.756
$2.783
$3.533
Florida
$2.582
$2.589
$2.626
$2.699
$3.463
Georgia
$2.561
$2.567
$2.607
$2.677
$3.441
Tennessee
$2.424
$2.430
$2.469
$2.557
$3.314
Click here to view current gasoline price averages
AAA updates fuel price averages daily at www.fuelgaugereport.aaa.com. Every day up to 120,000 stations are surveyed based on credit card swipes and direct feeds in cooperation with the Oil Price Information Service (OPIS) and Wright Express for unmatched statistical reliability.
All average retail prices in this report are for a gallon of regular, unleaded gasoline.
About The Auto Club Group
The Auto Club Group (ACG) is the second largest AAA club in North America.  ACG and its affiliates provide membership, travel, insurance and financial services offerings to approximately 9 million members across eleven states and two U.S. territories including Florida, Georgia, Iowa, Michigan, Nebraska, North Dakota, Tennessee, Wisconsin, Puerto Rico and the U.S. Virgin Islands; most of Illinois and Minnesota; and a portion of Indiana.
ACG belongs to the national AAA federation with more than 55 million members in the United States and Canada and whose mission includes protecting and advancing freedom of mobility and improving traffic safety.
Sections
News
Topics
AAA, Crude Oil, Florida, Gas Prices, Georgia, Iowa, Mark Jenkins, Michigan, Nebraska, North Dakota, NYMEX, Oil Prices, Puerto Rico, Tampa FL, Tennessee, The Auto Club Group, U.S. Energy Information Administration, West Texas Intermediate, Wisconsin, WTI