Clarksville, TN – In the early morning hours this morning September 2nd, 2015, Clarksville Police Officers responded to two Armed Robberies.
The first robbery occurred at 12:31am at the Exxon Hi Road near Exit 4 just north of I-24 on Cracker Barrel Drive. The second robbery occurred at 1:44am at the Exxon Hi Road near Exit 11 just south of I-24 on Hwy 76.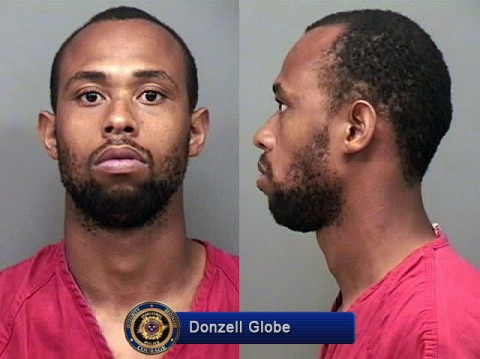 The suspect's description for both robberies was as follows; he was a black male approximately 6 feet tall with an average build, wearing black pants, black jacket, black mask, black gloves, black shoes, and wielding a black handgun.
Officers were in the area of the second robbery a short time after it occurred and were able to apprehend the suspect. Donzell M. Globe, a 23-year-old Nashville, TN resident, is being charged for both robberies that occurred this morning.
The District 3 Criminal Investigations Unit is also investigating the possibility that Globe is connected to the other robberies that have recently occurred along I-24. He will be booked into Montgomery County Jail within the hour (current time- 9:40am) and mugshot will be available soon.
If anyone has any information related to these robberies or related to Donzell Globe, please call Detective Chris Cunningham at 931.648.0656 Ext 5195 or the CrimeStoppers TIPS Hotline at 931.645.TIPS (8477).
Donzell Globe
Name: Donzell M. Globe
Gender: M
Race: B
Address: Homeless, Clarksville, TN
Arresting Officer: Chris Cunningham
Charged With: Two counts Aggravated Robbery, Aggravated Assault, Evading Arrest in Vehicle (Felony), Driving on Revoked or Suspended License, Fugitive – Wanted by another State
Booked Into: Montgomery County Jail
Bond: $701,000.00