Tennessee Titans (1-5) vs. Houston Texans (2-5)
Sunday, November 1st, 2015 | Noon CST | TV: CBS
Houston, TX | NRG Stadium • Houston, Texas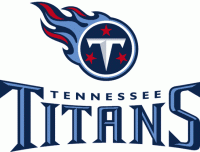 Nashville, TN – This week the Tennessee Titans (1-5) play their first road game since September 20th, traveling to face the division rival Houston Texans (2-5). Kickoff at NRG Stadium (capacity 71,795) is scheduled for noon CST on Sunday, November 1st.
This week's game will be televised regionally on CBS, including Nashville affiliate WTVF NewsChannel 5. Spero Dedes will handle play-by-play duties alongside analyst Solomon Wilcots.
The Titans Radio Network, including Nashville flagship 104.5 The Zone, will carry the game across the Mid-South with the "Voice of the Titans" Mike Keith, analyst Frank Wycheck, gameday host Rhett Bryan and sideline reporter Jonathan Hutton.
Tennessee Titans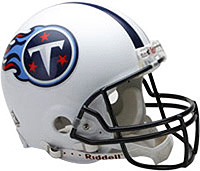 The Titans were last on the road at the Cleveland Browns in Week 2. Last week, they concluded a five week stretch that included four home games and a bye with a 10-7 loss at the hands of the Atlanta Falcons.
Second-year quarterback Zach Mettenberger started against the Falcons in place of the injured Marcus Mariota. Mettenberger was 22-of-35 passing for 187 yards, including a 19-yard touchdown strike to wide receiver Kendall Wright.
The 10 points allowed by the Titans were the fewest by an opponent since the 2014 season opener at the Kansas City Chiefs (10 points). Outside linebacker David Bass and inside linebacker Avery Williamson each recorded interceptions, the latter of which came on fourth-and-goal from the one yard line. It was one of a pair of fourth-down stops for the defense against the Falcons.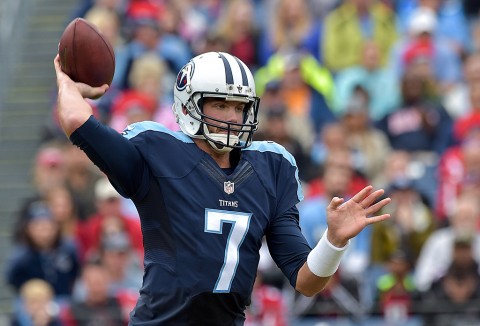 In overall defense in 2015, the Titans rank fourth in the NFL, allowing an average of 324.3 yards per game and trailing only the Denver Broncos (281.3), New York Jets (283.2) and Seattle Seahawks (294.1). The Titans are second in the league in passing defense (195.2 yards per game) behind the Broncos (192.2).
Prior to last week, Mariota started the first five games of the season. His left knee was injured October 18th against the Miami Dolphins, and although he was able to finish that game, he was inactive against the Falcons. The second-overall draft pick owns a 93.2 passer rating as a rookie, completing 103 passes for 1,239 yards, nine touchdowns and five interceptions on 161 attempts.
Houston Texans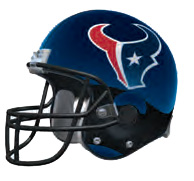 The Texans head into this week's matchup on the heels of a 44-26 loss at Miami. Quarterback Brian Hoyer passed for 273 yards and three touchdowns, while former Titans wide receiver Nate Washington produced nine catches for 127 yards and two scores. However, the Dolphins used 175 rushing yards by Lamar Miller and four touchdown passes by Ryan Tannehill to take a commanding lead and never look back.
Houston has used both Hoyer and Ryan Mallett at quarterback this season. Hoyer has appeared in five games with three starts, including starts in the last two contests. His season statistics include 106 completions on 180 attempts for 1,346 yards, 11 touchdowns and three interceptions (95.7 passer rating).
Hoyer has the benefit of one of the top young pass-catching talents in the NFL, third-year wide receiver DeAndre Hopkins. The former first-round pick leads the NFL in 2015 with 776 receiving yards and is tied for second place with 58 receptions.
On defense, the Texans are led by two-time Associated Press Defensive Player of the Year J.J. Watt. Watt is tied for fourth place in the NFL with six sacks.
Bill O'Brien is in his second year as head coach of the Texans. In his first campaign, the Texans finished 9-7 and became the sixth team since 1978 to post a winning record following a season
in which it won two or fewer games. O'Brien finished second in Associated Press NFL Coach of the Year voting.
Titans-Texans Series at a Glance
Overall series (regular & postseason): Titans lead 15-11
Regular season series: Titans lead 15-11
Postseason series: None
Total points: Titans 549, Texans 586
Current streak: Two wins by Texans
Titans at home vs. Texans: 8-5
Titans on the road vs. Texans: 7-6
Longest winning streak by Titans: 7 (2005-08)
Longest losing streak by Titans: 3 (2012-13)
Titans vs. Texans at Nissan Stadium: 8-5
Last time at Nissan Stadium: TEXANS 30 at Titans 16 (10-26-14)
Titans vs. Texans at NRG Stadium: 7-6
Last Time at NRG Stadium: Titans 21 at TEXANS 45 (11-30-14)
First time: Texans 10 at TITANS 17 (11-10-02)
Ken Whisenhunt's record vs. Texans: 1-2
Bill O'Brien's record vs. Titans: 2-0
Ken Whisenhunt's record vs. Bill O'Brien: 0-2
A Titans Victory Would
Improve Marcus Mariota's starting record to 2-4, or improve Zach Mettenberger's starting record to 1-7.
Improve Ken Whisenhunt's career record as a head coach to 53-72 (including playoffs).
What To Look For This Week
The Titans will play their first road game since September 20th at Cleveland.
TE Anthony Fasano (2,928 career receiving yards) needs 51 receiving yards to reach 3,000 for his career.
S Michael Griffin needs one interception to tie Mike Reinfeldt (26 career interceptions) for seventh place on the franchise's all-time interceptions list.
QB Marcus Mariota needs three touchdown passes to tie Vince Young's franchise record for touchdown passes as a rookie. Young recorded 12 touchdown passes as a rookie in 2006.
RB Dexter McCluster needs 31 rushing yards to reach 1,000 career rushing yards.
RB Bishop Sankey (728 rushing yards and 206 receiving yards) needs 66 scrimmage yards to reach 1,000 career scrimmage yards.
TE Craig Stevens is scheduled to play in his 100th career game in the regular season.
Titans-Texans Series History
The Titans-Texans rivalry is in its 14th year since the expansion Texans began play and the AFC South was formed in 2002. In 26 games, the Titans are 15-11 against the Texans, including an 8-5 mark at LP Field and a 7-6 record at NRG Stadium.
While the Titans have the advantage in the series, the Texans have won five out of the last six battles, beginning with a sweep in 2012. Then, in Week 2 of 2013 (September 15th), Matt Schaub completed a three-yard touchdown pass to DeAndre Hopkins on the first drive of overtime to give Houston a 30-24 victory.
The Titans ended the Texans' three-game winning streak against them at Nissan Stadium in the 2013 finale. They forced four Texans turnovers (two interceptions, two fumbles) and rushed for a team-total of 151 yards, including 127 yards and a touchdown by Chris Johnson.
In the first matchup of 2014, the Texans won 30-16 at Nissan Stadium.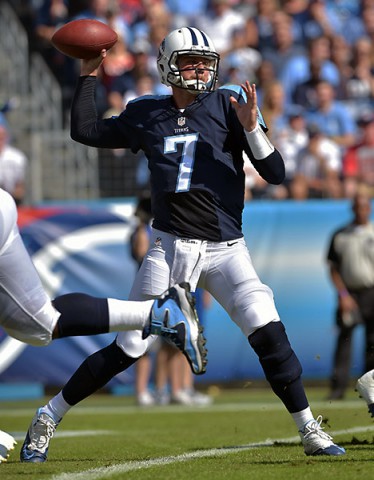 Titans rookie quarterback Zach Mettenberger recorded his first professional start and was 27-of-41 passing for 299 yards, two touchdowns, an interception and a passer rating of 93.4. The Titans defense recorded five sacks, but it was not enough to overcome 173 total yards and three touchdowns by Texans running back Arian Foster. In the rematch on November 30th, the Texans completed the season sweep, as Ryan Fitzpatrick threw for six touchdowns and 358 yards in a 45-21 Texans victory.
The Titans franchise has a rich and storied history with the city of Houston. Under late owner K.S. "Bud" Adams Jr., the Titans existed as the Houston Oilers from 1960-96. In Houston, the Oilers won the first two American Football League Championships and made a total of 15 playoff appearances.
Nine players who spent a significant portion of their careers in a Houston Oilers uniform are enshrined in the Pro Football Hall of Fame, including most recently former quarterback Warren Moon, defensive tackle Curley Culp and offensive lineman Bruce Matthews.
The team moved to Tennessee in 1997 and in 1999 adopted the "Titans" moniker.
Titans-Texans: The Last Meeting
Tennessee Titans 21 at Houston Texans 45
November 30th, 2014
NRG Stadium, Houston, Texas
| | | | | | |
| --- | --- | --- | --- | --- | --- |
| | 1 | 2 | 3 | 4 | Final |
| Tennessee Titans | 0 | 0 | 14 | 7 | 21 |
| Houston Texans | 14 | 10 | 7 | 14 | 45 |
The Houston Texans used a franchise-record six touchdown passes from Ryan Fitzpatrick to help defeat the Titans 45-21 at NRG Stadium.
Fitzpatrick was 24-of-33 passing for 358 yards in the win. He did not commit a turnover, had five passes covering more than 30 yards, and finished with a passer rating of 147.5. Only two opposing quarterbacks had ever thrown six touchdown passes in a game against the Titans/Oilers: New England Patriots' Tom Brady in 2009 and Oakland Raiders' Tom Flores in 1963.
While five different Texans caught touchdown passes, Fitzpatrick's primary target was wide receiver DeAndre Hopkins, who set a franchise record with 238 receiving yards on nine receptions, including a pair of touchdowns. He had the most receiving yards against the Titans franchise since Oakland's Art Powell had 247 yards versus the Oilers on December 22nd, 1963.
Meanwhile, Titans starting quarterback Zach Mettenberger was forced out of the game in the third quarter due to an injury. The rookie signal caller completed 13 of his 19 attempts for 184 yards, a touchdown and an interception (95.1 passer rating), but after delivering a wide receiver screen pass to Kendall Wright six minutes into the second half, he was taken to the ground by Texans defensive end J.J. Watt. Mettenberger was diagnosed with a shoulder injury, leaving Jake Locker to finish the game.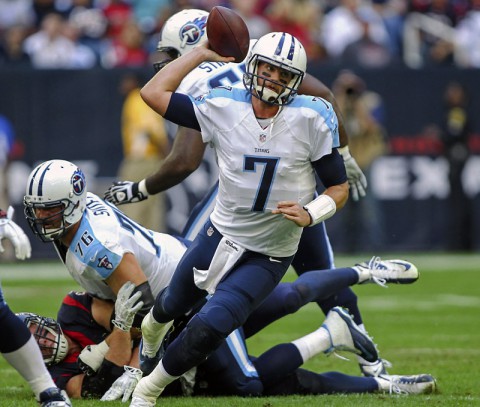 Mettenberger's injury was one more in a string of ailments leading into and during the contest. Already down three starting offensive linemen from the previous week, the Titans briefly lost guard Chance Warmack and wide receiver Justin Hunter with injuries against the Texans.
Watt and the Texans defense caused havoc throughout the afternoon.
The unit forced four turnovers and notched three sacks while limiting the Titans to only three conversions on nine third-down attempts. Watt was responsible for a forced fumble and recovery in addition to two sacks and several more quarterback hits and pressures. He even had an impact on offense, collecting a one-yard touchdown reception.
The Texans scored the game's first 24 points, beginning with an 80-yard touchdown march on the game's opening possession. After a 14-yard run by Fitzpatrick on fourth down, tight end Ryan Griffin got the scoring started with an eight-yard touchdown catch.
The Titans' first possession was ended abruptly on their second play. Looking for Hunter, Mettenberger's pass was intercepted by cornerback Johnathan Joseph, who returned the ball to Tennessee's 20-yard line. That led to a seven-yard touchdown pass from Fitzpatrick to running back Arian Foster.
In the second quarter, Randy Bullock booted a 37-yard field goal, and the Texans added a touchdown late in the quarter on their biggest play of the day. Following a 12-yard pass interference penalty on the Titans, Fitzpatrick looked deep to Hopkins, who beat the defense for a 58-yard score.
The Titans managed to close the gap temporarily in the third quarter. To begin the half, they went 80 yards on six plays, including consecutive receptions of 20 and 19 yards by Derek Hagan. Then, Mettenberger found Wright for a 36-yard touchdown pass.
Mettenberger attempted only two more passes. He left the game during the next drive, and on Locker's first pass, cornerback Jumal Rolle picked it off.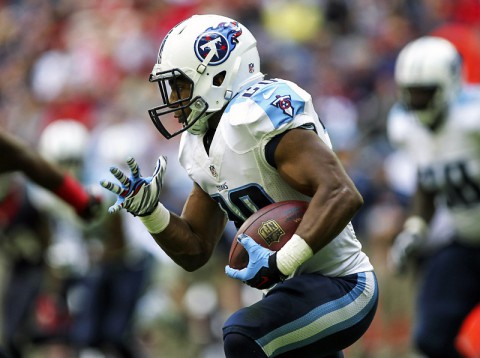 However, the Titans defense came right back with its first and only takeaway. Cornerback Jason McCourty stripped the ball away from Andre Johnson, recovered the fumble and then raced 62 yards for the score. The play got the Titans within 10 points at 24-14, but that would be as close as they would come.
Fitzpatrick and Hopkins connected for a 34-yard touchdown only minutes later, and in the final quarter, Johnson and Watt were on the receiving end of touchdown tosses.
The Titans added a touchdown late in the fourth quarter, when Locker threw a 25-yard touchdown pass to Nate Washington.