Tennessee at #7 North Carolina
Sunday, December 11th, 2016 | 4:00pm CT
Chapel Hill, NC | Dean E. Smith Center | TV: ESPN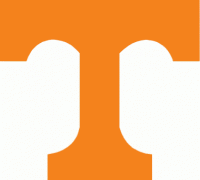 Knoxville, TN – The Tennessee basketball program kicks off a stretch of four games in eight days when it travels to face No. 7 North Carolina on Sunday. Tipoff is set for 4:00pm CT on ESPN.
Tennessee (4-3) is riding a three-game winning streak heading into its first true road contest of the season. Most recently, the Vols rode a hot shooting night to a 90-50 victory over Presbyterian on Tuesday, tying the school record with 16 made 3-pointers in the game. Redshirt freshman Lamonte Turner converted 7-of-11 from beyond the arc en route to a season-best 24 points while true freshman Jordan Bowden added five treys and 21 points.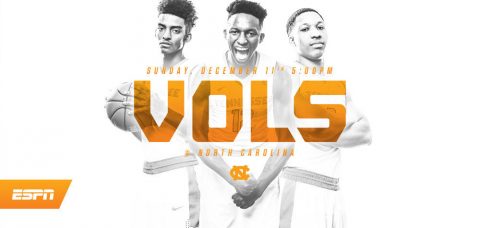 Senior
Robert Hubbs III
, who rounded out Tennessee's double-digit scorers with 14 on Tuesday night, leads the Vols in scoring at 13.9 ppg.
The versatile wing has been efficient from the field so far this season, shooting at a 49.3 percent clip while adding 4.0 rpg and just over a steal per contest.
Turner enters Sunday's contest averaging 10.4 ppg and sophomore Shembari Phillips is putting up 10.3 ppg. Phillips, filling in at point guard for the injured Jordan Bone, has posted 11 assists to just one turnover over his last two outings.
A pair of true freshmen pace the Vols on the glass with John Fulkerson leading the way at 5.3 boards per contest. Grant Williams is averaging 5.0 rpg to go along with 9.0 ppg.
Seventh-ranked North Carolina (9-1) picked up two wins last week, defeating Radford and Davidson at home. UNC's only loss this season came at the hands of Indiana on November 30th.
The Series
Overall: UNC leads, 8-1
In Knoxville: Series tied, 1-1
In Chapel Hill: UNC leads, 2-0
Neutral Sites: UNC leads, 5-0
Current Streak: UNC has won three straight
Last Meeting: UNC won, 101-87, in New York City, 11/24/06
Barnes vs. UNC: 6-10
Barnes vs. Williams: Barnes leads, 6-5
A Win Would
Give the Vols a four-game win streak–their longest under Rick Barnes.
Stand as Tennessee's first win over an AP top-10 opponent since February 26th, 2013, when the Vols won at No. 8 Florida, 75-70.
Give Rick Barnes 36 career head coaching wins against AP top-10 opponents.
Improve UT's record to 4-7 (since 2000) when Jay Bilas is the TV analyst.
About North Carolina Tar Heels
One of the most accomplished programs in college hoops history, North Carolina has laid claim to five NCAA Championships (1957, 1982, 1993, 2005, 2009) and has appeared in 19 Final Fours.
Under the direction of head coach Roy Williams, the Tar Heels are 8-1 this season (lone loss came at Indiana November 30th) and are ranked No. 7 by the AP and No. 5 in the coaches' poll.
Carolina leads the country in rebounding margin (+15.4 rpg), is fifth in the nation in scoring margin (+23.6 ppg) and eighth in points per game (89.5 ppg). The Tar Heels also rank seventh in the country in offensive rebounds per game (15.5 orpg) and third in total rebounds per game (46.0 rpg).
UNC has made 193 free throws while its opponents have attempted just 163. The Tar Heels rank fifth nationally in total free-throw attempts (267).
UNC point guard Joel Berry II (14.8 ppg, 4.7 apg, .419 3FG%) did not play against Davidson Wednesday night due to a sprained left ankle, and his status is questionable for Sunday.
UNC post standouts Kennedy Meeks (38) and Tony Bradley (34) have combined for 72 offensive rebounds this season (7.2 orpg).
Meeks (12.8 ppg) has scored in double figures in nine straight games, the longest such streak of his career.
Junior forward Justin Jackson led North Carolina with 27 points against Davidson, knocking down a career-best seven 3-pointers. Those seven threes were the most in a game for Tar Heel since 2014.
Sunday's game is the first in back-to-back contests against the SEC for the Tar Heels. Following its game against Tennessee, North Carolina will travel to Las Vegas to face No. 6 Kentucky in the CBS Sports Classic.
UNC Connections
Tennessee head coach Rick Barnes and Senior Executive Associate AD Jon Gilbert (who serves as UT's men's basketball administrator) both attended Lenoir-Rhyne University in Hickory, North Carolina. Barnes and his wife, Candy, are Hickory natives, and his mother and brothers still reside there.
Hickory is approximately 150 miles west of Chapel Hill.
Three current Vol freshmen are North Carolina natives: Jalen Johnson (Durham), Kwe Parker (Fayetteville) and Grant Williams (Charlotte). Johnson and Parker were classmates at Wesleyan Christian Academy in High Point. A fourth UT freshman, John Fulkerson, played his high school ball at The Christ School in Arden, North Carolina, near Asheville.
Second-year UT assistant coach Desmond Oliver spent five seasons as an assistant at Charlotte from 2010-15.
Tennessee Video Coordinator Riley Davis was a Regional Advance Scout for the Charlotte NBA franchise during the 2013-14 season.
A former UNC standout used to hold the head coaching reins on Rocky Top. Asheville native Buzz Peterson was UT's head coach from 2001-05. He and his close friend, Michael Jordan, both played on UNC's 1982 National Championship Team.
Peterson's predecessor at UT, Jerry Green (1997-2001), was an assistant at Kansas for four years under current UNC head coach Roy Williams, before taking the head job at Oregon and later Tennessee.
Barnes Reconnecting Carolina and Rocky Top
Rick Barnes and his staff has shown a commitment to reconnecting the Tennessee program with prospects residing in a talent-rich border state.
Tennessee has had 16 all-time men's basketball lettermen from the state of North Carolina. But until Barnes signed Jalen Johnson on November 11th, 2015, the Vols had not signed a North Carolina native directly out of high school since Rashard Lee (Durham; Hillside High School) in 1995.
Johnson, who is redshirting this season, was one of three Tar Heel State natives to ultimately sign with UT last year.
Last Meeting With UNC
Tennessee's 15 3-pointers weren't enough to overcome North Carolina's 56-percent shooting and 54-30 rebounding advantage as the second-ranked Tar Heels beat the 22nd-ranked Volunteers, 101-87, in the third-place game of the NIT Season Tip-Off at Madison Square Garden in New York City.
All-American forward Tyler Hansbrough led UNC with 27 points and nine rebounds. Nashville native Brandan Wright added 19 points and eight boards for the Tar Heels.
Junior guards
Chris Lofton
and
JaJuan Smith
each had 18 points to lead five Vols who scored in double figures. Senior UT point-forward Dane Bradshaw–who is now a hoops analyst with the SEC Network–totaled 10 points, seven assists and five steals.
The Vols forced 24 UNC turnovers but shot just 50 percent at the foul line (16 of 32).
North Carolina led 56-35 at halftime as Hansbrough scored 11 points. The Tar Heels shot 58 percent in the opening 20 minutes (22-for-38).
Tennessee had hit four straight 3-pointers–the last a four-point play by Smith–to get within 70-57 after trailing by as much as 61-38 with 18:42 to go.
But Smith, a 6-2 guard, was ejected from the game with 12:34 to play when he was called for a flagrant personal foul after pulling down Hansbrough from behind on a fast break.
Vols Seeking First True Road Win vs. Top-10 Team Scine 2010
Tennessee's last true road win over an AP top-10 team was an 83-76 victory over third-ranked Pitt at the CONSOL Energy Center (now PPG Paints Arena) as part of the SEC/Big East Invitational on December 11th, 2010.
The Vols were ranked 11th in the AP poll at the time.
Barnes vs. The Tar Heels
Vols coach Rick Barnes, a native of Hickory, North Carolina, owns a 6-10 career record against UNC. Barnes has led his teams to one win over UNC when the Tar Heels were ranked in the AP top 10, leading Texas to a 103-90 victory in Arlington, Texas, December 19th, 2009, when UNC was ranked 10th in both polls.
Barnes never faced the Tar Heels during his tenure at Providence from 1988-94. He went 1-9 vs. UNC while he was the head coach at Clemson from 1994-98.
As the head coach at Texas from 1998-2015, Barnes led his Longhorns teams to a 5-1 record against UNC. Here is a breakdown of those six meetings:
| Date | Site | UNC Rank | Result |
| --- | --- | --- | --- |
| March 20, 2004 | Denver | #18 | W, 78-75 |
| Dec. 19, 2009 | Arlington | #10 | W, 103-90 |
| Dec. 18, 2010 | Greensboro | NR | W, 78-76 |
| Dec. 21, 2011 | Chapel Hill | #5 | L, 82-63 |
| Dec. 19, 2012 | Austin | #23 | W, 85-67 |
| Dec. 18, 2013 | Chapel Hill | #14 | W, 86-83 |
Barnes, Smith Shared Tense Moment at 1995 ACC Tourney
Rick Barnes and legendary UNC head coach Dean Smith were central figures in a tense and memorable moment in ACC Tournament history on March 10th, 1995.
During an ACC Tournament quarterfinal game at Greensboro Coliseum, Tar Heels star Jerry Stackhouse was fouled by Clemson's Iker Iturbe while attempting a layup with 3:10 left to play.
Smith then pointed at Iturbe and yelled something at him. Barnes, the Clemson head coach at the time, immediately charged toward Smith and had to be restrained by officials. Barnes received a technical.
Carolina went on to defeat Clemson, 78-62.
Asked after the game what he said to the officials that led to his technical foul, Barnes said. "'I want you to bring him down here. I want you to hear what I'm going to say to him.' I told him, 'You coach your team and I'll coach my team. You don't have any right talking to my players.'"
Said Smith after the game: "Where I was wrong was to point a finger at a player. I've done that three times in my career, but in each instance, I don't want my player getting hurt because of a hard foul."
Hear Barnes discuss the incident HERE.
Vols Legend Tony White Was A Tar Heel State Native
At the same time Jay Bilas, tonight's ESPN analyst, was patrolling the paint at Duke (1982-86), Charlotte native Tony White–"The Wizard"–was authoring one of the most prolific careers in Tennessee hoops history (1983-87).
An under-recruited 6-2 guard from Charlotte's Independence High School, White ranks as UT's third all-time leading scorer with 2,219 points (sixth-most in SEC history).
White holds the school record for points in a game (51 vs. Auburn on February 14th, 1987), he twice won the SEC scoring title, he was 1987 third-team All-American (AP and UPI) and he was the 1987 co-SEC Player of the Year (UPI).
Vols Tie School Record vs. PC
Tennessee tied its single-game school record for 3-pointers made when it drained 16 triples during a 90-50 victory over Presbyterian December 6th.
Six different Vols made a 3-pointer in the win.
Redshirt freshman Lamonté Turner's seven 3-pointers made tied for the fifth-most in program history and were the most by a Vol since Jordan McRae had eight against Georgia on March 2nd, 2013.
Interestingly, the last time UT faced UNC, the Vols made 15 3-pointers (one shy of the record).
Tennessee's Three Losses Came vs. Top-24 Caliber Teams
The three teams that have defeated Tennessee this season combine to boast a 22-6 (.786) record.
Chattanooga is 7-2 and was picked to repeat as the Southern Conference champion.
Wisconsin is 8-2 and ranked 17th in the AP poll.
Oregon is 7-2 and ranked 24th in the AP poll.
Tennessee Among Youngest, Smallest Teams In Division I
According to statistical analyst Ken Pomeroy (KenPom.com), Tennessee ranks 339 out of 351 NCAA Division I teams in terms of roster experience. Pomeroy's calculation weights the experience of each player on the roster based on minutes played. If seniors play many minutes for a team, that team's experience rank climbs.
Through seven games, freshmen had accounted for 46.9 percent of Tennessee's minutes played.
In terms of under- and upperclassmen, this is the youngest Tennessee team in 20 years. Kevin O'Neill's 1996-97 Vols had only three upperclassmen, just like this current UT squad.
Pomeroy also ranks teams based on average roster height, and the Vols land at 290 out of 351 teams (shortest in the SEC) with an average height of 76.0 inches (6-3). UNC ranks 45th in average height.
Vols' Non-Conf Schedule Heavy on Highly-Ranked Teams
By the time the Vols have played their 11th game this season, they likely will have faced four top-20 teams.
The Big Orange had good showings in losses to then-16th-ranked Wisconsin and then-13th-ranked Oregon (overtime) last month in Maui.
And the next two Sunday's for Tennessee feature clashes with seventh-ranked North Carolina and eighth-ranked Gonzaga.
None of those four games against top-20 opponents will come at home. Three will be neutral-site showdowns, and the UNC clash will be a true road game for the Vols.