Tennessee (8-5, 1-0 SEC) vs. Arkansas (11-2, 0-1 SEC)
Tuesday, January 3rd, 2016 | 5:30pm CT
Knoxville, TN | Thompson-Boling Arena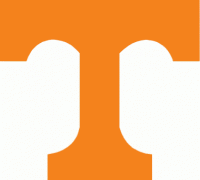 Knoxville, TN – Tennessee chases its first 2-0 start to SEC play since 2010 when it welcomes Arkansas to Thompson-Boling Arena on Tuesday night for a 5:30pm CT tip on SEC Network.
The Vols (8-5, 1-0 SEC) opened SEC play last week, picking up an 83-73 road win at Texas A&M. UT got a balanced team effort offensively with four players finishing in double figures. Lamonte Turner led the way with 14 points and true freshman Grant Williams chipped in 12 points to go along with five rebounds and a school-record-tying six blocks.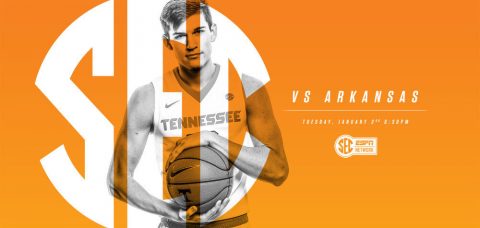 Williams (10.5 ppg) stands as Tennessee's second leading scorer going into Tuesday night's contest. Senior
Robert Hubbs III
continues to pace the Vols in the scoring column, averaging 14.8 ppg. Junior
Detrick Mostella
is also averaging double figures, scoring at a 10.2 ppg clip.
Turner leads UT in both assists (2.8 apg) and 3-pointers made (21).
Led by Preseason SEC Player of the Year Moses Kingsley, Arkansas (11-2, 0-1 SEC) is playing only its second true road game of the season on Tuesday night. The Razorbacks head to Knoxville on the heels of an 81-72 loss to Florida in their SEC opener last week.
The Series
Overall: Tennessee leads, 19-18
In Knoxville: UT leads, 11-3
In Fayetteville: ARK leads, 9-4
Neutral Sites: ARK leads, 6-4
Current Streak: Arkansas has won four straight
Last Meeting: Arkansas won, 75-65, in Knoxville 2/27/16
Rick Barnes vs. Arkansas: 3-3
Rick Barnes vs. Mike Anderson: 2-5
A Win Would
Give the Volunteers a three-game win streak, tying for their longest of the season.
Make the Vols 2-0 in SEC play for the first time since 2010, when they started out 3-0.
Snap Arkansas' four-game win streak in this series.
Push Tennessee's record to 12-3 all-time when hosting the Razorbacks in Knoxville.
About the Arkansas Razorbacks
Arkansas has equaled its best 13-game start during the tenure of sixth-year head coach Mike Anderson, as the Razorbacks own an 11-2 record.
Anderson was the head coach at Missouri from 2006-11, so he and Rick Barnes were Big 12 Conference contemporaries for several seasons.
In a preseason poll of SEC and national media, Arkansas was picked to finish fifth in the league.
Arkansas lost its SEC opener, 81-72, at 25th-ranked Florida Thursday in Fayetteville, Arkansas.
The Razorbacks have pulled down at least 10 offensive rebounds in 14 straight games, the longest streak under Anderson.
Junior Razorbacks guard Jaylen Barford (9.6 ppg) is a native of Jackson, Tennessee, and played the previous two seasons at Motlow State Community College in Smyrna, Tennessee. Barford was a first-team All-American as a sophomore at Motlow State last year while playing for head coach J.T. Burton, who was Tennessee's director of player development during the 2014-15 season.
Senior forward Moses Kingsley (11.4 ppg, 8.7 rpg, 3.0 bpg) was selected as the preseason SEC Player of the Year and is projected to be a second-round NBA Draft pick by NBAdraft.net. He is the SEC's active leader with 20 double-doubles in his career.
Senior guard Dusty Hannahs (14.6 ppg, .368 3FG%), who began his career at Texas Tech and is in his second season with the Hogs, is on pace to break the Arkansas school record for 3-point field-goal percentage in a career.
Last Meeting With Arkansas
A fourth straight double-digit scoring performance from now-departed senior Armani Moore wasn't enough as Tennessee fell to Arkansas, 75-65, February 27th, 2016, at Thompson-Boling Arena
Moore led the Volunteers with 17 points and 11 rebounds for his sixth double-double of the season. Admiral Schofield scored 15 points, while Shembari Phillips scored 13.
The Vols, who played without the services of two of their three leading scorers in Kevin Punter Jr. and Robert Hubbs III, trailed by just a point at halftime, 34-33. UT scored the first four points of second half to seize a three-point lead, but a 3-pointer from Jabril Durham tied the game at 37-37 with 18:00 remaining and the Vols would not lead again.
Arkansas did not lead by more than 11 points in the game, but despite a consistent fight in the final minutes, UT could draw no closer than seven points as the Razorbacks closed it out.
UT dominated the boards, out-rebounding Arkansas, 42-33, and controlled points in the paint, 34-26.
Moore became the 38th Vol ever to log at least 10 career double-doubles.
Dusty Hannahs led Arkansas with 17 points, making 3-of-4 from beyond the arc. Anthlon Bell added 16 points, and Anton Beard had 11, in the Hogs victory.
Memorable Vol Performances Against Arkansas
Bristol, Tennessee, native Bobby Hogsett scored eight points and added 10 rebounds as Tennessee won its first-ever game against Arkansas, 77-57, on December 27th, 1963, in Shreveport, Louisiana.
Before 21,237 Orange-clad fans, UT knocked off Nolan Richardson's fifth-ranked Razorbacks 83-81 in Knoxville on February 5th, 1992. Lang Wiseman and Allan Houston both scored 26 points.
The Vols upset No. 13 Arkansas in Fayetteville, 101-91, on February 16th, 1993, thanks to a double-double by LaMarcus Golden (22 points, 11 rebounds).
Cleveland, Tennessee, native JaJuan Smith dropped 32 points on the Hogs during a 93-71 win over Arkansas in Knoxville on February 5th, 2008.
Jordan McRae powered Tennessee to an 81-74 win over Arkansas on January 22nd, 2014, exploding for 34 points–including UT's final 13–at Thompson-Boling Arena.
Tennessee In SEC Home Openers
The Volunteers 16-13 in SEC home openers at Thompson-Boling Arena and 5-5 in their last 10.
The Vols had dropped three straight SEC home openers–falling to Alabama, Texas A&M and Ole Miss in 2015, 2014 and 2013, respectively–before dismantling Florida, 83-69, in last season's SEC home-opener on January 6th, 2016.
This is the first time Tennessee's first home SEC game has come against Arkansas.
Vols Clamp Down on Defense to Win at Texas A&M
All-in, team defense powered Tennessee to a 10-point win in its SEC opener at Texas A&M Thursday.
A&M entered the game ranked second in the SEC in field-goal percentage (.481), but Tennessee limited the Aggies to just .344 (21-of-61) shooting from the field–their lowest of the season. Twelve of A&M's 21 made field goals came from just two players, as D.J. Hogg's game-high 21 points came on 7-of-16 shooting and Admon Gilder's 14 came on 5-of-13 shooting.
UT also forced 16 Texas A&M turnovers–the most committed by the Aggies in a game this season.
The undersized Vols logged 10 blocks against only two for the Aggies, and UT freshman Grant Williams tied Tennessee's single-game record with six blocked shots.
Aggies' center Tyler Davis entered the game leading A&M in scoring (15.1 ppg), and Tennessee held him to six points. Davis had just two points on 1-of-5 shooting in the first half, and he didn't score his final four points until the final four minutes of the game.
Bone Is Back
Freshman point guard Jordan Bone returned to action December 29th at Texas A&M after missing nine straight games with a stress fracture in his left foot.
Prior to his injury–suffered during UT's first practice at the Maui Invitational–Bone appeared in the Vols' first three games, starting the first two.
Bone recorded one assist in eight minutes off the bench at Texas A&M.
When Bone was injured, point guard minutes were split between sophomore Shembari Phillips and freshmen Lamonte Turner and Kwe Parker.
Mostella Prefers Bench Role
Junior wing Detrick Mostella, the December 26th SEC Player of the Week, is one of only three upperclassmen on this year's Tennessee roster, but he prefers to make use of his experience while coming off the bench rather than as a member of UT's starting lineup.
Mostella is UT's third-leading scorer at 10.2 ppg, and he has come off the bench to score in double figures seven times this season, including a pair of 20-point games).
The Decatur, Alabama, native scored a career-high 25 points to carry the Vols to victory at East Tennessee State December 22nd, including a stretch of 13 straight points during a 2:33 span at the end of the first half.
Over the last three games, Mostella is averaging 18.3 points and 3.7 rebounds while shooting .432 from the field, .346 from 3-point range and 100 percent from the free-throw line (8-8).
Alexander Exhibiting Offensive Development
Sophomore forward Kyle Alexander proved himself as a reliable rim-protector last season. This year, he is showing growth offensively.
The soft-spoken Canadian is on pace to score 118 points this season, which would more than double his offensive output from a year ago (53 points).
Alexander has started each of the last two games–both Tennessee wins.
Parker Providing Efficient Minutes
True freshman guard Kwe Parker is averaging 12.2 minutes off the bench in Tennessee's last five games.
The Vols are 4-1 in that span, during which Parker has 11 assists and just one turnover.
Up Next for UT Vols
Following Tuesday's game, Tennessee heads back on the road for its lone regular season contest against Florida. The Vols and Gators tip off at 4:15pm CT on the SEC Network.
Last season, Tennessee topped Florida in their only meeting, 83-69. Led by 26 points from Kevin Punter Jr., the Vols led by as many as 30 in the second half en route to their first win over the Gators since 2013.